Fort Ad Pays Review: $1-$300 ad-credit Ponzi scheme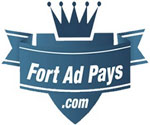 Identified as the owner of Fort Ad Pays on the company website is Pedro Fort.
On his LinkedIn profile, Fort lists his location as Columbia, which is presumably where Fort Ad Pays is being operated from.
The Pedro Fort Ads website domain lists Fort as the owner, using what appears to be a bogus address in Spain (fake street address and city).

On his LinkedIn profile Fort (right) credits himself as the CEO of something called "MLM Shop". The Fort Ad Pays website also uses MLM Shop domain name-servers ("mlmshop.net").
MLM Shop launched in 2013, with the domain registered anonymously on November 15th.
A visit to the MLM Shop website without a referral link reveals yet another address for Fort, this time in the US state of Florida.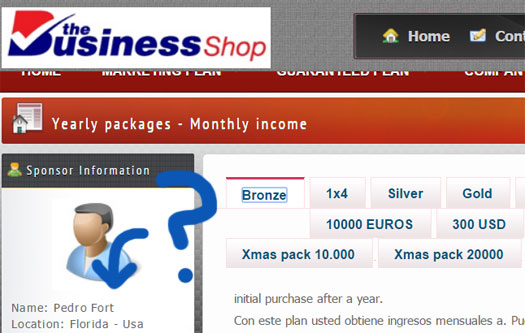 Of note is the banner at the top of the page reads "Business Shop", suggesting either the name of the MLM shop scheme was changed or that it goes by multiple names.
In any event, research into the MLM Shop compensation plan reveals it to be a Ponzi investment scheme in decline.
As per the MLM shop website affiliates invest up to $50,000 in "packs", with the company advertising greater than 100% ROIs in 30 days.
My guess is that a gradual decline of new investment into MLM Shop is what prompted the launch of Fort Ad Pays.
Read on for a full review of the Fort Ad Pays MLM business opportunity.
The Fort Ad Pays Product Line
Fort Ad Pays has no retailable products or services, with affiliates only able to market Fort Ad Pays affiliate membership itself.
Once signed up, Fort Ad Pays affiliates are then able to invest in $1 to $300 "ad credit-packs".
Bundled with each of these ad credit-packs are a series of advertising credits, which can be used to display advertising on the Fort Ad Pays website itself.
The Fort Ad Pays Compensation Plan
The Fort Ad Pays compensation plan sees affiliates $1 to $300 on the promise of an advertised >100% ROI.
$1 investment = $3 ROI (300%)
$10 investment = $12 ROI (120%)
$50 investment = $75 ROI (150%)
$100 investment = $180 ROI (180%)
$300 investment = $630 ROI (210%)
Note that Fort Ad Pays affiliates must view a set number of company-supplied ads each day in order to qualify for a daily ROI payout.
This requirement can be waived for an additional fee.
Referral commissions are paid on funds invested by recruited affiliates, paid out down five levels of recruitment (unilevel):
level 1 (personally recruited affiliates) – 8%
level 2 – 4%
level 3 – 2%
level 4 – 1%
level 5 – 5%
Joining Fort Ad Pays
Affiliate membership with Fort Ad Pays is free, however free affiliates can only collect referral commissions.
Full participation in the Fort Ad Pays MLM opportunity requires a minimum investment of between $1 and $300.
Conclusion
With nothing being marketed to retail customers, 100% of the revenue paid into Fort Ad Pays is sourced from affiliates.
Thus it follows the same is true of commissions paid out, which when coupled with the ROI nature of the compensation plan, identify Fort Ad Pays as a Ponzi scheme.
As with all advertising-credit based Ponzi schemes, the credits themselves are irrelevant. Affiliates invest in positions with advertised ROI payouts, despite claims of legitimacy and Fort Ad Pays not being an investment scheme on their website.
The simplest way to dismantle the "you are purchasing advertising" argument is to look at Fort Ad Pays' "no refunds" refund policy:
We share the revenue from your purchase with all members, so we cannot afford to offer refunds.
If indeed advertising credits were being purchased, logically it would follow that affiliates would be able to get a refund on unused credits. What with Fort Ad Pays instead using newly invested funds to pay off existing investors, refunds are of course not possible.
As with all Ponzi schemes, once new investment dries up Fort Ad Pays will find itself unable to meet its ROI obligations.
Or as they put it:
Payouts depend on the volume of sales. At times, volume will be higher than others, so ones earnings will vary accordingly.
With ROIs paid out "every 30 minutes", any delay in ROI payouts will likely signal an imminent collapse.
Can members compound their earnings?

Yes. Members can use their repurchase and cash balances.
Note that ROI payouts in the backoffice are likely virtual in nature, with Fort Ad Pays affiliates likely to discover the scheme has collapsed only once they try to actually withdraw paid funds.