SEC sues OnPassive & Ash Mufareh for $108 million in fraud

The SEC has sued OnPassive and owner Ash Mufareh (aka Ashraf Mufareh), for $108 million in securities fraud.
As alleged by the SEC, OnPassive was
fraudulent and unregistered offering of securities targeting investors in the United States and around the world through (a) multi-level marketing ("MLM") company.
The SEC has pegged Mufareh's fraud through OnPassive at $108 million.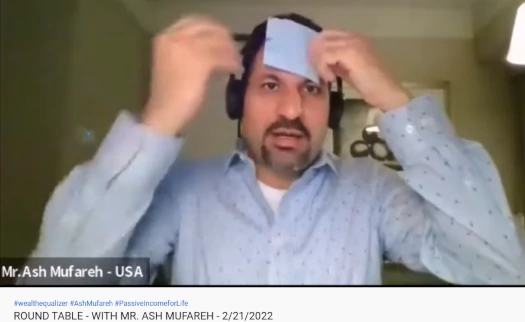 As of March 2023, ONPASSIVE had reaped over $108 million from the purchase of over 1.12 million Founders positions by over 800,000 investors.
BehindMLM reviewed OnPassive in January 2019, correctly identifying it as a pyramid scheme.
The SEC's own investigation into OnPassive verifies our findings.
As the name "ONPASSIVE" implies, Mufareh and ONPASSIVE promoted the scheme as a "passive" income opportunity by emphasizing that investors did not have to do anything, other than make a one-time purchase of product and pay monthly subscription fees and, in the case of Founders, the $97 fee, to receive commissions.

The offer and sale of the opportunity to participate in ONPASSIVE, which is a pyramid scheme, involves investments of money in a common enterprise with an expectation of profits to come from the efforts of others.

The purported income opportunity has driven recruitment rather than the utility of the product. This is evident from, among other things, Defendants' successful solicitation of over 800,000 investors worldwide to purchase over 1.12 million Founders positions over the course of four years.

Of these over 800,000 investors, over 93,000 (nearly 12%) purchased multiple Founders positions.

Given that each investor could purchase all the product the investor desired through one position, the purchase by over 93,000 investors of multiple Founders positions confirms that receipt of passive income is a driver of investor interest.

Most ONPASSIVE investors are bound to lose money.

A reasonable investor would have wanted to know that ONPASSIVE was a pyramid scheme.
In defending his fraud to OnPassive affiliates, Mufareh falsely claimed his pyramid scheme was legal.
In a webinar dated August 29, 2019, Mufareh falsely declared that ONPASSIVE was "legal" in every country in which it operated, or there would be "workarounds" to make it legal.

E-books, which Mufareh reviewed, edited, and authorized for posting to ONPASSIVE's Back Office in April 2019 and again in December 2021, stated "WE ARE FULLY LEGAL-WORLDWIDE"; "WE ARE FULLY COMPLIANT-WORLDWIDE"; and "WE WILL NOT be shut down by a government; THEY WILL USE OUR PRODUCTS!"

Mufareh knew or was reckless in not knowing that the foregoing statements were materially false and misleading.
In response to BehindMLM's ongoing coverage of OnPassive, Mufareh directed efforts to undermine our reporting through impersonation and publication of false reviews under the BehindMLM name.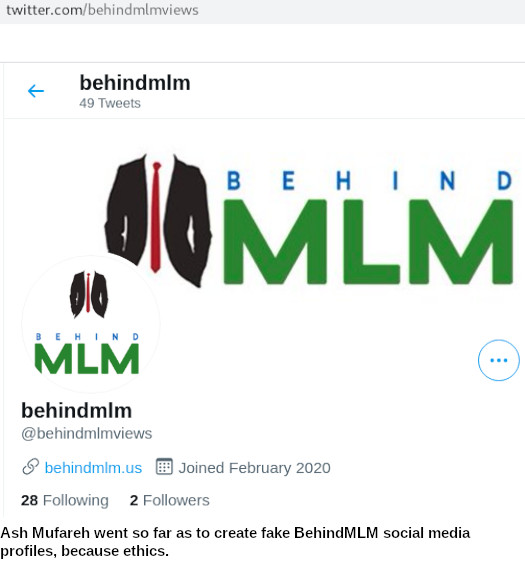 This is noted in the SEC's Complaint;
To counter negative reviews of Mufareh and ONPASSIVE on existing MLM review websites, Mufareh and ONPASSIVE furtively created websites mimicking the names of the existing sites and on which ONPASSIVE personnel, at Mufareh's direction, then posted internally-generated positive reviews of Mufareh and ONPASSIVE, falsely passing them off as objective, third-party reviews.

On January 7, 2019, Review Site 1 posted that, "there's inherently nothing of particular interest with ONPASSIVE. It's literally nothing more than a pyramid scheme launched by a serial scammer."

The Defendants initially responded to the negative reviews by telling participants to "ignore the haters."

When the negative reviews persisted, however, Mufareh approved in November 2019 the creation of counterfeit and intentionally misleading websites mimicking the names and appearances of the abovementioned existing websites and the writing and posting on the counterfeit websites of positive reviews of ONPASSIVE and Mufareh.

ONPASSIVE personnel specifically proposed to Mufareh―and he agreed to the proposal―that they would "us[e] these two [counterfeit] sites as 3rd party site," "write … exclusive review[s] on our own brand (just like a 3rd persons writing)," and use both counterfeit websites "to influence the people," with the "first target assigned [being] to knock down those [review sites] from the search results."

The names of the two counterfeit sites purposely tracked the names of existing MLM review websites in their web URL addresses with slightly altered domain names.

In November 2019, Mufareh personally registered the two counterfeit websites, paying to have the sites registered under the name of a "domain proxy" to conceal his and ONPASSIVE's involvement with the websites.

By concealing their involvement, Mufareh and ONPASSIVE sought to deceive investors into thinking that the reviews posted on the counterfeit sites were objectively made by independent third parties.

As directed by Mufareh, to whom they reported regularly on their progress, ONPASSIVE personnel set about operating the websites starting in late 2019 in a manner to mislead visitors as to the sites' objectivity.

The creation of the counterfeit websites and posting of fake positive reviews of Mufareh and ONPASSIVE acted as a deceit on investors by falsely purporting to be objective third-party sites and data.

In addition, in omitting to disclose that the sites and reviews were controlled by ONPASSIVE and its personnel, the statements made were materially misleading.
The central ruse behind OnPassive was the never-ending pending launch of "me too" AI driven products – essentially clones of existing productivity suites (Zoom, Gmail, YouTube etc.).
That OnPassive continually failed to publicly launch anything was a source of amusement among those following Mufareh's fraud.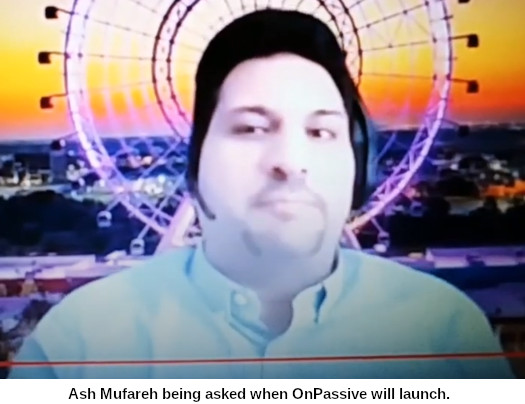 In their Complaint, the SEC notes;
As of June 30, 2023, ONPASSIVE had not yet launched any product for a fee or paid any commissions to investors.
Instead of using investor deposit to fund product development, Mufareh spent their money on himself and his wife, Asmahan Mufareh
Rather than commit investor proceeds principally to develop and commercialize the purported software applications, Mufareh has used funds to further the pyramid scheme and for his and his spouse's personal use.

Specifically, Mufareh transferred investors' funds to his wife, Asmahan Mufareh, including transfers into bank account or accounts held jointly by the Mufarehs or held in Asmahan Mufareh's name only, or over which Asmahan Mufareh exercised authority.
Asmahan Mufareh is a named Relief Defendant in the SEC's lawsuit.
In addition, the Mufarehs converted a considerable portion of investor funds into crypto assets under their exclusive personal control.

The Mufarehs then used funds from these accounts for personal expenses, including online retail purchases, upscale dining, TV subscriptions, groceries, salon and spa visits, … martial arts lessons, jewelry purchases … and the purchase of stocks.

Mufareh, ONPASSIVE, and Asmahan Mufareh have received illgotten funds, and do not have a legitimate claim to those funds.
Due to the investment nature of OnPassive's founder positions (the more positions you purchase the more you earn passively), the SEC has determined OnPassive's MLM opportunity constituted a securities offering.
OnPassive and Ash Mufareh has been charged with violations of the Securities and Exchange Act across four claims of relief.
Asmahan Murfareh has been charged with unjust enrichment across one claim of relief.
The SEC is seeking a permanent injunction, disgorgement of ill-gotten gains, prejudgment interest and a civil penalty.
Should the SEC prevail, Mufareh will also be barred from "from acting as an officer or director of any issuer that has a class of securities".
BehindMLM will be tracking the SEC's OnPassive fraud case so stay tuned for updates.
Update 14th August 2023 – The SEC v. OnPassive et al. case docket is now public.
As at the time of this update, there have been no further filings beyond the SEC's initial Complaint.
A Civil Cover Sheet accompanying the SEC's Complaint reveals OnPassive and Ash Mufareh are represented by Christopher Garcia of the firm Latham Watkins LLP.