OneCoin distances itself from Ukraine govt partnership fraud

Keeping with the tradition of throwing its affiliates under the bus at the first sign of trouble, OneCoin has distanced itself from Ukraine government partnership claims.
OneCoin's latest corporate newsletter contains a "special official statement":
The Company's Corporate Management would like to make the following official statement:

Certainly, the Ukraine project has nothing to do with the Company as it is an individual initiative of an IMA.

We have no clear knowledge or directive, furthermore, no representative from the Ukraine Government has been in contact with us.

Consequently, we have taken an official position that this situation must be dealt with head-on and make the understanding clear to all IMAs that we took the time needed to make sure all possibilities were evaluated.
Luka Miatton, one of the last remaining OneCoin "leaders", has been pushing the Ukraine partnership narrative since last October.
The partnership narrative was pushed heavily on social media. In a nutshell, the claim was that OneCoin would enter into a partnership with the government, leading to legalization of the Ponzi scheme in the Ukraine.
This was based on Miatton's October photo op meeting with Ukrainian Deputy PM Oley Uruskiy.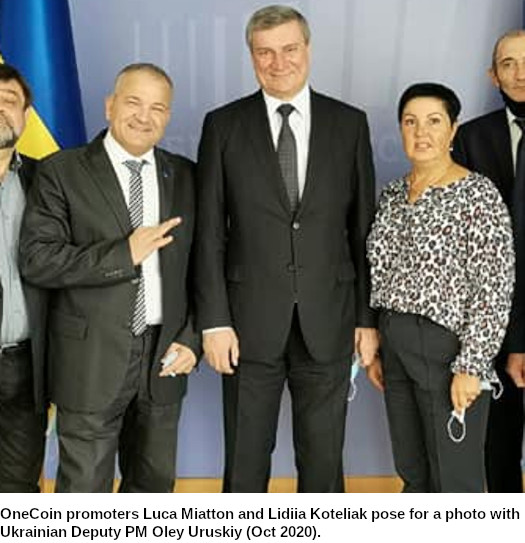 It's questionable whether Miatton was acting without permission from OneCoin corporate.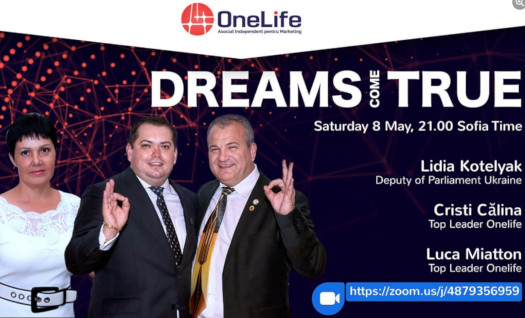 Nonetheless OneCoin corporate remained silent while Miatton continued to promote the Ukraine deal on official OneCoin webinars.
On May 1st Miatton appeared on a OneCoin webinar, flashing a document he claimed was " approval of "Central bank of Ukraine" to green-light the use of OneCoin as a financial asset."
News of this purported deal prompted Bykvu, a Ukrainian news outlet, to seek comment from the government.
The Ukrainian government clarified that the document Miatton had was fake.
"The relevant statement on the dissemination of false information in the network has already been sent to law enforcement agencies," the Ministry of Finance added.
In the aftermath of the Ukraine government calling out Miatton's false claims, it appears he's been turfed.
Lyudmil Georgiev, the new ONE Ecosystem Corporate Coordinator just announced in the wednesday global webinar, that Luca Miatton's OneLife account has been freezed..
No word on whether Miatton's friends and fellow affiliates, Lida Kotelyak and Cristi Calina, have also had their accounts frozen.
If I had to guess, OneCoin corporate will strong-arm Miatton into shutting up and bending the knee.
This ties into OneCoin's newsletter calling for loyalty.
The following is from a "letter of continuance" by Lyudmil Georgiev, also featured in the latest OneCoin newsletter;
We, together with the person who manages the network on behalf of all IMAs, Captain – King Jayms have decided on some changes and adjustments to how the network has operated to date.

The first thing we will do, working hard with him, in strengthening and building the network into a powerful organization, is to develop loyalty.

We would like to ask any IMA who is currently developing another Network Project, such as an MLM / Network Marketing Project; that you are not to build an organization there, whatever it is, whether it is in finance, a service, or a product.
OneCoin affiliates are urged to self-report if they are promoting another MLM opportunity.
We will freeze your account and keep your position, rank, and everything you have acquired as an IMA in our project up to the time of your first correspondence.

The deadline for this action for all IMAs to make the right decision to clear their conscience and become more effective in their own business, regardless of which project they choose is one month, until 30.06.2021, we expect to receive letters from the worthiest of you.
Totally not a cult.