Seychelles confirm OneCoin money laundering investigation

The Financial Crime Investigation Unit has confirmed it is investigating the allegation a Seychelles notary signed off on a fraudulent Power of Attorney.
That PoA would later be used to launder 230,000 bitcoin in stolen OneCoin investor funds.
City a crypto spam blog that copy and pasted attorney Jonathan Levy's original article, Seychelles News Agency reports;
The head of legal affairs at the Financial Crime Investigation Unit, Tania Potter, told SNA on Friday "that the unit has received quite a number of documents, as part of the complaint, some of which need to undergo a verification process to identify any links to the Seychelles and upon completion, a decision on the next step will be taken."

Potter outlined that an email was sent to the Attorney General's office from a lawyer in the UK, and the lawyer was referred to the Unit.

"On August 18, the matter was brought to my attention and the officer who received the complaint was instructed to acknowledge and inform the complainant that the documents will be verified and any outcome will be communicated in due course," said Potter.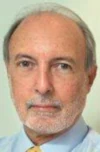 At the center of the allegations is Bernard Georges (right), of the Seychelles law firm Georges & Co.
Georges signed a fraudulent PoA for Ruja Ignatova, dated after her 2017 disappearance, which was then used by Mimoun Madani, a Dutch national residing in Dubai, to gain access to 230,000 BTC ($10.9 billion current street value).
When grilled by Jonathan Levy, Georges admitted he hadn't seen Ignatova sign any documents. His signature on the PoA was merely there to confirm the document itself existed.
If that sounds dodgy it's because it is. Notaries are required by law to witness signatories sign over PoA documents.
It's looking like Georges was paid to sign off on a dodgy PoA. If so, that would mean both Georges and Mimoun Madani are criminally liable.
Hopefully Seychelles authorities investigate the matter thoroughly and we get some answers.
Personally I'm not holding my breath. Seychelles has long been regarded as a scam-friendly jurisdiction by BehindMLM.
The reasoning behind this is best summed up by the FCIU's Tania Potter herself;
We see that the people who have been defrauded have invested on a platform or with an International Business Company.

IBC has a registered agent in Seychelles however transactions do not happen here so it is difficult for us to go after the person who has facilitated or committed the crime.
Like the UK, Dubai, Cyprus, BVI and all the other scam-friendly jurisdictions scammers like to register shell companies in; once Seychelles authorities identify fraud in their jurisdiction, it seems they're unwilling to do much about it.