So we're getting a OneCoin movie…

Initially I wasn't sure I wanted to cover the OneCoin movie. Given the current situation around the world, I feel upcoming movie projects are very much up in the air.
That said, with the news Kate Winslet is on board, it seems, at least for now, the OneCoin movie "Fake!" has legs.
Deadline broke the news three days ago that Kate Winslet had signed on to produce Fake!
Deadline's report didn't confirm whether Winslet would star in the film. Subsequent reports (e.g. from The Wrap) confirmed Winslet would both star in and produce the film.
So far Winslet is the only actor attached to the project. While it's tempting to ponder whether Winslet will play the villain of the movie, OneCoin founder Ruja Ignatova, I think it's more likely she'll play protagonist Jen McAdam.
Fake! is based on an upcoming bookq by Jen McAdam, a real-life victim of the OneCoin Ponzi scheme. McAdam wrote the book with Douglas Thompson, author of several crime themed books.
McAdam's untitled book is based on her OneCoin experience. Initially a believer, McAdam, along with her family, went on to lose £216,000 to the Ponzi scheme.
After realizing she'd been duped, McAdam went on to coordinate OneCoin victim support groups.
Whether McAdam and her family will make back losses as a result of the film adaptation is unknown. The book itself has yet to find a publisher.
As someone who's been covering OneCoin since 2014 and has authored 367 articles on the scam, here's my two cents:
"Fake!" is a terrible name and I really hope it's just a preliminary project title. Can we add a byline at least?
I don't know where McAdam's book starts but I hope it doesn't gloss over her initial involvement. I think that transition to realization is crucially important as a plot line.
Please weave the utter incompetence of European and UK authorities into the plot. People are going to wonder how this happened much of the blame rests with EU and UK regulators.
Don't inject Hollywood BS into the movie. The OneCoin saga should be compelling enough in the hands of a competent story-teller.
If possible and with respect to McAdam's source-material, expand the plot beyond her experience. 2014-2017 as part one focusing on McAdam's journey up until Ruja's disappearance. 2017 to Konstantin's arrest and the subsequent fallout as part two. (I know there's practically zero chance this happens)
Ruja Ignatova should be portrayed as a female adaptation of Danny DeVito's Penguin. No excuses, make it happen.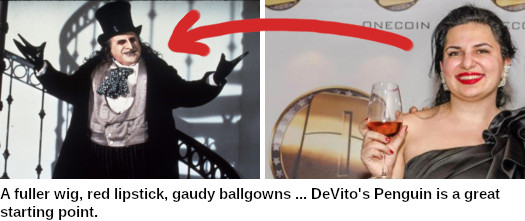 Movies typically take years to put together so don't expect anything any time soon. Any updates we come across we'll provide below.
In the meantime there's also a OneCoin TV series to watch out for. Based on the BBC's The Missing Cryptoqueen podcast, there's been no further announcements since the February 2020 bidding war.
Personally I feel a multi-part TV series is better suited for the OneCoin saga. That said I'm also hesitant to preemptively write off McAdam's book adaptation.
Let's wait and see what the end results are I guess.