OneCoin's Sebastian Greenwood sentenced to 20 years

OneCoin co-founder Sebastian Greenwood has been sentenced to 20 years in prison.
Citing the need for "general deterrence" against MLM Ponzi schemes, Judge Ramos handed down Greenwood's sentence on September 12th.
Prior to the hearing, Greenwood's attorneys had asked for time served and deportation. The DOJ asked for thirty years, half of the official sentencing guidelines.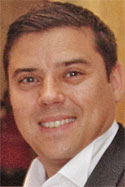 On the money side of things, Greenwood (right) is subject to $300 million in forfeiture.
At the height of him OneCoin crime spree, Greenwood was stealing around €20 million EUR a month ($21.7 million USD).
In asking for time served and deportation to Sweden, Greenwood had been hoping to spend time with his parents – both of whom are in their mid-seventies. Greenwood also has four young children.
Even accounting for possible time served since his 2018 detention in the US, Greenwood would still be looking at fifteen years in prison.