Golden Money Gate: Sponsor Hunter's recruitment arm

Last week I wrote about the social network Sponsor Hunter. Currently in pre-launch, Sponsor Hunter aims to replicate the Facebook experience with a network dedicated to the social networking niche.
The revenue model for Sponsor Hunter revolves around paid monthly subscriptions for network marketers who wish to list themselves as 'available sponsors' on the site.
Each month these network marketers pay Sponsor Hunter $25 and each month Sponsor Hunter will list them as available sponsors for any business opportunities they are in listed on the site.
It goes without saying that any social network's success or failure lies solely with its ability to attract members to the network and retain them.
As Sponsor Hunter is a relatively new startup, that's where Golden Money Gate comes in.
Golden Money Gate is the recruitment arm of Sponsor Hunter. In a nutshell it's an income opportunity directly attached to the membership of Sponsor Hunter, complete with its own MLM style compensation plan.
The Golden Money Gate Product Line
Being a social network, Golden Money Gate doesn't have any tangible products for its members to sell.
Rather, in joining Golden Money Gate, you're going to find yourself selling memberships to Sponsor Hunters. Specifically, in the form of a $50 voucher that entitles the redeemer to four months paid subscription to Sponsor Hunter.
The idea here is that four months would normally cost a Sponsor Hunter $100 ($25 a month), so by purchasing one of these vouchers, the member gains two months subscription for free.
These Sponsor Hunter vouchers are a one time use voucher and after the four months it's valid for are up, sponsors must pay the monthly subscription fee themselves.
The Golden Money Gate Compensation Plan
The Golden Money Gate compensation plan is designed to directly reward members of Sponsor Hunter who bring in new members to the site. In doing so, the compensation plan revolves around the sale of Sponsor Hunter membership vouchers and offers members two layers of commissions;
Direct Commissions
The direct commission component of Golden Money Gate's compensation plan is simple. For each new member you bring to Sponsor Hunter who purchases a $50 membership voucher, a commission of $50 is paid out.
Golden Money Gate's compensation plan utilises a '1-up' style compensation plan which means that, after joining Golden Money Gate and purchasing your own voucher, the first new member you recruit to Sponsor Hunter and earn a commission on is paid to your upline.
In turn, the commission payout for the first new member your directly enrolled members bring to the network are passed up to you.
The idea here is that by passing up sales commissions to your upline, you encourage them to keep recruiting new members and encourage you to do the same.
Residual Income
The Golden Money Gate compensation plan always rewards members with a residual income component. Utilising an open matrix, your downline is placed directly under you and you are able to earn a commission up to four layers deep.
The payout levels are as follows;
Level 1: A $3 monthly payout per member on your personal Level 1
Levels 2-4: A $2 monthly commission per member on your personal levels 2-4.
and looks something like this;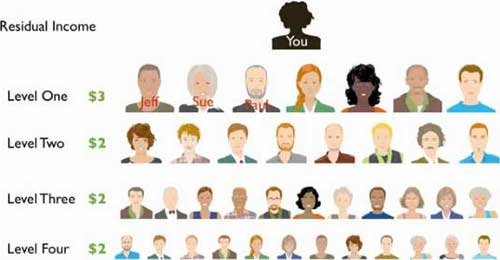 Note that any new member that has their commission rolled up to you via the '1-up' system counts as your level 1.
Joining Golden Money Gate
Joining Money Gate is a relatively simple affair with memberships to the program itself costing $25, on top of the voucher cost of $50.
All up, as a new member you're looking at a $75 investment.
Note that this is a once off payment and as far as I can tell you don't need to be a Sponsor Hunter member to market Golden Money Gate. However you're probably going to have a hard time selling the Sponsor Hunter membership to new members if you yourself don't see enough value in the membership to be a paid member yourself.
Therefore for all intents and purposes, membership to Golden Money Gate also carries a $25 per month subscription cost after the first four months.
Conclusion
Interestingly enough, despite combining marketing with a multi level commissions based compensation plan (y'know, MLM – multi-level marketing), Golden Money Gate claim that their business opportunity 'is not MLM, it is simply direct sales'.
No doubt this is to escape the scrutiny of being a fully fledged MLM company without an actual product.
Regardless of how Golden Money Gate see themselves however, with no tangible product, the success or failure of the opportunity is hinged directly on the success or failure of the Sponsor Hunter social network.
Conveniently however, if Golden Money Gate members are successful in their marketing efforts then so too will be the Sponsor Hunter network. In essence the two play off eachother.
As a marketer for Golden Money Gate however, your biggest challenge is going to be convincing new prospects of the value in a Sponsor Hunter membership, seeing as that's what you're selling.
As we all know, people aren't going to join a social network, let alone pay for one if it's not a healthy and vibrant community. Being in pre-launch, Sponsor Hunter is currently anything but.
With a smattering of listed opportunities, virtually no search engine exposure and a handful of members, would you currently pay $25 a month for a paid sponsor listing on Sponsor Hunter?
What about without the Golden Money Gate business opportunity?
Whilst Golden Money Gate over time might very well increase the membership base of Sponsor Hunter, the two programs rely on very different things to ensure their success.
Sponsor Hunter needs to attract communicative members who are going to interact with other members and add value to the site, whereas Golden Money Gate is merely a membership numbers game.
Get enough members via Golden Money Gate and sure, Sponsor Hunters membership numbers might look impressive, but without interactivity and community outside of the recruitment opportunity Golden Money Gate offers, it's still a dead network.
A dead network which will be of little use to network marketers.
Differentiating a successful outcome from the scenario I've proposed above requires careful balancing of how members are attracted to Sponsor Hunter.
Too many recruits via the Golden Money Gate and Sponsor Hunter is going to be a hollow social experience certain to die as new recruits dry up. For this reason there needs to be a healthy balance of how people are finding out about Sponsor Hunter, both organically themselves and via commission incentivised recruitment.
If you're reading this article trying to ascertain the value of a Sponsor Hunter membership, one way to personally guage this is to ask yourself how you found this article, and to a larger extent Sponsor Hunter itself.
Was it organically via your own research into a company or were you marketed by someone trying to sell the Golden Money Gate opportunity.
The answer should provide you with a snapshot into the current balance of what kind of members you're going to find within the Sponsor Hunter network.
Members who add value to the site and the overall social network experience therefore increasing the organic integration of Sponsor Hunter into the MLM industry, or those just looking to resell the Golden Money Gate opportunity because they want a quick $50.