OneCoin under consumer protection investigation in Poland, new bank

On July 27th Mirosława Suchonia filed an inquiry with the Polish Ministry of Justice regarding OneCoin.
Suchonia sought comment on whether or not OneCoin was potentially breaching Poland's banking laws.
On September 13th a response from Łukasz Piebiak, the Minister of Justice, was published on the Sejm (Poland's lower house of parliament) website.
Suchonia's inquiry was filed with the National Prosecutor's Office within the Ministry of Justice.
The Ministry of Justice first confirmed that there had been no previous investigations into OneCoin. They then confirmed that OneCoin is not under suspicion of violations of Poland's banking laws.
This makes sense, as OneCoin do not have any banking or financial operations in Poland.
What the National Prosecutor's Office found after investigating OneCoin however was potential breaches of "unfair market practices".
The findings were forwarded to the Office of Competition and Consumer Protection, who have since launched an official investigation.
The Office of Competition and Consumer Protection are being assisted by the National Prosecutor's Office, who continue to collect information on OneCoin.
If breaches of Poland's consumer protection laws are found, the Office of Competition and Consumer Protection will initiate further proceedings against OneCoin.
In related news, OneCoin have changed banks yet again.
Following ongoing regulatory investigations into the company by German authorities, OneCoin lost its Deutsche Bank account last month.
This left the company with two accounts, United Overseas Bank in Singapore and Bank of Africa in Tanzania.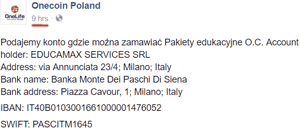 OneCoin's new account is with Banca Monte dei Paschi di Siena (Banca MPS) in Italy, using the account name "EDUCAMAX SERVICES SRL".
On their website, Banca MPS claim to be "one of the main banks in Italy".
Under the guise of operating a cryptocurrency, OneCoin solicit deposits of up to €118,000 EUR on the promise of an eventual >100% ROI.
The ROI is paid out of subsequently invested funds, making OneCoin a Ponzi scheme.
In an attempt to circumvent money laundering filters, OneCoin avoid using their company name to open bank accounts.
The Banca MPS account marks first use of the Educamax Services SRL shell company name. Previously OneCoin was using International Marketing Services Pte. Ltd.
Whether the introduction of the Banca MPS account means OneCoin has lost their UOB or Bank of Africa account is as of yet unclear.
OneCoin itself has ties to Italy through the Steinkeller brothers, who sit atop one of the largest OneCoin investor downlines.
A week ago BusinessForHome reported the Steinkeller brothers were stealing $2 million dollars a month from their fellow OneCoin investors.