New DealShaker abandoned. Is this OneCoin's final collapse?

OneCoin's New DealShaker platform has been abandoned.
For die hard investors still backing OneCoin, New DealShaker was perhaps the only reason they hadn't lost their minds over how much money they've lost.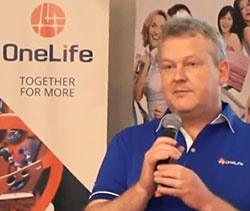 New DealShaker was supposedly being put together by Duncan Arthur (right).
Arthur emerged as a prominent figure within OneCoin sometime after founder Ruja Ignatova fled in late 2017.
Within OneCoin Arthur was referred to as the DealShaker Project Manager.
To that end Arthur appeared at OneCoin events dating back to 2018, at which he'd provide affiliates updates on DealShaker development.
Putting aside the fact that legitimate merchants aren't interested in taking Ponzi points as payment for goods and services, Arthur's DealShaker updates got OneCoin investors through not being able to withdraw – and the arrest earlier this year of Konstantin Ignatov.
However misguided, New DealShaker development served as an excuse to put off the reality that OneCoin had come to an end.
I received word a few days ago that Arthur had abandoned ship.
The exact nature of Arthur's departure is unclear, owing to neither he or OneCoin being open about it.
From what I've been told Arthur's development team realized the blockchain side of OneCoin was total nonsense.
Jan-Eric Nyman heads up Arthur's development team, and there's apparently a damning OneCoin assessment report authored by him floating around.
As of yet though I haven't seen it.
Regardless, the realization that OneCoin's public representations about a blockchain were baloney prompted an offer to "fix" the situation (read: start work on an actual blockchain to integrate into the new DealShaker platform).
This went down like a ton of bricks with whoever is left running OneCoin. Probably because they'd have to publicly acknowledge not having a blockchain.
Personally I can't see what the big deal over coming clean is. OneCoin not having a blockchain has been public knowledge since early 2017.
The fallout of Nyman's report saw New DealShaker cancelled. OneCoin and Duncan Arthur and his team have reportedly split ways.
I was hesitant to report on this when I first heard about it, however recent developments appear to confirm this actually happened.
I received word about thirteen hours ago that an announcement regarding the cancellation of New DealShaker was imminent.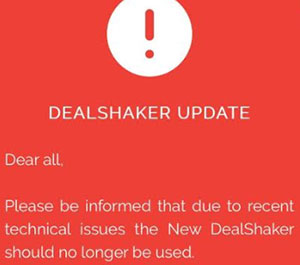 Sure enough, in the last few hours OneCoin published the following message on their OneLife website:
Dear all,

Please be informed that due to recent technical issues the New DealShaker should no longer be used.

All merchants should transfer their deals back to the old DealShaker which is currently being upgraded by our IT Team.
The message makes no mention of the fall out with Arthur, and is signed off on simply by "The Team".
What happens now is unclear. Duncan Arthur appears to have gone into hiding. And there are rumors of top investors, headed up by Jose Gordon of all people, who have descended on Sofia to, and I quote, "grab what they can".
OneCoin's original DealShaker platform was a combination of dropship listings for cheap Chinese goods and luxury car and real estate scams.
Had it of been salvageable, surely OneCoin's "IT Team" would have continued development on it.
Again, DealShaker is meaningless as OneCoin is a Ponzi scheme – but as I stated earlier, New DealShaker was the fiction many investors needed to ignore their losses.
That fiction is now gone. And it seems OneCoin might finally be over.
Criminal proceedings against Konstantin Ignatov continue. Pending Jan-Eric Nyman's report surfacing, our next update will likely be after Ignatov's May 28th preliminary hearing.