FTC fine Lindsey Duncan $9 million for deception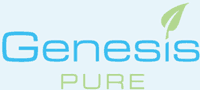 Back in October of 2014 the Texas AG filed a lawsuit against Lindsey Duncan.
In the lawsuit, it was alleged that Duncan had been falsely representing himself as a doctor.
Mr. Duncan's acts and practices mislead the public into believing that he is disseminating health advice or knowledge, but such advice or knowledge is based on educational background and training which he does not have and when his underlying motivation is to sell products in which he has a financial interest.
Separately, and news to me, was that the FTC had also been investigating Duncan.
Published a few days ago on January 26th, the FTC revealed that they had been investigating Duncan over claims he
deceptively touted the supposed weight-loss benefits of green coffee bean extract through a campaign that included appearances on The Dr. Oz Show, The View, and other television programs.

"Lindsey Duncan and his companies made millions by falsely claiming that green coffee bean supplements cause significant and rapid weight loss," said Jessica Rich, Director of the FTC's Bureau of Consumer Protection.

"This case shows that the Federal Trade Commission will continue to fight deceptive marketers' attempts to prey on consumers trying to improve their health."
On the MLM side of things, Duncan served as President and CEO of Genesis Pure. Through Genesis Pure, Duncan marketed products in the health and wellness niche.
This includes the coffee supplements mentioned in the FTC complaint.
Today Genesis Pure lists Bobby Love as the company President. A section on the website titled "Our Foundation" is currently blank: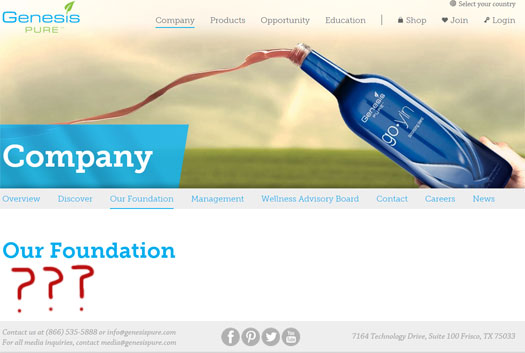 Google cache reveals that as late as January 27th, the company still publicly credited Lindsey Duncan as their founder: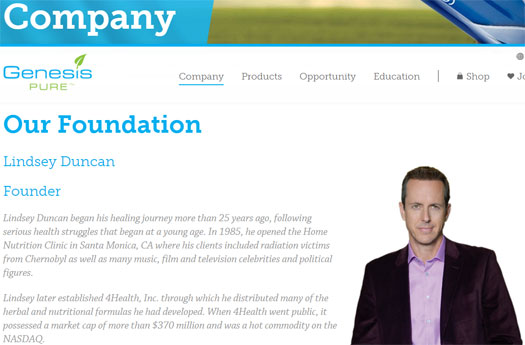 When exactly Genesis Pure scrubbed any mention of Duncan from their website is unclear.
Getting back to the FTC settlement,
The FTC charged that Duncan and his companies, Pure Health LLC and Genesis Today, Inc., deceptively claimed that the supplement could cause consumers to lose 17 pounds and 16 percent of their body fat in just 12 weeks without diet or exercise, and that the claim was backed up by a clinical study.

In September 2014, the FTC settled charges against the company that sponsored the severely flawed study that Duncan discussed on Dr. Oz.
Ouch. Not only was it revealed that Duncan was pushing porky pies, so too was the company he was publicly citing research from.
And just how deep do Lindsey Duncan's deception go?
A producer with "The Dr. Oz Show" first contacted Duncan about appearing as a guest to discuss GCBE in the morning of April 5, 2012.

A Dr. Oz Show producer wrote: "We are working on a segment about the weight loss benefits of green coffee bean and I was hoping that Lindsey Duncan might be available to be our expert. Has he studied green coffee bean at all? Would he be able to talk about how it works?"

At that time, Duncan had no familiarity with the purported weight-loss benefits of GCBE, nor did Defendants sell GCBE.

Nevertheless, within a few hours, a senior member of the Defendants' public relations team replied: "Awesome! Thanks for reaching out, Dr. Lindsey does have knowledge of the Green Coffee Bean. He loves it!"

Later that day, Defendants contacted a manufacturer of GCBE and, on or about the same day, submitted a wholesale order for GCBE raw material.

In the evening of April 5, 2012, a producer for "The Dr. Oz Show" emailed Defendants a "very rough outline of the script" for the segment on GCBE shortly after a call between the producer and Duncan.

Defendants edited the script by, among other things, adding language in which Duncan would advise viewers that they could find green coffee bean capsules online by typing the words "Pure Green Coffee Bean Capsules" into their web browsers.

Duncan stated during the taping that viewers should look for capsules in 800 mg servings, which was a dosage size correlating with two of the 400 mg capsules the Defendants had, prior to the taping, begun preparing to produce and sell.

Duncan also stated during the taping that consumers could find GCBE online by going to their web browsers and typing in "pure green coffee beans" or "pure green coffee bean extract."

Duncan stated as well that it was important for consumers to make sure that their GCBE be "pure."

The staff of "The Dr. Oz Show" informed Defendants on April 11, 2012 that the GCBE episode would air on April 26, 2012. On April 11, 2012, a Dr. Oz Show producer also asked Duncan if there was a GCBE brand or site that Duncan recommended.

Duncan delayed answering the question until the following day.

During that intervening day, he emailed Defendants' employees: "This is either a set up or manna from the heavens . . . Please get Green Coffee Bean up on our site immediately!!! I will then recco the PH site!!!!! Let me know when it's up!"

Defendants began offering Pure Health brand GCBE capsules for sale online on April 11, 2012.

The next day, Duncan replied to the Dr. Oz Show producer that he "did some research" and found that "[w]hen you type 'green coffee beans' into your web browser . . . . [t]he one Company that pops up selling a pill or supplement is purehealth100.com.

They are in the pure coffee category because they are 100% pure.

This looks like the best and most authentic product that I could find. The price is fair and they had zero additives."

Duncan did not disclose to the Dr. Oz Show producer his relationship to Pure Health.

Over the ensuing months, Defendants continued to attempt to hide Duncan's relationship to Pure Health from the Dr. Oz Show and the public.
An earlier similar case involving black raspberries is also detailed in the FTC's complaint.
After appearing on Dr. Oz, Duncan and his companies sold tens of millions of dollars' worth of the extract, according to the FTC.

The FTC also alleged that Duncan and several of the companies' paid spokespeople portrayed themselves on television shows as independent sources of information about green coffee bean extract and other natural remedies, while failing to disclose their financial ties to the companies.
Tens of million dollars in profit might make a nine million dollar fine seem trivial, but the fine also leaves Duncan's and Genesis Pure's respective reputations in shatters.
The proposed stipulated court order requires the defendants to substantiate any future weight-loss claims with at least two well-controlled human clinical tests.

Any claims the defendants make about the health benefits and efficacy of any dietary supplement or drug cannot be misleading and must be substantiated by competent and reliable scientific evidence.

Further, the order prohibits false claims that the benefits of any such product are scientifically proven.
Even with the above stipulations in place, a question-mark is likely to forever hover above anything Duncan promotes.
What the FTC's fine means for Genesis Pure as an MLM business opportunity remains to be seen.
Genesis Pure equipment and inventory has been offered up as a security agreement, should Duncan fail to pay the FTC five million within two weeks and a further four million over the next nine months.