London Police drop OneCoin investigation, defer to DOJ

After three years the City of London Police have revealed they've dropped their OneCoin investigation.
The revelation was made in what appears to be a public request for a case review.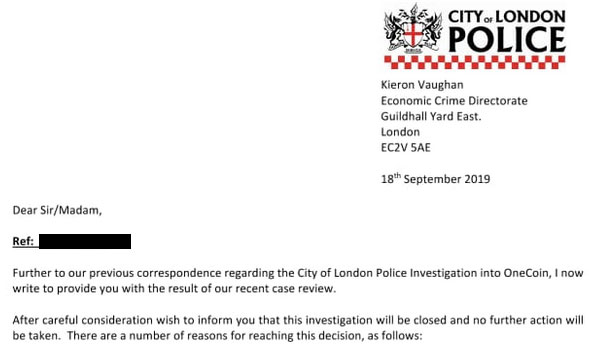 As per Kieron Vaughan of the Economic Crime Directorate, London police have closed their investigation because
OneCoin and the scammers running it aren't operating from within the UK;
they've been "unable to identify evidence" that they can bring against foreign OneCoin defendants in UK courts;
they can't prove beyond a reasonable doubt that UK scammers involved in OneCoin "committed criminal offenses"; and
there are no UK based OneCoin assets for them to go after to compensate OneCoin victims.
The City of London began investigating OneCoin back in late 2016, a few months before the Ponzi side of the business collapsed in early 2017.
At the time OneCoin events were being regularly held in the UK, so apprehending promoters of unregistered securities would have been trivial.
Instead London police appear to have… well we don't know what they've been up to, save to say three years later they've thrown in the towel.
Not because OneCoin isn't a Ponzi scheme, but because it's easier to let the US deal with it.
The US authorities have announced charges against senior OneCoin personnel.

We have supported their investigation and continue to do so.
Vaughan ends his communication by providing the public with contact details for the Southern District of New York DOJ.
While I can appreciate the London Police for not being able to do much about Bulgarian scammers, the least they could do is admit those promoting OneCoin in the UK fled to Dubai and elsewhere before they could get their act together.
Former top UK promoters Moyn and Monir Islam fled the UK shortly after OneCoin collapsed.
Muhammad Zafar, another prominent UK OneCoin promoter, is still pushing OneCoin spinoff scams in the UK.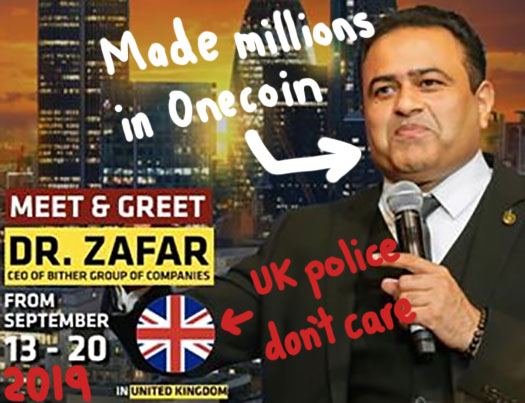 Not that the London Police seem to care.
Last we heard the police had made arrests in connection to OneCoin money laundering. Presumably however, those charges have since been dropped.
What's particularly depressing is that the ongoing US investigation has pegged OneCoin's fraud at $4 billion dollars.
You're telling me the City of London Police took three years to decide they weren't going to do anything about rampant promotion of OneCoin across the UK?
Meanwhile the message to victims of scams less than $4 billion is clear: filing complaints with UK authorities is a waste of time and effort.
I've come to expect this from Companies House, but the police themselves dropping the ball is a new low.
UK authorities, London Police in particular, have utterly failed to protect UK residents and communities from one of the largest MLM Ponzi schemes of all time.
One thing to take away from this though is the reinforcement of avoiding MLM companies that exclude the US.
It's not a perfect system, but the US offers the strongest protection against and regulation of investment fraud scams like OneCoin.
If an MLM company that has anything to do with investment is running scared of the US, it's a scam.
Countries even as big as the UK will not do anything, unless the person running the scam is local.
And even then getting to that point could take years, during which scammers are free to flee the country as they please.