26,000+ OneCoin downline abandoned by "top leaders"

I don't really follow chatter surrounding the bigger downlines of MLM companies too closely, but over the last few weeks OneCoin has been rocked by a series of high-profile departures.
"Top Earner" David Imonitie, formerly of Organo Gold fame, joined OneCoin last October. For reasons he doesn't go into, earlier this month Imonitie confirmed he had since left the company.
Under a murky deal allegedly reached between Ruja Ignatova and Armando Contreras, most of the US OneCoin affiliates have also jumped ship for iPro Network.
Well, at least those that can. Tom McMurrain did go soft on his OneCoin spam for a while. But amid rumors iPro Network wouldn't have him, he's gone back to promoting OneCoin by telling people how much they suck.
Amid an ongoing investigation by London police, now news that those at the top of one of the largest UK downlines are also leaving OneCoin.
Well, sort of.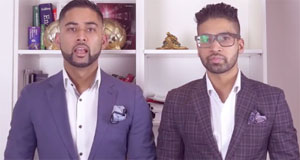 The brothers Moyn and Monir Islam head up "ODT GoPro", one of, if not the largest UK-based OneCoin downline.
According to the brothers they sit atop a OneCoin downline numbering over 26,000.
With rumors swirling about their departure from OneCoin over the past week, the Islam brothers have confirmed as much via a Facebook video post.
Published a few hours ago, in the video the Islam brothers claim that, despite the OneCoin doing "amazing things" for them since they joined fourteen months ago, they are now choosing to "walk away" from a "multiple six-figure income.
We want you to know that it was not just done (the decision to leave) by (the) two of us.

It (the decision) has been done by a collective force.
If you're wondering why the Islam brothers are leaving OneCoin – you're not alone… and they know it.
We know you all are thinking why did these guys give us so much belief and confidence and suddenly they just decided to leave.

We want you to understand that this is not a decision made over night, but rather it has been a build up of unanswered questions … (which have) been dropping our confidence in terms of longevity of the company.

We stayed maybe longer than we should have for obvious reasons.

We stayed because we are committed. We stayed because we believe things can change for (the) better. We stayed for loyalty and most importantly, we believe in the promises that was given (to us).
Keeping in mind they're addressing a downline of over 26,000 who have money in OneCoin, at this point you'd expect the brothers to go into what promises were broken.
No such luck.
What we realized (is that) our belief is no longer there. And we cannot promote the way we used to promote, or tell someone they can come here and win big at their desired level.

Or at least the same level as us and what we have achieved.

That is when we decided that we cannot promote, ourselves, this business and this company anymore.

Based on what we know, we have made a decision.
Rather the brother's dance around why exactly they left. Meanwhile as for "staying on longer than they should have", that one is easy – money.
The Islam brothers are quick to reassure their following that their ODT GoPro relationship is still intact.
Presumably ODT Go Pro will be hitched to another MLM business opportunity at some point. And it very much feels like that is the point of the Islam's video, as opposed to coming clean with their downline about why they're leaving OneCoin.
Later in the video the brothers address why this is the case.
It is a true fact that we won't be networking for OneLife, however we believe in Doctor Ruja's vision.

We believe in the coins, this is why we still have our accounts. We still have the coins.
Ignatova has whatever the Islam brothers have invested and reinvested into OneCoin hostage.
Like everybody else, the brothers have been unable to cash out their Ponzi points for around a year.
And so instead of being honest about why they're leaving and explaining everything, the Islam brothers tiptoe around inferring the money in OneCoin recruitment is no longer there.
This conveniently highlights the primary difference between OneCoin's Ponzi points and legitimate cryptocurrency.
With a legitimate cryptocurrency, nobody can take that away from you. What's your is yours.
In OneCoin, if you're a top leader and decide to leave, best you believe you're not explaining why – if you want to keep your invested balance.
Dare to speak openly and honestly about the company, and Ignatova will cancel your account faster than you can spit out a pitch for your new "the next bitcoin" opportunity.
It is important that you understand that we don't believe in OneLife as building a long-term network marketing business, however we believe in OneCoin (because that's where our money is tied up).
And that's exactly what's going on here with the Islam brothers.
In a possible attempt to distract affiliates from recent high-profile departures, last week OneCoin magically increased the value of everyone's Ponzi points by 25.5% to 9.85€.
Unfortunately it seems more and more of their affiliates are realizing the silliness of boasting about the rise, when nobody can actually convert their points to cash.
That's what the Islam brothers probably wanted to tell you, but couldn't.