BitherCash Review: BEC Ponzi points Bitconnect lending clone

BitherCash operates in the MLM cryptocurrency niche and appears to be operated out of Dubai.
Heading up BitherCash is Founder and Chairperson, Javed Mujawar.
Prior to launching BitherCash, Mujawar (right) promoted the Global Donation Community and OneCoin Ponzi schemes.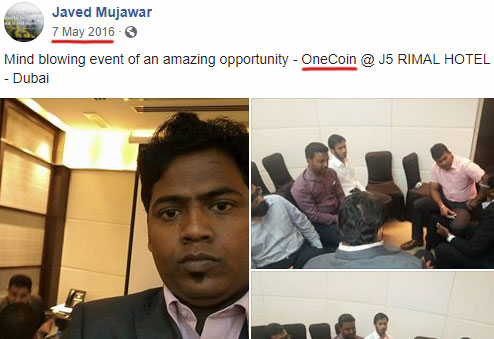 At the time of publication Alexa estimate Pakistan makes up just under half of all BitherCash website traffic (49%).
Although recruitment there seems to have since cooled, initially Mujawar was targeting investors in India: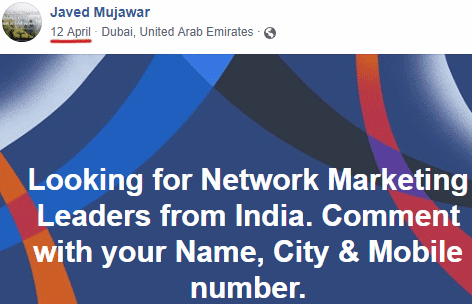 According to his Facebook profile, Mujawar is originally from Pune in the Indian state of Maharashtra.
Read on for a full review of the BitherCash MLM opportunity.
BitherCash Products
BitherCash has no retailable products or services, with affiliates only able to market BitherCash affiliate membership itself.
The BitherCash Compensation Plan
BitherCash affiliates invest in BEC points on the promise of an advertised ROI.
BEC was initially sold to BitherCash investors for 40 cents each. The current internal value of BEC points is 0.98 cents.
BitherCash affiliates invest $100 to $50,000 on the promise of an advertised ROI:
Student – invest $100 and receive 1.5% a month for 10 months
Pilot – invest $500 and receive 2% a month for 9 months
Standard – invest $1000 and receive 3% a month for 8 months
Professional – invest $5000 and receive 4% a month for 7 months
Master – invest $10,000 and receive 5% a month for 6 months
Deluxe – invest $25,000 and receive 7% a month for 6 months
Elite – invest $50,000 and receive 8% a month for 6 months
Note that ROIs are paid in BEC points, which must be then converted to real money via BitherCash's internal BitherX exchange.
Recruitment Commissions
BitherCash affiliates earn 10% of funds invested by personally recruited affiliates.
Residual Commissions
BitherCash pays residual commissions via a binary compensation structure.
A binary compensation structure places an affiliate at the top of a binary team, split into two sides (left and right):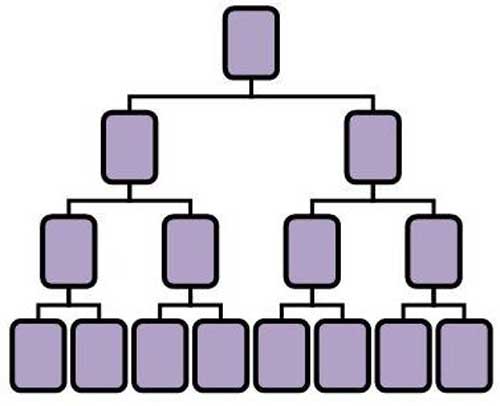 The first level of the binary team houses two positions. The second level of the binary team is generated by splitting these first two positions into another two positions each (4 positions).
Subsequent levels of the binary team are generated as required, with each new level housing twice as many positions as the previous level.
Positions in the binary team are filled via direct and indirect recruitment of affiliates. Note there is no limit to how deep a binary team can grow.
At the end of each day BitherCash tallies up new investment volume on both sides of the binary team.
Residual commissions are paid out as a percentage of funds invested on the weaker binary side.
How much of a percentage is paid out is determined by how much a BitherCash affiliate has invested:
invest at the Student tier ($100) and receive a 5% residual commission rate
invest at the Pilot to Professional tiers ($500 to $5000) and receive an 8% residual commission rate
invest at the Master tier ($10,000) and receive a 9% residual commission rate
invest at the Deluxe or Elite tiers ($25,000 or $50,000)  and receive a 10% residual commission rate
Matching Bonus
BitherCash offers a Matching Bonus via a unilevel compensation structure.
A unilevel compensation structure places an affiliate at the top of a unilevel team, with every personally recruited affiliate placed directly under them (level 1):

If any level 1 affiliates recruit new affiliates, they are placed on level 2 of the original affiliate's unilevel team.
If any level 2 affiliates recruit new affiliates, they are placed on level 3 and so on and so forth down a theoretical infinite number of levels.
BitherCash cap payable unilevel team levels at five.
The Matching Bonus is paid out as a percentage of residual commissions earned by unilevel team affiliates across these five levels as follows:
Student affiliates receive a 5% match on level 1 (personally recruited affiliates
Pilot affiliates receive a 5% match on levels 1 and 2
Standard affiliates receive a 5% match on levels 1 to 3
Professional affiliates receive a 5% match on levels 1 to 4
Master and higher tier affiliates receive a 5% match on levels 1 to 5
Joining BitherCash
Basic BitherCash affiliate membership is $10.
Affiliates looking to invest and acquire BEC points from the company must choose one of the following investment tiers:
Student – $100
Pilot – $500
Standard – $1000
Professional – $5000
Master – $10,000
Deluxe – $25,000
Elite – $50,000
The more an affiliate invests the higher their income potential via the BitherCash compensation plan.
Conclusion
Remember all those BitConnect lending clones that popped and died last year?
Yeah, BitherCash is pretty much that – except with a much lower ROI rate.
While other staking platform offers 1%-3%-5% may be upto 10% a day and goes south in couple weeks/months, BitherCash via principle of "Pure Lending" will offer anywhere between 1.5% to 7% a month (less than competitors but much more than a traditional bank), as such will turn out to be the most stable cryptocurrency by offering realistic and sustainable goals!
In an effort to dupe gullible investors, BitherCash refer to lending as "staking".
Same deal though, you invest, BitherCash dumps worthless BEC points on you and you "lend" these points to the company.
BEC points are generated on a whim by BitherCash at little to no cost.
After parking your BEC points BitherCash pays you a monthly ROI, in BEC points of course.
Then at the end of your plan's maturity period, you try to convince bagholders to buy your points for more than you paid for them through the BitherX exchange.
Here's how BitherCash themselves describe their fraudulent business model:
If an investor lends 100 BEC tokens at $1 and after one year the price of BEC token is $30, then they don't get $100 back (like all other traditional lending companies), instead they get their 100 BEC tokens back valued at $30 each, so their $100 investment in one year turns into $3000 and to top it all up we pay our investors an interest for lending them their tokens to BitherCash.
Javed Mujawar and friends take your money when you initially invest, pay what they have to via the compensation plan and pocket the rest.
As with BitConnect, this lasts as long as there's new gullible bagholders willing to snap up BEC points.
Once that demand dies down (and it inevitably will), BitherCash collapses and the internal BEC value plummets to $0.
Not withstanding BEC points themselves being worthless outside of BitherCash's Ponzi scheme.
Regardless of what the ROI rate offered is, BitherCash is still just a BitConnect lending Ponzi clone.
You know how this ends. BitherCash's admins make off with your money and the vast majority of investors lose it all.
Update 3rd October 2019 – As evidenced by Alexa traffic estimates to its website, BitherCash it's BEC token points have flopped:

In a desperate bid to solicit new investment from BitherCash investors, the company has launched MybDairy.
Heading up MybDairy is Chairman Mariana Ludmila Cortes. Cortes features on BitherCash's website as a "blockchain advisor".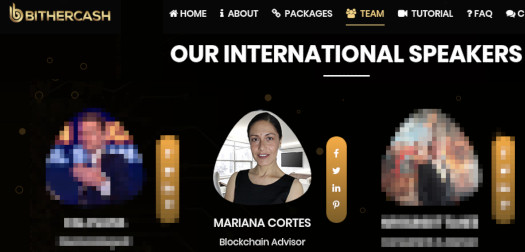 As to MybDairy's business model, talk about over-engineering a solution to a problem that doesn't exist;
MYbDAIRY Smart Farms is a farming system based on artificial intelligence and blockchain allowing real time monitoring of livestock improving the quality of milk and related products.
MybDairy is hitched to MYBD, an pointless ERC-20 shit token. MybDairy has been flogging MYBD tokens to gullible investors since September 11th.
BitherCash investors are being sold MYBD token packages for $500, $1000 and $5000.
As far as I can tell MybDairy itself doesn't operate as an MLM opportunity.
BitherCash affiliates are rewarded for soliciting MYBD token investors only on their personal recruits:
sell a $500 investment package and receive 10% till September 30th and then 5% till November 10th
sell a $1000 investment package and receive 20% till September 30th, 10% till October 20th and then 5% till November 10th
sell a $5000 investment package and receive 30% till September 30th, 20% till October 20th and then 10% till November 10th
Telling of the worthlessness of tokens attached to BitherCash, the above referral commissions are paid in bitcoin.