Gilbert Armenta under compassionate release till sentencing

A filing by Gilbert Armenta in the OneCoin class-action has revealed he's currently under compassionate release.
Armenta revealed his release conditions as part of a request for more time to answer the OneCoin class-action complaint.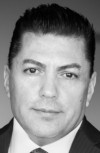 Armenta (right) is a defendant in the lawsuit, filed by OneCoin victims, and was served on November 16th.
In the November 23rd extension motion, Armenta reveals he's
under a compassionate release order, with limited opportunity to leave my residence.
As per the Federal Bureau of Prisons (cited by Wikipedia);
Compassionate release is a process by which inmates in criminal justice systems may be eligible for immediate early release on grounds of "particularly extraordinary or compelling circumstances which could not reasonably have been foreseen by the court at the time of sentencing".

Unlike parole, compassionate release is not based on a prisoner's behavior or sentencing, but on medical or humanitarian changes in the prisoner's situation.
Whether Armenta's compassionate release was granted on medical or humanitarian grounds remains unclear.
On November 25th Armenta's extension motion was granted, giving him until February 1st, 2021, to respond to the class-action complaint.
In a related criminal matter, Armenta has pled guilty to money laundering for OneCoin. He is scheduled to be sentenced on January 29th, 2021.