Entry of default recorded against OneCoin, Ignatova & Armenta

Class-action defendants OneCoin, Ruja Ignatova and Gilbert Armenta have had entries of default recorded against them.
Requests for the court clerk issue certificates of default were made earlier this month.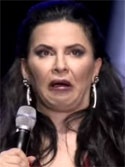 Despite being served (at least on paper), neither OneCoin, Ignatova (right) or Armenta had filed a response to the OneCoin class-action.
The default certificates pave the way for OneCoin class-action Plaintiffs to file for default judgment.
While Gilbert Armenta's whereabouts are known, securing default judgment against OneCoin and Ruja Ignatova prompts the question: What then?
OneCoin is being run by a skeleton staff crew out of Bulgaria. Ruja Ignatova disappeared in late 2017, she hasn't been seen or heard from since.
Certificates of default were entered against OneCoin, Ignatova and Armenta on May 17th.
We'll continue to monitor the class-action case docket for updates.