Bulgaria fires disgraced Onecoin protector Ivan Geshev

A top official believed to be behind Bulgaria's ongoing protection of OneCoin has been fired.
On June 12th, Bulgaria's Supreme Judicial Council (SJC) voted to dismiss Ivan Geshev as Prosecutor-General.
On June 15th, Bulgarian President Rumen Radev signed off on the SJC's decree, effectively firing Geshev from his post.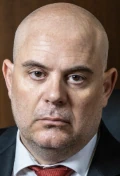 The Sofia Globe reports Geshev (right) was dumped following a 16/4 vote split.
The vote stemmed from a general consensus that "Geshev brought the judiciary into disrepute."
The specific event that triggered that consensus was a May 15th news conference, during which Geshev "accused politicians of interfering in the work of the prosecutor's office."
Preceding the May news conference was a February 2023 report from BIRD, alleging OneCoin founder Ruja Ignatova was "killed on a yacht" back in 2018.
The hit was reported to have been ordered by Christophoros Amanatidis-Taki, one of the most notorious members of Bulgaria's criminal society.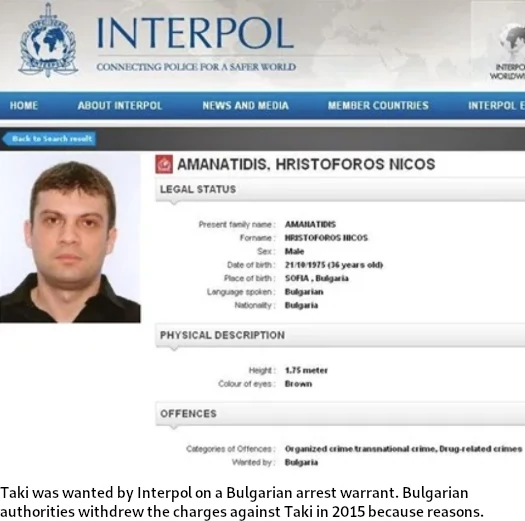 The report remains an unverified theory but set off a political firestorm in Bulgaria.
The beginning of that firestorm was the implication of Bulgarian crimelords being sheltered by authorities – namely Geshev's Office and Mikhail Naumov, head of Bulgaria's Federal Homicide Department.
In response to BIRD's article, one of Taki's associates filed five defamation lawsuits against BIRD journalists and editorial staff.
Instead of investigating the lead, Geshev's Office locked arms with Taki.
On March 16th Geshev held a news conference, during which he denounced BIRD's reporting as "an alleged plot to incriminate him and the high-ranking magistrates and police officers."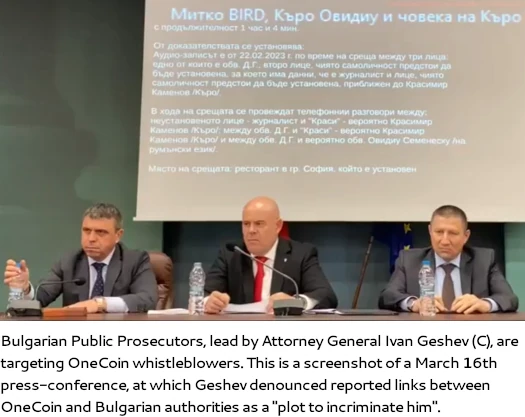 Further revealing what his Office has been up to instead of investigating Taki, Geshev leaked unredacted correspondence between BIRD journalists and a formerly protected source on April 7th.
The source was later arrested on drug possession charges, in what appears to be an attempt to cease further interaction with BIRD journalists.
Things further escalated on April 13th, when Geshev announced his Office had initiated a criminal investigation into Bulgarian journalists covering the scandal (including the two BIRD journalists who broke the Ruja yacht story).
This move was widely condemned by media watchdog groups.
Two weeks later Geshev was the reported target of a car bomb attack. Media outlets sympathetic to Geshev, were quick to blame journalists for the alleged attack.
The timing of the attack was highly suspicious. Personally I think it was staged to drum up support for Geshev ignoring crime and going after journalists.
Members of the Bulgarian National Assembly were also skeptical of the attack. As reported by Politico;
Many opposition politicians, however, suspected political theater, with Geshev building up a fake tale of persecution as the political tide turns against him.

Atanas Atanasov, co-chairman of the reformist Democratic Bulgaria party, added there was "clear evidence of staging."
Public remarks from Bulgarian politicians ridiculing him didn't sit well with Geshev.
On May 15th Geshev held another news-conference, this time pledging " to rid the National Assembly of its "political garbage.""
For the SJC, that was the straw that broke the camel's back.
The Supreme Judicial Council cited this outburst in explaining its vote to remove him, arguing he had crossed red lines.

"The principles of 'politeness and tolerance' and 'honesty and decency' in the Code of Ethical Behavior of Bulgarian Magistrates were violated with his remarks at a press conference held on May 15, 2023."
Instead of acknowledging he was fired, Geshev framed it as a resignation.
"This is the last time I am speaking to you as a magistrate, after I complied with the law, and after 30 years of working for the people, I am now resigning.

Ivan Geshev states further that the work of the prosecutor's office against "criminal oligarchs and against party leaders with sticky fingers" has led, in the past few months to "the unprecedented unity of politicians in top positions, mafia and shady businesses" who are trying to "bring under control and subdue the prosecutor's office".
Riiiiiiiiighhhh…………t.
It's worth noting that after Geshev's career-ending outburst, over in South Africa Karassimir Kamenov was shot dead on May 25th.
Kamenov, a former long-time associate of  Christophoros Amanatidis-Taki, is believed to be behind the March 2022 murder of Lyubomir Ivanov.
Ivanov was former head of the criminal division of Bulgaria's national police. Documents BIRD relied on to put together their "Ruja Ignatova was murdered on a yacht" report were sourced from Ivanov's personal safe.
I know the names are complicated to follow but we've basically come full-circle back to OneCoin.
According to Dimitar Stoyanov, one of the BIRD journalists who broke the Ruja yacht story, prior to Kamenov's murder he "had given evidence before a foreign jurisdiction in the last six months "in connection with key criminal cases with an international element"."
This is believed to be the US' ongoing criminal investigation into OneCoin.
The day after Kamenov's murder, BIRD reported Kamenov "was about to say more to US investigators".
At the time of his murder Kamenov had an Interpol Red Notice out on him, issued by Bulgaria. Geshev, it seems, might have been aware Kamenov was squealing and wanted to repatriate him.
South African authorities knew Kamenov was hiding in the country as early as April 6th, 2023. Why they did nothing remains unclear.
With Geshev gone it's tempting to imagine we might finally see Bulgarian authorities raid OneCoin's Sofia offices.
Under Geshev's watch, the $4 billion Ponzi scheme continues to operate from the same offices Ruja Ignatova ran the scam from.
After learning the FBI was after her, Ignatova disappeared in October 2017. The Ponzi side of OneCoin died in January 2017 but pyramid recruiting has continued for almost six years since.
Amanatidis-Taki is a strong contender for who is ultimately pulling the strings at OneCoin's Sofia office. There are rumblings Bulgarian politicians are also on the payroll.
So, what happens now?
Todd Prine, a senior correspondent for RFE/RL Bulgaria writes;
The council's rushed vote, triggered by a crude remark Geshev made about parliamentarians rather than his actions as prosecutor, was anything but a victory for Bulgarian judicial independence and reform, experts said.

It reeked of political intrigue, which has been at the heart of the judiciary's — and the country's — problems.

Geshev … is unlikely to disappear from Bulgarian political life. In a YouTube statement on June 19, he said he had resigned as prosecutor-general and hinted that he would enter politics.
There's undoubtedly a lot more to this beyond OneCoin but, as far as BehindMLM goes, that's our primary interest Geshev's downfall.
It'd be great to see Geshev's successor open a proper investigation into OneCoin, its ongoing Sofia operations and the obvious ties to Amanatidis-Taki.
For now though, I'm cautiously optimistic but not holding my breath.
The interconnectivity between Bulgarian politics and organized crime developed over decades. Firing one corrupt prosecutor isn't going to change the system overnight.