$45.7 million recovered from Chinese OneCoin scammers

A few weeks back BehindMLM reported on the arrest of three Chinese OneCoin affiliates.
Specifics surrounding the arrests were sketchy, but we do know that three affiliates were apprehended and $30.8 million USD in assets recovered.
Now in a followup article from ZSBTV, additional details about the arrests have emerged.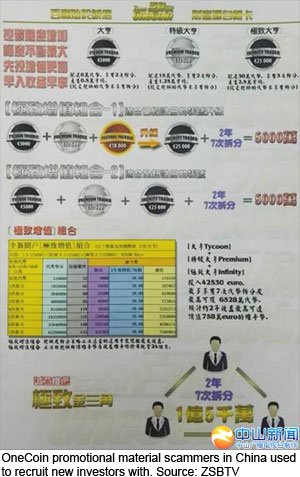 OneCoin is known in China as "维卡币" (literal translation: "Vicat Credits").
The Chinese investigation into OneCoin was part of operation "Hurricane 2016", a joint effort by police in Guandong.
Through operation Hurricane 2016, authorities in the East District of Zhongshan city targeted drug and theft crimes, as well as telephonic and financial fraud.
The investigation into OneCoin fell into the latter, with police announcing they have taken down a "major" OneCoin team.
The investigation by Zhongshan East District police began in March, after it was reported "a gang of criminals" were earning large sums of money by soliciting investment into OneCoin.
On March 16th, police moved in and arrested Ms. Liao (40), Ms. Lin (39) and Mr. Cao (45). Police also seized computers, cell phones and bank cards as criminal evidence.
Liao was the top investor "in charge" of this particular downline, which contained both Chinese and foreign nationals.
The team widely promoted OneCoin as a second generation virtual currency, which has enormous potential for its value to increase.
Naturally there was no mention of "educational packages", with OneCoin investors in China largely ignoring the pseudo-compliance affiliates elsewhere have adopted.
Victims Liao's OneCoin team recruited into the scheme paid funds directly into her and Mr. Cao's bank accounts. In exchange, victims were given worthless OneCoin points generated via printed out barcodes.
With the OneCoin exchange blocking most withdrawal requests for months, OneCoin investors instead make most of their money through recruitment.
Following the arrests, it was initially reported that police had seized $30.8 million USD. Additional asset-freezes on real-estate and bank accounts has seen that figure rise to $45.7 million USD.
Authorities in China estimate that thousands of Chinese OneCoin affiliates have invested around $91.4 million USD into the scheme.
What impact of the loss of over $45 million dollars and a major source of investment from China will have on OneCoin remains to be seen.
Following news breaking of the arrests, OneCoin quietly cancelled a scheduled mainland event in Harbin.
A hastily put together event in Macau was announced a few weeks later.
With authorities in China actively investigating the scheme and arresting top investors, promotion of OneCoin in China is expected to grind to a halt.