One80 Review: EPX Body gets a reboot

When I first reviewed EPX Body back in March of 2012, the company appeared to have an unofficial connection with Xooma Worldwide through its apparent owner, Dan Putnam.
Some months ago EPX Body appears to have gone through a reboot, with the company dropping the "EPX" portion of its name in favor of "One80". On the domain "epx180.com" however, an image in the footer advises that One80 is "powered by" EPX Body.
Absent on the One80 website is any information on who is running the company. The website does feature an "About 180" link, however clicking it only brings up the following vague marketing copy:
One80 was started by a group of very successful businessmen with over 100 years of combined experience; they have created an opportunity to help you understand the exact steps you need to take in order to be successful and provide the tools to succeed and take advantage of all the benefits that are available for starting a business.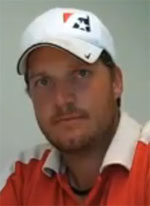 The EPX Body website domain is still registered to Dan Putnam (right), so he's evidently still running things. There's no mention of Xooma Worldwide on the site though.
I've had a few requests from readers claiming that EPX Body has mixed things up with the release of One80 now, and today I finally got around to taking a look at what's changed.
Read on for a full review of the One80 MLM business opportunity.
The One80 Product Line
Gone are the weight-loss products EPX Body once offered, with One80 now offering what appears to be access solely to third-party products and services.
Referred to as the "One80 Product Suite", the company offers access to a marketing suite. One80 state the suite contains
Lead Capture Pages
Powerful Marketing Presentations
Automated Email Follow Up
Business Tracking tools and much more.
No specific information is provided.
Also bundled is access to Taxbot and the Savvi network.
Taxbot is tax software owned by Sandy Botkin. The company advertises an affiliate program on their website, promising affiliates '40% of all revenue when you sell it to your clients!'
In the case of One80, the company's affiliates would be "the clients", with the company itself signing up as an affiliate of Taxbot.
Who owns Savvi is unknown, with the company failing to provide ownership details on their website. The website domain "savvi.com" is registered anonymously, so no clues there either.
Murky ownership aside, Savvi offers access to a discount/savings/coupon database for free (limited) or via paid subscription:
Savvi offers two types of memberships: Free and Paid. Members enrolling as Free Members will not be charged a monthly or yearly subscription and no billing data is collected.

Free Members, as limited users, can access certain deals and discounts listed on the Savvi mobile app or on the Savvi website. Free Members have the option to upgrade from Free to Paid by selecting one of our paid plans.
I couldn't find any information on Savvi's paid plans, so how much they charge for paid membership is a mystery.
All of the above is offered through One80 membership. Be it preferred customer or affiliate, One80 membership is priced the same at $24.95 a month.
The One80 Compensation Plan
The One80 compensation plan revolves around getting people to pay $24.95 a month for membership. This $24.95 a month fee doubles as monthly autoship, which an affiliate must maintain in order to qualify to receive commissions.
Retail Commissions
One80 pay a 30% commission for every preferred customer that signs up with the company.
A 50c ongoing monthly commission is also paid out as long as the customer continues to pay their monthly membership fee.
Recruitment Commissions
Paid out the same as retail commissions, One80 also pay a 30% commission whenever a new affiliate is recruited.
50 cents is also paid out through the matrix for each affiliate recruited.
One80 Affiliate Membership Ranks
There are nine affiliate membership ranks within the One80 compensation plan. Along with their respective qualification criteria, they are as follows:
Promoter – pay $24.95 a month
Trainer – recruit at least one affiliate, pay $24.95 monthly fee
Executive – recruit at least four affiliates, have a downline generating at least $1000 in volume a month and pay $24.95 monthly fee
Regional Executive – recruit at least four affiliates, have a downline generating at least $5000 in volume a month and pay $24.95 monthly fee
National Executive – recruit at least four affiliates, have a downline generating at least $25,000 in volume a month and pay $24.95 monthly fee
International Executive – recruit at least four affiliates, have a downline generating at least $50,000 in volume a month and pay $24.95 monthly fee
Vice-President – recruit at least four affiliates, have a downline generating at least $100,000 in volume a month and pay $24.95 monthly fee
National Vice-President – recruit at least four affiliates, have a downline generating at least $250,000 in volume a month and pay $24.95 monthly fee
Global Vice-President – recruit at least four affiliates, have a downline generating at least $500,000 in volume a month and pay $24.95 monthly fee
Note that for the downline volume requirements, only 60% tops can be counted from any given recruitment leg.
Matrix Commissions
Residual commissions in One80 are paid out using a 4×5 matrix compensation structure
A 4×5 matrix places an affiliate at the top of the matrix, with four positions directly under them (level 1). In turn, these five positions branch out into another four positions below (level 2):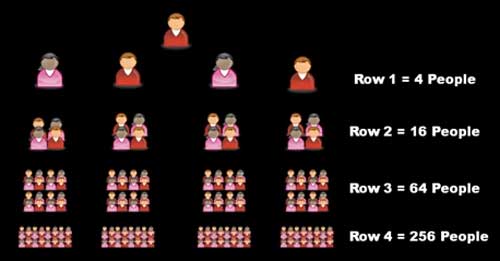 In this manner, the matrix extends down a total of five levels, with a total of 1364 positions to be filled.
Positions in the matrix are filled via the recruitment of new One80 affiliates or teh signing up of customers. And as long as the affiliates and customers filling the matrix position continue to pay their monthly fees, commissions are paid out as a percentage of the fees paid:
levels 1 and 2 – 2.5%
levels 3 and 4 – 5%
level 5 – 10%
Matrix Matching Bonus
A Matching Bonus is available on matrix commissions earnt by recruited affiliates, payable down four levels of recruitment:
personally recruited affiliates (level 1) – 20%
levels 2 to 4 – 10%
Qualifications for the matching bonus include the recruitment of four affiliates and those being matched on being at the Executive or higher affiliate membership rank.
Trainer affiliates (who must recruit one affiliate) only qualify for the level 1 Matching Bonus.
Generational Bonus
A Generational Bonus effectively extends matrix commissions beyond level 5, paying out a commission as per defined "generations".
Generations in One80 are defined according to the finding of a Regional Executive or higher ranked affiliate.
Each matrix position on the fourth level is qualified for independently of the others, with the first generation being defined when a Regional Executive is found beyond the sixth level of the matrix.
When one is found, every affiliate in that leg from the sixth level to the found affiliate is defined as the first generation.
The second generation is defined when another Regional Executive or higher affiliate is found further down the matrix in that particular leg.
Commissions in the Generational Bonus are paid out as 2% of the sales volume generated by affiliates in each of the four payable generations.
Global Bonus Pool
The Global Bonus Pool is made up of a percentage of the membership fees One80 collect from both affiliates and customers.
It is paid out at the Executive rank, with shares in the pool allocated equally among all affiliates at that particular rank.
The percentage of company-wide revenue set aside for each Global Bonus Pool is as follows:
Executive to International Executive – 1%
Vice President to Global Vice President – 2%
Leadership Coding Bonus
There's a Leadership Coding Bonus mentioned in the One80 compensation plan material, with it being described as follows:
Earn $5 paid up 10 levelson all Leadership packs sold in your organization. *Must purchase a Leadership Pack to qualify.
For reasons unknown, there's mention of Leadership packs on the One80 website, nor does anything about them appear on the One80 affiliate signup form.
As such, what they are and how much they cost are a mystery.
Joining One80
Affiliate membership to One80 is $24.95 a month. This fee qualifies a One80 affiliate to earn commissions off of recruited affiliates and customers they sign up to the company.
Conclusion
One80 continues the EPX Body opportunity, but sadly ditches the legitimacy potential EPX Body had in favour of a matrix offering bundled with third-party products and services.
As it stands One80 offer no products and services of their own. The marketing suite might be an in-house product (doubtful), however it's obviously not a selling point as it's simply glossed over on the One80 website.
And in any event, a marketing suite designed to market the opportunity itself is hardly going to cut it as a standalone MLM product that will appeal to retail customers.
On that front, all you're left with is Taxbot and Savvi. A third-party software suite and access to someone else's discount database.
The question of legitimacy within One80 comes down to: Will anyone who's not interested in the income opportunity shell out $24.95 a month for access to discounts and Taxbot?
Given that affiliate membership is priced identical to the so-called preferred customer account, I'm tipping they won't.
Quite obviously the idea here is to sign up for $24.95 a month and then get paid signing up other affiliates who do the same.
Legitimacy would come in the form of there being more retail customers in the company-wide matrix than affiliates, but I'm just not seeing it. Neither Savvi discounts or Taxbot are exclusives, so why would a retail customer access them through One80?
Don't take my word for it though, by all means question your prospective upline as to how many preferred customers they have signed up in their matrix versus recruited affiliates (directly recruited or otherwise).
The issue of retail customer numbers is the largest red-flag I identified with One80, but there are also some secondary lesser concerns.
Top of the list is this Leadership Pack bonus. Getting paid $5 per Leadership Pack sold sound suspiciously like a chain-recruitment scheme. And not helping is the complete lack of details of what these packs entail anywhere on the One80 website.
As per the name, it's pretty much a given that the packs themselves are aimed at affiliates, so what you end up with there is a simple $5 a pop recruitment scheme (paid up 10 levels of the matrix, which equates to $50 being paid out on recruitment).
The issue of affiliate membership fees doubling as monthly autoship is also of concern. With no differentiation other than clicking a different button separating affiliates and customers cost wise, there's a big question mark over the motive of affiliate purchases within One80.
Are One80 affiliates purchasing monthly membership to qualify for commissions or because they genuinely want/use Savvi discounts and/or TaxBot?
Requiring affiliates to purchase autoship for commission qualification is generally frowned upon in the MLM industry. Here with One80 they take it a step further by requiring for commission qualification to.
Given the hush-hush nature of Savvi ownership and the private domain registration, I also have a hunch that those behind One80 might be involved in the running of Savvi too. Otherwise it made little sense for there to be no Savvi ownership information available.
Finally, buried in the One80 Terms and Conditions is this eyebrow raising "income guarantee":
9. Guaranteed Income Refund

In order to qualify you must have at least a 30cv order every month for six months, enroll at least 5 people with a 30cv or higher income within your first 30 days, and at least 2 of the 5 have to maintain at least a 30cv order for the entire six months.

If you meet these qualification and you are not earning at least $1,000 per month in commissions you have the option to return any unused product and sell you position back to the company for $240. This is the equivalent of a full refund for 6 months worth of orders. We only refund up to $40 per month.
Refunds I have no problem with but income guarantees? That's definitely an FTC marketing no-no.
Put all of the above together and there's the very real possibility that with One80, you're just going to wind up with a company full of affiliates looking to recruit new affiliates to get paid.
At $24.95 a month, One80 is probably going to bottom out sooner rather than later.
Speaking of which, what on Earth happened to EPX Body? This new incarnation is just a cookie-cutter "throw a bunch of random stuff together and charge a fee for it" recruitment opp… these things never last.