Omega Group collapses, CEO claims he's a victim

The Omega Group Ponzi scheme appears to have collapsed, prompting CEO Bartosz Nafalksi to make a forty minute long excuse video.
Nafalski claims to have gotten involved in cryptocurrency sometime in 2018. He states Omega Group CFO Lucas Bozek approached him about starting up a mining facility.
Together with "Pawel", a "leader", and "Konrad", head of Omega Group support, Nafalski and Bozek outfitted an old dairy farm for mining.
The business flopped and failed to generate profit.
Rather than take the loss however Nafalski claims Bozek convinced him to recoup their losses via MLM.
Omega Group launched in late 2018 and claimed to run
mining farms located all across Europe.

Our GPU miners are running 24h/day to mine the most profitable cryptocurrencies for you.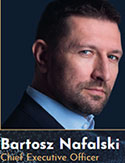 Nafalski doesn't explain how, after failing to generate profit for himself, he pitched Omega Group as a profitable mining company with a straight face.
Obviously Omega Best failed to generate profit, resulting in its collapse earlier this year.
Rather than accept responsibility for that, Nafalski paints himself as a victim.
[12:15] They used my brand, my face, to use me and you just to get the money in a very perfidiously way.

Nafalski claims Lucas Bozek (right) had sole control of funds invested into Omega Group.
[14:15] (The) CFO (of) Omega … was responsible for the inflow of all the funds (in)to the company.

I mean cryptocurrencies because trading only took place only in cryptocurrencies.

He (Bozek) managed all wallet, I didn't even have access to them and I didn't even know how it was done.
Nafalski states that Bozek brought on Piotr Baczkowski to assist him with the IT side of Omega Group.
On the promotion side of things, Nafalski was encouraged to meet Wojciech Guzda.

Guzda (right) was a promoter of the FutureNet Ponzi scheme, which collapsed in 2018.
After FutureNet Guzda began promoting GainBitcoin, another Ponzi scheme that collapsed in 2018.
Nafalski has high praise for the serial scammer, and credits him as "the man who showed me how to work in the MLM world".
Prior involvement in Ponzi schemes is a comment thread throughout Omega. Nafalski states he later learned Bozek, Pawel and Konrad worked together in the Exp Asset Ponzi scheme.
Nafalski claims he has a "good relationship" with Exp Asset founder Patryk Krupinski.
According to Nafalski, after getting booted out of Exp Asset, Bozek, Pawel and Konrad plotted Omega Group as a scam from the beginning.
[21:34] They came to me later and, as it turned out, from the beginning, before they met me and started working with (me), they planned and prepared the whole operation.

How to rob and cheat the company and our community, users and me.

And at the very beginning planned that when they cheat, they would run away with money, blaming someone else.
Nafalski claims he was intended to be that "someone else".
[22:52] It is my fault and I am sorry for that. I feel terrible because I believed them.

I let them manipulate me, deceive me and use me. And because (of that) many of you that followed me were also manipulated, deceived and used.
Despite running as a scam since launch back in late 2018, Nafalski claims he only became aware of fraud last holiday season.
[23:28] When did I learn about something happening in Omega?

The first symptoms I noticed during the holidays, when it turned out that I go alone to all conferences.

[24:28] And at the moment the main leader from Poland, whom you all know, instead of participating in conferences which he organized … he was enjoying his time with his friends and colleagues in Kiev.
Curiously, Nafalski doesn't name this Polish Omega Group leader.
Non-stop partying with girls, prostitutes, in brothels and other strange places.

Spending €100,000 to €200,000 euro in a weekend for fun. Flying private jets that he rented for himself, colleagues and girls.

Ferrari, girls, alcohol, drugs, for some nonsense in barely a week. It was millions of euros of my and your money.
Witnessing this purportedly prompted Nafalski to investigate further.
Something was wrong.

It turned out that this man, along with his friends, girlfriend, with his hookers and other people who surrounded him, created hundreds of fake accounts in the system.

These accounts have never been discovered because of his partner, Lucas, who was Omega's CFO who should supervise such things, check and block such accounts, protected and helped him instead.
By mid to late 2019
[27:29] it came to the point that in the Autumn the leaders began only partying. They no longer participated in any projects, no conferences.

Basically I, along with a small group (of) several serious leaders flew around the world while I was seriously ill.
Early on the video Nafalski mentions "internal problems" in Poland that he will address in a separate video.
This appears to be in relation to Omega Group affiliates accepting cash in exchange for worthless investment contracts.
[28:35] These gentlemen accepted huge amounts in cash, which never went to the company – it went straight into their pockets.

It was fictitious turnover, extorting money from naive, often poor people.

All of this was concealed and falsified by the financial director, with whom he had shared the money and steal with him using fake accounts.
Despite realizing Omega Group was going to collapse, Nafalski states he "tried (his) best to save the situation during November and December".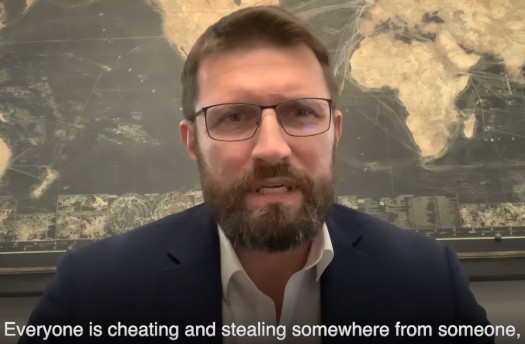 By "work", Nefalski means he continued to encourage people to invest in Omega, with the aim of exit-scamming via a pump and dump token.
[29:52] I worked until I could, as long as I was able to endure, I was at meeting in China, Cambodia with Chinese group to reactive what I could, to improve it, to increase sales of Omega.

I prepared in December with our friends from Moscow and Switzerland through the Swiss Bank, the entire STO process which was related to the release of the coin related to the US stock exchange and the introduction of shares to the stock exchange, so that we could tokenize out capital to save Omega.
In January 2020 Nefalski disappeared. He now claims he spent up until recently in hospital because of an undisclosed condition.
[0:40] Over the last period, from the beginning of January, I was in quite unpleasant places.

I underwent two operations, here in Kiev. I spent most of my time in hospital.

I was not able to function with so many painkillers, anti-inflammatory drugs, antibiotics.
Upon being recently released, Nefalski claims he learned none of his plans had been followed through on.
[30:55] I left the entire project I worked on for a long time to the CFO, who as it turned out later in January, did not implement it.

He didn't feel like spending a few euros, a small amount compared to the amount stolen, to do the STO process.

I did not understand then, now I understand that he did not want to save Omega but to steal as much money as possible.

I couldn't do much more anymore, I was already in hospital at the time negotiating with investors.

[32:29] I am seriously deeply shocked that it was possible to bring down a brilliant, gigantic enterprise.

I just feel sorry for it, because it is one and a half years of my wasted life.
The narrative Nefalski pushes is that Omega Group started off as a legitimate business, but then serial scammers… well, scammed.
BehindMLM reviewed Omega Group in May 2019. We found an unregistered securities offering that was likely operating as a Ponzi scheme.
Simply put, at no point was Omega Group operating as a legitimate business.
Evidence that Nefalski was aware of this is present at one key point in his video:
[28:04] I heard about the situation in Poland, where this leader with colleagues accepted cash, which I strictly forbade to use, even touch, because it was decided that we are not working with and have never will be worked with cash because it is too dangerous.

European legislation prohibits and does not allow this, considers it's as a crime.
Running a passive investment opportunity, using cash or otherwise, is certainly not illegal in Europe.
Provided of course you register your securities offering in every country you solicit investment in.
Omega Group never did this. They just ran around the world illegally soliciting investment.
South-east Asia was heavily targeted. At the time of publication Alexa estimates Japan alone is the source of 91% of Omega Group's website traffic.
Nefalski's insistence that Omega Group avoid cash is a clear attempt to avoid regulatory detection. That's self-awareness of the scam.
I'm not saying Nefalski is solely responsible for Omega Group's collapse – but pleading ignorance after the fact is a stretch.
For his part, Nefalski claims he lost money in Omega.
[33:12] I lost my salary, my bonus and my contract with the company has expired, and I did not receive the payment for my work.

I lost my money and was not paid, I have nothing more to add.
Omega Group appears to have officially abandoned investors earlier this month. On Facebook the company ceased communication under the pretext of being hacked:

Conveniently, all of Omega Group's previous social media posts have been deleted.
Over the course of business, Omega Group solicited investment from almost 100,000 investors.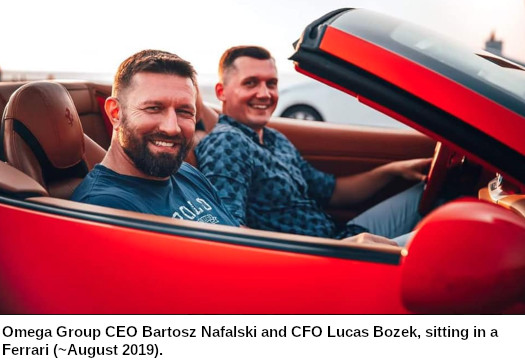 Total investor losses are unknown, as no regulator has thus far sought to hold Nefalski or anyone he worked with accountable.