Omega Group Review: BitBonds Ponzi points scheme

Omega Group are based out of Kiev, Ukraine and operate in the cryptocurrency MLM niche.
Omega Group is headed up by CEO Bartosz Nafalski.
As per Nafalski's Omega Group corporate bio, he has
25 years of experience as a managing director at Pepsi Co., Foodcare, Maspex and MK Cafe.
Possibly due to language-barriers, I was unable to put together an MLM history on Nafalski.
Read on for a full review of the Omega Group MLM opportunity.
Omega Group Products
Omega Group has no retailable products or services, with affiliates only able to market Omega Group affiliate membership itself.
The Omega Group Compensation Plan
Omega Group affiliates invest in BitBonds points on the promise of an advertised ROI.
All Omega Group affiliates are able to invest €50 to €200,000 EUR and receive a 130% ROI in 6 months, or 170% in 12 months.
Returns are paid pro-rata daily. At the end of either 6 or 12 months, reinvestment is required in order to continue participating.
Note that while investment amounts are quoted in EUR, Omega Group solicits investment in bitcoin.
Bitcoin investment is then converted into BitBonds, an internal Omega Group points system.
Returns are paid in BitBonds points, which must be converted into bitcoin via the Omega Group backoffice.
Investment Referral Commissions
Omega Group affiliates earn 6% of funds invested by personally recruited affiliates.
An additional 10% is paid on returns paid to the same affiliates.
Residual Commissions
To qualify for residual commissions an Omega Group affiliate must recruit and maintain at least two affiliates, each with an active €50 EUR or more investment.
Omega Group pays residual commissions via a binary compensation structure.
A binary compensation structure places an affiliate at the top of a binary team, split into two sides (left and right):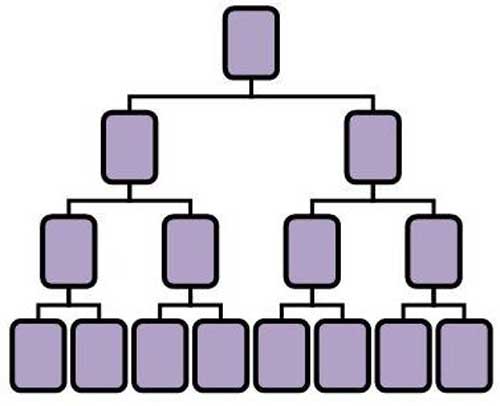 The first level of the binary team houses two positions. The second level of the binary team is generated by splitting these first two positions into another two positions each (4 positions).
Subsequent levels of the binary team are generated as required, with each new level housing twice as many positions as the previous level.
Positions in the binary team are filled via direct and indirect recruitment of affiliates. Note there is no limit to how deep a binary team can grow.
Omega Group tallies up new investment volume on both sides of the binary team.
When a 10,000:8000 BitBonds investment ratio is reached, a residual commission is paid on the weaker binary side.
Note that it doesn't matter which side is 10,000 or 8000, the ratio can be left and right or right and left.
The Omega Group compensation plan states that affiliates can earn up to 9% in residual commissions.
Specific residual commission rate qualification criteria is not provided.
Once paid out on, 8000 BitBond investment volume is flushed from both sides of the binary team.
This leaves 2000 BitBond investment volume on the stronger side, which is carried over.
Prizes
Omega Group rewards affiliates who invest and encourages others to invest with the following prizes:
personally invest €2000 in BitBonds and generate €100,000 in binary team investment volume, and receive an iPhone XS (€1000 EUR value cited)
personally invest €5000 in BitBonds and generate €300,000 in binary team investment volume, and receive a MacBook Pro (€2000 EUR value cited)
personally invest €10,000 in BitBonds and generate €800,000 in binary team investment volume, and receive a "Leaders Holiday" (€5000 EUR value cited)
personally invest €15,000 in BitBonds and generate €1,500,000 in binary team investment volume, and receive an "Omega Watch" (€7000 EUR value cited)
personally invest €25,000 in BitBonds and generate €10,000,000 in binary team investment volume, and receive a BMW M4 (€85,000 EUR value cited)
personally invest €50,000 and generate €30,000,000 in binary team investment volume, and receive a Ferrari Portofino (€200,000 EUR value cited)
personally invest €100,000 and generate €80,000,000 in binary team investment volume, and receive a "luxury apartment in (an) exotic location" (€500,000 EUR value cited)
Note that the quoted investment amounts are minimums.
Joining Omega Group
Omega Group affiliate membership is free.
Full participation in the attached income opportunity however requires a minimum €50 EUR investment in BitBonds every six months.
Conclusion
Omega Group claims it was
created in cooperation with Swiss and Russian investors and managers boasting many years of experience accumulated within the banking and financial industries.
This is obviously baloney, because anyone who is remotely familiar with banking and finance law knows passive investment schemes need to register themselves.
At the time of publication, Alexa pegs China (52%), Slovakia (13%), Taiwan (12%), the Netherlands (6%) and Poland (6%) as top sources of traffic to Omega Group's website.
Putting aside MLM is illegal in China without a license anyway, Omega Best provides no indication it has registered its investment opportunity with financial regulators in any jurisdiction.
This means that the company is operating illegally worldwide.
Currently Omega Group offers returns in exchange for busybody work (viewing ads, completing undisclosed tasks etc.).
The company's marketing material flags the crypto mining cliché as the next investment opportunity.
Omega operates mining farms located all across Europe. Our GPU miners are running 24h/day to mine the most profitable cryptocurrencies for you.
It's unclear whether this has actually launched yet though.
Several additional investment tiers are marked "coming soon", and will no doubt launch once the advertising and crypto mining ruses begin to collapse.
Omega Mining's BitBonds are Ponzi points. Affiliates invest euro amounts calculated in bitcoin.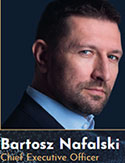 The company uses this bitcoin to pay returns, but does so in BitBonds.
This offers collapse insulation when investment runs out, as Bartosz Nafalski (right) can simply pull a runner with their stashed bitcoin.
Omega Group affiliates will be left with worthless BitBonds they can't do anything with.
As with any Ponzi scheme, the math behind Omega Group guarantees that the majority of investors will lose money.
Update 29th February 2020 – Omega Group has collapsed. CEO Bartosz Nafalski is claiming he's a victim.