OfferHubb Review: Zeek Rewards 2013?

There is no information on the OfferHubb website indicating who owns or runs the business.
The company's website domain ("offerhubb.com") was registered on the 25th of September 2012, however the registration information is set to private.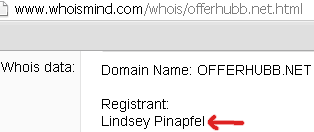 Although currently not used for anything, it's worth noting that the domain "offerhub.net" was registered on the 3rd of November 2012 and currently lists "Offerhubb.net, Inc." as the domain owner.
Prior to an update on the 14th of December however, the Offerhubb.net WHOIS registration listed a "Lindsey Pinapfel" as the owner (image right).
OfferHubb also provide the following mailing address on their website:
1712 PIONEER AVE
STE 1315
CHEYENNE, WY
82001 -4406
However this building is the offices of 'a firm called Corporations Today, an incorporation service run by Gerald Pitts'.
Additionally an OfferHubb affiliate application form (cited for this review), lists a bank wire account (the only payment method currently accepted by OfferHubb) through "City National Bank" and provides a different PO Box address in Fullerton, California.
Despite there being no official information on the company website indicating ownership or management, an "Introduction to OfferHubb" marketing video recently surfaced on YouTube naming a "David Flynn" as company President:

At this stage I'm not sure who David Flynn is or what his MLM history might be. Why this information is not disclosed openly and publicly on the OfferHubb website is also not known.
Read on for a full review of the OfferHubb MLM business opportunity.
The OfferHubb Product Line
OfferHubb are a "Daily Deals" portal that offer advertisers the opportunity to publish daily deals in a directory hosted on the OfferHubb website.
The company offers "business to business" offers and "online offers & coupon codes" but at the time of publication of this review, neither directory was operational.
The OfferHubb Compensation Plan
The OfferHubb compensation plan primarily revolves around the purchasing and sale of advertising services offered through the Daily Deals directory featured on the OfferHubb website.
OfferHubb pays out affiliates via advertising sales commissions, a Bonus Point Pool and Auto Credit Advertising.
Advertising Sales Commissions
OfferHubb affiliates are paid commissions on all advertising that they sell 'to merchants on OfferHubb.com'.
Commissions are paid out on three levels, using a unilevel compensation structure.
A unilevel compensation structure places an affiliate at the top of the structure, with every personally recruited affiliate placed directly under them (level 1). If any of these level 1 affiliates recruit new affiliates of their own, they are then placed on level 2 of the original affiliate's structure and so on and so forth.
Using this unilevel compensation structure, OfferHubb pay out affiliates as follows:
15% on the sale of advertising by any affiliate
10% on the sale of advertising made by a directly recruited affiliate (level 1)
5% on the sale of advertising made by a level 2 affiliate (affiliates recruited by level 1 affiliates)
Note that these commissions also apply to advertising purchased by OfferHubb affiliates for resale.
Eg. when joining OfferHubb, members are able to optionally purchase $2500, $5000 or $10,000 of advertising. Once an affiliate either uses the advertising themselves (self-purchase) or resells them to merchants who then use them, the advertising sale commissions are then paid out.
The Bonus Point Pool
The OfferHubb Bonus Point Pool is 'an allocation of fifty percent% (50%) of the profits from sales consummated by marketing representatives (minus) commissions and the budgeted corporate overhead for the month',  that is paid out to affiliates based on how many points they have in the pool.
In order to generate Bonus Points, an affiliate must first qualify for the pool. In order to qualify, an OfferHubb affiliate must
sign up 2 merchants who advertise on OfferHubb for at least one month (this is not an ongoing requirement)
sign up at least 20 customer accounts on the OfferHubb website
Once these two qualification criteria have been achieved, OfferHubb affiliates are given 2500 points in the bonus pool. Any further advertising sales generated by affiliates then generates an additional bonus point per dollar of advertising sold ($1 = 1 point).
OfferHubb affiliates also receive 20 bonus points for each additional customer that they sign up to the company.
Points pay out indefinitely in the Bonus Point Pool, however if a merchant cancels their advertising the points then expire after 90 days (from the date of cancellation).
Referral points are paid out on Bonus Points, with affiliates earning 10% of the points generated by their directly recruited affiliates (level 1), and 5% on any affiliates their recruited affiliates recruit (level 2).
Note that referral points are only calculated on points generated by merchant and customer signups.
Auto Credit Advertising
OfferHubb's Auto Credit Advertising scheme is their advertising auto-ship scheme, which allows merchants and affiliates to sign up for a $100 monthly advertising package.
These packages offer 1 weeks worth of advertising, are fixed in price for a year and marketed as a means for advertisers to protect themselves against 'the risk of escalating prices'.
Attached to the purchase (or sale to a merchant) of an Auto Credit Advertising Package on the affiliate side is placement in a company wide matrix, which an affiliate is then able to earn commissions on.
Commissions are paid out based on how many affiliates you have under you who are either paying for Auto Credit Advertising themselves each month, or have sold the advertising to a merchant.
If an affiliate "sells" the $100 Auto Credit Advertising autoship package to one of their recruited affiliates, they then earn a 20% commission on that paid amount each month.
The OfferHubb compensation material I cited for this review explicitly states
20% commission paid on all AutoDship Programs sold to personally sponsored affiliates
so this doesn't appear to apply to merchant purchased autoships.
The 20% commission can also be increased, based on how many new affiliates have been recruited (and are purchasing the monthly autoship themselves):
recruit 3 affiliates on autoship = +$1 on each autoship matrix commission
recruit 3 affiliates on autoship who in turn have recruited 3 new affiliates on autoship each = +$2 on each autoship matrix commission and a matching bonus on the first level of your matrix (affiliates you've personally recruited who are on autoship)
recruit 6 affiliates on autoship who in turn have recruited 6 new affiliates on autoship each = +$2.50 on each autoship matrix commission and a matching bonus on the first two levels of your matrix
recruit 9 affiliates on autoship who in turn have recruited 9 new affiliates on autoship each = +$3.50 on each autoship matrix commission and a matching bonus on the first three levels of your matrix
In the OfferHubb compensation plan material I cited no matrix size was given so it is unclear how many recruited affiliate positions are available on each level.
Joining OfferHubb
There are four affiliate options available for those looking to join OfferHubb:
Associate – $99.99
Manager – $2599.99 ($2500 of advertising + $99.99 associate fee)
Executive – $5099.99 ($5000 of advertising + $99.99 associate fee)
Chairman – $10099.99 ($10,000 of advertising + $99.99 associate fee)
Conclusion
Launching into the already over-saturated "Daily Deals" niche (including coupons, vouchers etc.) at the end of 2012 might not seem like the smartest of ideas, but if you're not planning on actually selling any advertising to actual non-members and rely on your customers using your Daily Deals website, then the launch of OfferHubb kind of makes sense.
Before we even get into the OfferHubb compensation plan, sticking out like a sore thumb is the question:
Why do affiliates have the option of buying advertising (to the tune of $10,000) if they're supposed to be paid to sell advertising to merchants to the network?
The answer of course is because they're not really buying advertising, but rather investing into a scheme that pays out affiliates who participate threefold.
On the surface the advertising sales commissions makes sense, as it's largely marketed as "affiliates selling OfferHubb advertising packages to merchants" and earning commissions on these sales.
The reality however is that affiliates are able to buy this advertising themselves with these sales also generating commissions.
On its own innocent enough (most MLM companies pay out commissions on affiliate product purchases), but when we consider the other two components of the compensation plan, you get a clear idea of where this is going.
The Bonus Point Pool is made up of "fifty percent% (50%) of the profits from sales consummated by marketing representatives" and includes, you guessed it – affiliate purchased advertising.
This of course is primarily why affiliates are given the option of "buying in" when they sign up as a $99.99 affiliate. $2500, $5000 and $10,000 are the buy in amounts, with obviously the more money being spent resulting in a greater payback to the affiliate (over time via points, which are of course generated when newly recruited affiliates buy advertising packages).
In effect what you end up with is a profit pool paid out using affiliate money, with how much paid out to each qualified affiliate based on how much money they've convinced new affiliates to dump into the program "buy advertising with".
As for the Auto Credit Advertising, unless I'm missing something this is just a straight up $100 a month pyramid scheme rort. You pay your $100 and then earn a percentage of everyone under you who also pays $100 a month.
Want to increase your share? Go out and recruit new members.
Whilst the Auto Credit Advertising component of the OfferHubb compensation plan is obvious pyramid scheme territory, the first two components could be legitimized by strong merchant activity.
Much of this would of course depend on the definition of a "merchant" within OfferHubb, but this was not clearly defined in the compensation plan material I cited for this review. Instead, it appears as if OfferHubb simply classify anyone who buys advertising from them as a merchant, including affiliates.
Assuming this is not the case however, one must then look at why merchants would choose to purchase advertising on OfferHub.
The key to this lies in how OfferHubb handle payment of the discounts offered through the purchased advertising on their site.
The answer? They don't.
Marketed as a reason for customers to "choose" them, OfferHubb's marketing spiel reads
Who wants to mess with pre- purchasing coupons that expire? With OfferHubb, reserve your offer for free and just pay at the point of sale like any other purchase.
The actual sale of products (discounted or otherwise) appears to be solely between the merchant and the customer, bypassing OfferHubb altogether.
The only money OfferHubb take from merchants (as far as the compensation plan goes) are advertising package fees.
Forgetting the fact that this means OfferHubb works more like a simple classified directory than a true daily deal, voucher, coupon etc. site, how much does this advertising cost?
Exact prices aren't given however if we "reverse-engineer" the advertising packages costs made available to affiliates, it works out to be $500 for "30 days exposure on OfferHubb.com".
$500 a month to publish an online classified voucher/coupon/discount ad? Given today's Daily Deal climate that doesn't sound like an easy sell, let alone from a new startup nobody has ever heard of.
Like I said, when you remove the whole affiliates buying advertising packages and try to imagine the company surviving on actual non-affiliate merchants buying advertising from affiliates,  the OfferHubb compensation plan doesn't make sense.
In the long-term, short of new affiliates being recruiting and purchasing advertising packages, I'm also failing to see how OfferHubb will keep itself afloat.
Let's take 'affiliate A' as an example. Affiliate A joins OfferHubb and invests $10,000 in bonus points, sorry "buys $10,000 of advertising".
Now give the advertising away (yes you don't even have to sell it), use it or resell it to merchants who then use it, one way or another 10,000 points are then generated (with the money paid for the advertising added to the profit pool).
Now, these points pay out a ROI on a 50% percentage of all advertising packages sold after the points are generated but only if whoever bought/used the advertising package continues to purchase (resubscribe?) the package.
If you consider the affiliate purchases of advertising upon signing up as a one-time purchase, they obviously aren't going to be re-invested $10,000 every month so the points generated are going to expire after 90 days, which kicks in on the day the points were generated, seeing as there's no intention to re-purchase after 30 days.
During those 90 days affiliates will earn a daily (or monthly, not sure which it is) ROI with the idea seemingly being they'll receive more than what they spent on those initial advertising packages.
If they did manage to sell the packages to non-affiliate merchants, they then reap the ROI on what is effectively the merchant's invested money into the scheme (they themselves were paid back 100% the cost of the advertising by the merchant(s) themselves when it was resold).
Given that the pool money comes from recruited affiliates buying advertising packages (I can't see merchants paying $500 a month for a classified ad listing, can you?), the whole OfferHubb scheme seems to hinge on enough new recruits joining up and being able to support rolling 90 day payments to existing affiliates.
What's worse is that if it's a monthly ROI as opposed to a daily one, those who pumped $2500, $5000 or $10,000 into the scheme aren't going to find out it's not paying enough till it's too late.
And that brings us to my next point.
Despite seemingly having no official offices there, OfferHubb are incorporated in the US state of Wyoming.
The address provided on the company website is listed as
1712 PIONEER AVE
STE 1315
CHEYENNE, WY
82001 -4406
As mentioned in the introduction of this review, "1712 Pioneer Avenue" is the headquarters of "Corporations Today". The address is apparently so well-known in tax haven circles that Reuters used the 1712 Pioneer Avenue building itself for a 2011 article on corporate secrecy in the United States.
In the article Reuters discuss fellow Wyoming incorporation company "Wyoming Corporate Services", they write:
At a single address in this sleepy city of 60,000 people, more than 2,000 companies are registered. The building, 2710 Thomes Avenue, isn't a shimmering skyscraper filled with A-list corporations. It's a 1,700-square-foot brick house with a manicured lawn, a few blocks from the State Capitol.

Neighbours say they see little activity there besides regular mail deliveries and a woman who steps outside for smoke breaks. Inside, however, the walls of the main room are covered floor to ceiling with numbered mailboxes labelled as corporate "suites." A bulky copy machine sits in the kitchen. In the living room, a woman in a headset answers calls and sorts bushels of mail.

A Reuters investigation has found the house at 2710 Thomes Avenue serves as a little Cayman Island on the Great Plains. It is the headquarters for Wyoming Corporate Services, a business-incorporation specialist that establishes firms which can be used as "shell" companies, paper entities able to hide assets.

Wyoming Corporate Services will help clients create a company, and more: set up a bank account for it; add a lawyer as a corporate director to invoke attorney-client privilege; even appoint stand-in directors and officers as high as CEO.

"A corporation is a legal person created by state statute that can be used as a fall guy, a servant, a good friend or a decoy," the company's website boasts. "A person you control… yet cannot be held accountable for its actions. Imagine the possibilities!"
Corporations Today's own website states
a Wyoming corporation or LLC offers its officers and directors a higher degree of protection from lawsuits filed by disgruntled creditors or over zealous plaintiff attorneys.
Sound to me like Wyoming is definitely where you'd set up shop if you were planning on taking in a large amount of money from people you had no intention of ever giving back…  and when coupled with the analysis of the OfferHubb compensation plan and business model above, should set off every alarm bell you have.
And just incase it doesn't, here's where things get even worse.
OfferHubb is currently (or is on the verge of) being aggressively marketed through the old Zeek Rewards affiliate database.
By who?
None other than Zeek Rewards' own Robert Craddock.
Craddock first shot to fame when he tried to have Hubpages shut down the account of Zeek Rewards' critic Kasey Chang. At the time it was believed Craddock was working for Zeek Rewards' Chief Operating Officer, Greg Caldwell.
Following the shutdown of the $600M Zeek Rewards Ponzi scheme, Craddock then placed himself in the centre of a group of affiliates who collectively made millions in Zeek Rewards.
Despite the money made, Craddock requested donations from other affiliates under the banner of "Fun Club USA", to be put towards stopping the government from recovering the Ponzi earnings of affiliates who donated.
This later turned out to be an effective slush fund to protect Craddock and twelve of his fellow Zeek Rewards associates, who later became known as the "Craddock 12".
Despite thousands of Zeek Rewards affiliates currently staring down the barrel of clawback requests from court-appointed receiver Kenneth Bell, who is  demanding they return back their Zeek Rewards Ponzi scheme winnings to be redistributed amongst those that lost money in the scheme, Craddock is appearing to hope many of them will sign up and invest in this new venture.
In a series of emails sent out to Jerry Napier, Todd Disner, Dave Kettner and Al Lokey (all of whom were top earners in the Zeek Rewards Ponzi scheme), Craddock recently organised a webconference announcing "the prelaunch of OfferHubb".

Requesting that those sent the email "keep the invitees between 3 and 5 hundred", Craddock wrote:
The owners at OfferHubb have a special incentive to offer to this group on Wednesday, Kevin Grimes will also be on the call with us.
For those not familiar with the MLM industry, Kevin Grimes is a lawyer and served as a legal advisor to Zeek Rewards. He and his legal firm "Grimes and Reese" were also responsible for Zeek's affiliate compliance course (turns out a Ponzi scheme compliance course means jack, whodathunkit?).
One final Zeek Rewards Ponzi scheme name to add to the list is that of O H Brown. The YouTube video referenced in the introduction of this article that names David Flynn as OfferHub's President, was uploaded onto a YouTube account called "O H Brown" created on December 15th, 2012.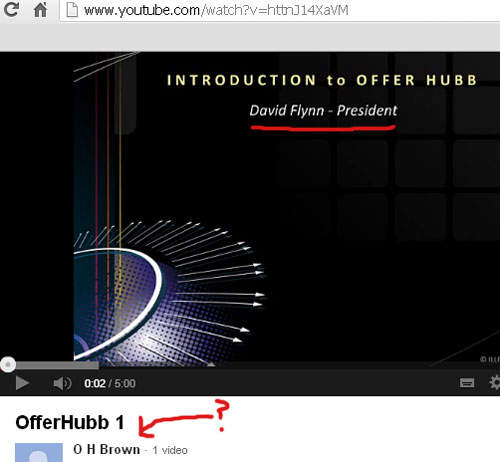 O H Brown was a Zeek Rewards affiliate who also worked with the company at an executive level, producing official marketing videos affiliates used to attract new investors into the scheme.
Putting two and two…and two and two and two (admittedly there's a lot of information to digest here) together, it appears that, despite having led thousands of people down the garden path towards imaginary Ponzi scheme earnings, the top earners in the Zeek Rewards Ponzi scheme are now gearing up to do it all again.
With OfferHubb set to launch in January 2013 it's clear that they've got the ball rolling and have once again placed themselves at the top of yet another suspicious looking compensation plan, all they need now is your money.
Update 6th May 2013 – Shortly after the publication of this review OfferHubb pulled down their website and any information on the company.
These last few weeks things have started to appear online again, with the company looking set to launch sometime in May.
After reviewing some new OfferHubb compensation plan documentation I've put up a new OfferHubb review with the updated information.