Ocean Ave vs Visalus: Espionage, hacking & threats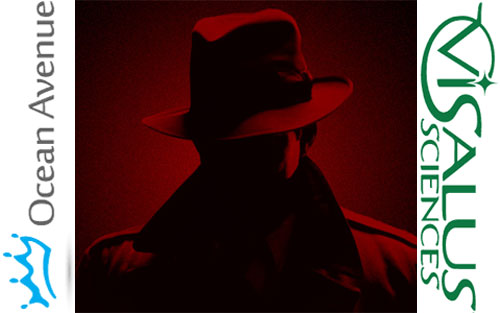 Coercion, entrapment, extortion, blackmail, espionage, hacking, personal threats, racketeering, corruption… not the sort of stuff one would usually associate with the MLM industry but rather it's what you typically might see in an action packed spy movie.
Yet in the battle between Ocean Avenue and Visualus, all of the above have taken front and centre stage – in what is easily the most alarming MLM showdown I've written about yet.
The bad blood between Ocean Avenue and Visalus revolves, not surprisingly, around the leaving of affiliates from Visalus to go join Ocean Avenue. This in itself is nothing new with plenty of MLM affiliates and companies locking horns over the years whenever the issue comes up.
What is most startling about Ocean Avenue's case against Visalus though is the levels Visalus sunk to in the war they waged.
Ocean Avenue's lawsuit was filed in the US state of Utah on October 29th and begins with Ocean Avenue's summary of Visalus' business operations to date:
ViSalus was founded by Nic Sarnicola, Mallen and Ryan Blair in 2005 after the company that Nic Sarnicola and Mallen had previously worked for folded.

Leading into 2008, while ViSalus' financial outlook was unstable and the company was in dire need of some assistance in order to survive, ViSalus was able to negotiate a deal to allow Blyth, Inc. ("Blyth"), a Connecticut based company, to acquire ViSalus in a multi-phase buy-out.

By the end of 2012, Blyth owned approximately 80% of ViSalus Holdings, LLC which is the 100% owner of Defendant ViSalus, Inc.

ViSalus is a multi -level -marketing ("MLM") compan y that sells weight management products, nutritional supplements and energy drinks using the trademark Visalus Sciences in promoting its products.

ViSalus reported significant sales numbers in 2010 and 2011. In August, 2012, Blyth announced plans to spin off ViSalus through an initial public offering.

However, a few weeks later, in September, 2012, Moody 's Investor Service downgraded Blyth 's stock to negative and Blyth shortly thereafter withdrew its planned ViSalus IPO citing "uncertain market conditions. " In fact, it is reported that Blyth's chief executive stated in a conference call that it pulled the IPO because ViSalus wasn't being "properly valued."

Since Blyth 's third quarter 2012 10-Q filing, it has become clear that ViSalus' sales are declining significantly as compared to the increases in past years.

Further, on November 7, 2012, for the first time, ViSalus announced that its number of distributors shrank from the second quarter to the third.
This downward trend, Ocean Avenue alleges, lead to the jumping of ship by Visalus affiliates over to Ocean Avenue.
As numerous distributors for ViSalus grew increasingly displeased with the compensation plan, the way ViSalus was treating them and/or the products that ViSalus was promoting, as is common in the MLM industry, many of those promoters began looking for other opportunities for income including looking at Ocean Avenue and other similar companies.

In fact, in December, 2012, and January 2013, just a month or two after Ocean Avenue began competing with ViSalus, several individuals throughout the country who had earned significant ranks including national directors and ambassadors with ViSalus decided to leave ViSalus and join Ocean Avenue.
And that's when all hell broke loose between the two companies.
Upon the departure of many high income producing distributors, instead of making ethical business decisions to face this new competition head on, ViSalus intentionally engaged in unscrupulous acts of corporate espionage, corporate and personal defamation of Ocean Avenue and its founders, computer hacking into Ocean Avenue 's computer system, the theft of a computer from Ocean Avenue's office, interception of Ocean Avenue 's communications, interception of the communications of the owners of Dunn and Ninow, hacking into email accounts and social media accounts of Ocean Avenue 's distributors, extortion, intimidation, coercion, threats and the filing of multiple lawsuits against distributors who had left Visalus, cut off back-office access without cause, cut off back-office access of any distributor thought to be "associated" with any disfavored distributor, withheld commissions earned.

This was all done in an attempt to stop the distributors from leaving and/or to stop Ocean Avenue's tremendous success and to put Ocean Avenue out of business or severally damage its ability for early growth, which is key for startup MLM business.

Even after distributors have left ViSalus, ViSalus has maintained using these and other tactics to intimidate former ViSalus distributors .
Of all the acts Ocean Avenue accuse Visalus of engaging in, perhaps the most disturbing is that of engaging hackers and breaking into Ocean Avenue's offices.
In response to Ocean Avenue entering the market as a competitor with Visalus, Nic Sarnicola and Mallen on behalf of Visalus hired a private investigation firm called "Moser & Associates", in Menlo Park California (the "P.I. Firm").

Nate Moser ("Moser") and Peter Siragusi ("Siragusi") are the private investigators with the P.I. Firm.

Moser represents himself as having been a civilian operative working for Blackwater in Afghanistan and Iraq and an expert in investigations and personal protection.

Moser has stated he is friends with the head of security for ViSalus who he knows from his military background.

The P.I. Firm at the direction of Visalus, and Nic Sarnicola hired a computer expert located in India referred to as "Sumit Vishoi" to access the email accounts of the former Visalus distributors working with Ocean Avenue, Ocean Avenue employees, Ken Dunn and Fred Ninow.

Kauri Thompson ("Kauri") is a former distributer with Visalus. Kauri left Visalus and took a corporate position with Ocean Avenue.

Kauri informed Mallen during a December 2012 meeting that he had taken a position with Ocean Avenue. Mallen informed Kauri that Ocean Avenue could avoid a lawsuit with Visalus if Kauri provided Mallen with a list of all of the Visalus Distributors who had joined Ocean Avenue.

Kauri was informed by Mallen that Nic Sarnicola and Mallen had an organized plan to go after Ocean Avenue and either put them out of bus iness or seriously injure Ocean Avenues operations.

After Kauri's meeting with Mallen, his Gmail account was hacked and accessed, his MSN email account was hacked and accessed and his facebook account was also hacked and accessed. Kauri has still not been able to reopen his MSN email account.

Kauri's facebook account was also hacked and accessed by the PI Firm and it resulted in him losing 10 years of contacts he had generated in the MLM are na, which contacts are the lifeblood of a distributor in this industry.

Kauri's AT&T cell phone account information had also been changed and accessed.

Upon information and belief, the PI Firm provided information and emails from Kauri's email accounts to Visalus, Nic Sarnicola and Mallen.

Additionally Visalus distributors who joined Ocean Avenue had their email accounts and other social media accounts and cell phone accounts hacked into shortly after Visalus discovered they had signed up with Ocean Avenue.

On several occasions, Visalus distributors signed up with Ocean Avenue on the Ocean Avenue computer network and server. This information is only accessible on Ocean Avenue's computer network and server and not available to the public.

Upon information and belief, Visalus obtained and procured this information via the P.I. Firm who had accessed the Ocean Avenue private webpages using the services of Sumit Vishoi or another computer hacker hired by the P.I. Firm.

Upon information and belief, the PI Firm hired by Visalus intercepted or attempted to intercept communications of Ocean Avenue and communications of its Directors and owners and accessed stored communications and documents on Ocean Avenue's server/computer system, cell phones, personal email accounts, the private Ocean Avenue website pages for the distributors of Ocean Avenue, and social media accounts of the owners of Ocean Avenue and the employees and distributors of Ocean Avenue.

The PI firm hired by Visalus also placed "key logging devices" and/or gained remote access to the computers of Dunn, Ninow and Kauri.

The PI firm also obtained access to the Skype accounts for Dunn, Ninow and Karui. The access and information obtained from these computers and Skype accounts were provided by the P.I. Firm to Nic Sarnicola and Visalus.

The communications intercepted and/or accessed by the PI firm were then disclosed and provided to Visalus at the direction of Nic Sarnicola and Visalus, which communications included but were not limited to: Ocean Avenue's client list, Ocean Avenue's distributor list, the identify of former Visalus Distributors who joined Ocean Avenue, information regarding ingredients and batch reports for Ocean Avenue products, internal marketing documents for Ocean Avenue, and emails, and privileged and confidential communications.

Upon information and belief, Visalus used the information it obtained from the P.I. Firm, including confidential emails, in connection with the lawsuits described below that it filed to intimidate former Visalus distributors and to harm and damage the growth of its competitor Ocean Avenue.
And then as if that wasn't bad enough, Visalus even went so far as to solicit break and entering along with theft:
On or about November 29, 2012, Moser entered the business offices of Ocean Avenue in South Jordan, Utah after business hours illegally and without authorization or invitation of Ocean Avenue.

After illegally gaining access to Ocean Avenue's office, Moser removed and stole a computer from Ocean Avenue's office. Copies of video tape pictures of Mr. Moser stealing the computer are attached hereto as Exhibit A.
The photos in Exhibit A are damning to say the least, and cast a frightening reality over Ocean Avenue's claims (click to enlarge):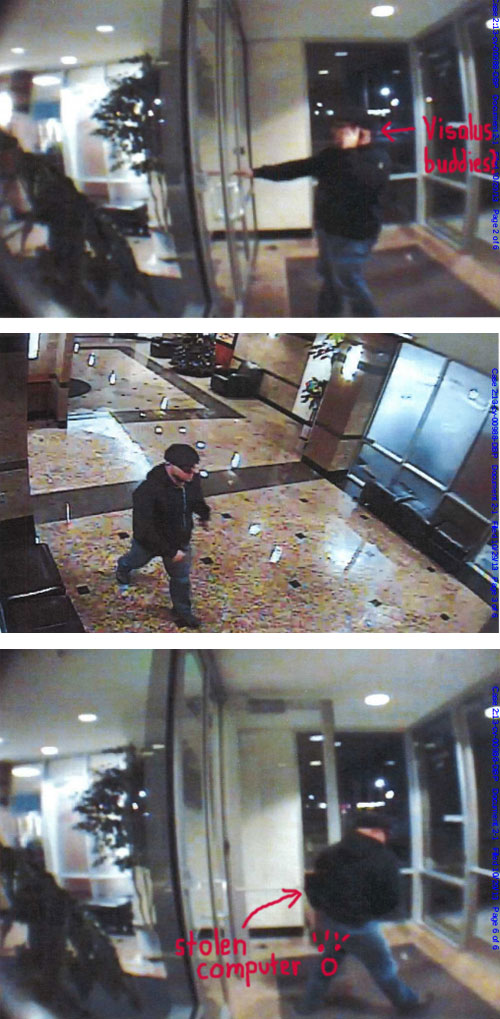 Mr. Moser admitted to a computer hacker hired by Moser and the P.I. Firm that he stole the computer from Ocean Avenue's office.

Mr. Moser stole the computer to further his attempts on behalf of Visalus and Nic Sarnicola to access and intercept communications and data from Ocean Avenue's server and computer system and disrupt and crash the Ocean Avenue computer server and system.
Is this really what corporate competitiveness has sunk to within the MLM industry?
In addition to everything above, which let's face it would be damning enough on its own, Ocean Avenue continue to lay out Visalus' dubious business practices, including
the creation of fake compensation plan positions, registered to affiliate's pets and family members
PI firm informing the U.S. Hacker that he had been hired in the past by Visalus and Nic Sarnicola to follow Dunn and to obtain information they could use to extort, threaten, or harm Dunn 's personal and business reputation.
Visalus' inaction over health concerns specifically related to the reintroduction of isoflavones in Visalus' products
downline positions being shuffled around by uplines to qualify for commissions, at the expense of those who actually brought the new affiliates into the company
Visalus withholding  payment commissions of affiliates who were in the downline of Ambassador affiliates who left the company
the offering of "additional money" outside that of the compensaton plan as an incentive to pursuade key affiliates from leaving the company
the use of extortion via the withholding of personal commissions and that of an affiliate's downline in order to get that affiliate to perform certain actions and sign documents
ViSalus had effectively held a gun to each of their heads by using intimidation, coercion and their superior bargaining power to gain an unfair advantage and get what it wanted.
the filing of lawsuits against affiliates who left Visalus, for the purpose of abusing the discovery purpose to obtain confidential information from Ocean Avenue
ongoing defamation campaigns explicitly targeting Ocean Avenue management and affiliates who left Visalus for Ocean Avenue
threats of lawsuits to be filed against affiliates if they dared leave Visalus
Ocean Avenue even go so far as to compare Visalus to Fortune High Tech Marketing, whom the FTC shutdown and filed a pyramid scheme lawsuit against earlier this year.
ViSalus requires its distributors to meet certain goals including bringing in a number of other distributors "underneath" them1 and they are assigned a "rank" to signify success.

A distributor 's success in recruiting, training, and developing other distributors is measured by the number of dist ributors that they directly recruit and the rank achieved by those distributors.

Because nearly 100% of the distributors actually buy the product themselves, by growing this network of distributors, ViSalus reaches in theory, if a distributor signs up three new distributors and, in turn, each of those distributors sign up three more each, and so on, a visual depiction of that distributor's individual "network" will begin to look like a triangle.

Contrary to the guidelines set out by the FTC, ViSalus makes revenue claims and entices people to join their scheme by making those individuals believe that they are about to "get rich quick."

ViSalus' strategy is to recruit new people, prop them up to the level of director or ambassador quickly, make them feel beholden to ViSalus so that they remain loyal, and then leave the majority of them to fend for themselves with no real structure beneath them to be truly successful while ViSalus focuses on new people to prop up with fake promises and stories of quick riches.

For example, ViSalus' compensation plan highlights the following statement:

If you personally sponsored 3 Active Associates who each have 3 customers on a $49 Balance kit each month, and duplicated that effort through 8 levels of referral, you would earn $72,324 per month just from your team commission. "Nex t to and underneath that statement, ViSalus states: "Fail this ex ample b y 95% and still earn $3,616 per month. "

Thus, the clear suggestion is that you should be making five figures a month easily, but even if you are really bad at selling, you will make at least $3,616 per month.

While continuing to send that statement out over the internet, via mail and through handing out flyers and promotional information, ViSalus knows that the actual average amount earned by a ViSalus distributor is closer to $50 per month with many distributors actually losing money each month if you factor in the amount the distributor spends on the product for him or herself.

Regardless, ViSalus uses this intentionally deceptive message because it knows that it will entice more people to sign up as distributors.

As an example, Nic Sarnicola expressed ViSalus' goals to a crowd of directors at a 2012 Miami meeting which was recorded and published on You Tube. In the video, he states:

So I want you guys to make a distinction here between what the marketing message is and what the business model is. The marketing message is 'challenge, challenge, challenge. ' But once you've got somebody in as a promoter, it 's 'director, director, director.

Another aspect of ViSalus' recruitment strategy is exposed through it s acclaimed rewards offered to those who achieve certain ranks with large cash "bonuses" through its compensation plan.

When a distributor achieves a certain rank, he or she is given an oversized foam-board mockup of a check for $25,000, $100,000, $250,000 , $500,000, or even

$1,000,000. However, the distributor is only actually credited that money over a lengthy pay-out period if he or she maintains the status each month going forward. ViSalus also suggests that a $1,000,000 bonus is available, but of the over 100,000 distributors working for ViSalus, only four distributors have ever hit this mark including Nic Sarnicola.

While ViSalus hands out these fake oversized checks to distributors and encourages the distributors to tote them around to parties to show off in an attempt entice more people into the "get rich quick" mindset, ViSalus knows full well that the great majority of these bonuses will never be fully paid.

In fact, ViSalus usually "awards" these checks to its distributors at large public meetings often attended by thousands of people.

A distributor is brought on stage and boasted as the kind of person who can succeed quickly. ViSalus records these presentations and ensures that the video is published and promoted on social media sites thus enticing others to want to achieve the "success" that ViSalus knows is generally unsustainable.

This scheme described above is practically identical to the scheme at the root of a recent suit filed by the Federal Trade Commission ( "FTC") against Fortune Hi-Tech Marketing ("FHTM") where the FTC describes the deceptive earnings claims and operation of an illegal pyramid scheme stating that, FHTM dangles the promise of riches in order to lure consumers into joining its scheme.

FHTM makes these promises in a variety of ways — through in person presentations, pre -recorded presentations, webcasts, and live and pre-recorded conference calls — but no matter what the medium, the company 's rags to riches tales are patently false for nearly everyone who joins….

At FHTM 's most recent national convention, FHTM paraded its top thirty earners on stage with a mock -up of a $64 million check.

Similarly, a picture of Defendants Nic Sarnicola and A. Sarnicola being paraded on stage with a mock-up of a $1,000,000 check has been published on numerous sites on the internet and is held out by ViSalus as a story of what you c an achieve if you only sign up with ViSalus.
The claims above are of particular interest as they seem to go after Visalus' business model, seeking to bring it into refute as a mechanism to bolster Ocean Avenue's claims against the company.
Relief wise Ocean Avenue's claims are heavy, with the company seeking damages for
interception of electronic communications
a violation of Utah's Interception of Communications Act
civil charges under the RICO Actconspiracy violations under the RICO Act
the conduct of malicious cyber activity under Utah's Unfair Competition Act
false advertising under the Lanham Act
violations of Utah's Truth in Advertising Act
tresspass, conversion and theft
conspiracy to commit trespass, conversion theft, interception of communications
violations of the Utah Unlawful Activity Act
defamation
conspiracy to commit defamation
tortious interference with contractual and business relations
business defamation
conspiracy to engage in business defamation
violations of the Utah Practices Act
As demonstrated by the acts described throughout this Complaint, it is clear that ViSalus has resorted to and will continue to resort to illegal, unethical, and vicious and fraudulent and threatening act s to attempt to compete against worthy competitors in the marketplace.
In total Ocean Avenue's complaint states no less than eighteen claims of relief.
Visalus' response to all of this?
ViSalus believes that this lawsuit, along with the resulting negative publicity encouraged by Ocean Avenue and its distributors, is merely a desperate attempt by Ocean Avenue to pressure ViSalus into settling the 9 separate lawsuits dating back to November 2012 that ViSalus filed against Ocean Avenue and 9 of its distributors for breaches of non-competition and non-solicitation agreements.

As ViSalus believes this lawsuit is entirely without merit, it intends to vigorously defend itself against these untrue allegations.

ViSalus is undeterred by this most recent action by Ocean Avenue and will continue to use all available legal remedies to aggressively pursue the enforcement of its contractual and other legal rights which include seeking the recovery of substantial monetary damages from Ocean Avenue and its distributors.
Entirely without merit?! WTF? What crack are Visalus smoking!
Visalus co-founder Nick Sarnicola even went so far as to post this snarky response to Troy Dooly's coverage of the lawsuit on Facebook:

P.S. Troy Dooly the guy who "broke" the story is now or at one point was a distributor at Oceans. Seems highly biased doesn't it? I wonder why no one has reported on the 9 lawsuits we have on Oceans and its distributors?
If Ocean Avenue's allegations are to believed, the reason nobody covered your affiliate lawsuits is because… oh I dunno, maybe the whole extortion racket you guys seem to have going?
Meanwhile judging from Visalus' rather tincan response it looks like the industry has a no holds barred full-blown trial on its hands. I'm no lawyer but I'd suggest due to the nature of the allegations brought against Visalus, in addition to failed reconciliation attempts prior, that settling is likely out of the question.
Racketeer Influenced and Corrupt Organizations Act, commonly referred to as the RICO Act or simply RICO, is a United States federal law that provides for extended criminal penalties and a civil cause of action for acts performed as part of an ongoing criminal organization.

The RICO Act focuses specifically on racketeering, and it allows the leaders of a syndicate to be tried for the crimes which they ordered others to do or assisted them, closing a perceived loophole that allowed someone who told a man to, for example, murder, to be exempt from the trial because he did not actually commit the crime personally.

Under RICO, a person who is a member of an enterprise that has committed any two of 35 crimes—27 federal crimes and 8 state crimes—within a 10-year period can be charged with racketeering. Those found guilty of racketeering can be fined up to $25,000 and sentenced to 20 years in prison per racketeering count.

In addition, the racketeer must forfeit all ill-gotten gains and interest in any business gained through a pattern of "racketeering activity." RICO also permits a private individual harmed by the actions of such an enterprise to file a civil suit; if successful, the individual can collect treble damages (damages in triple the amount of actual/compensatory damages).
Hell is it even possible to settle RICO charges of this nature?
What a mess.
One thing I haven't seen brought up anywhere is how Ocean Avenue got a hold of all of this information to bring a case against Visalus with. I bet there's an interesting story to be told behind that as some of the exhibits Ocean Avenue have included are private emails between the PI Firm and the various hackers they employed.
Not the sort of stuff you'd typically find lying about.
Perhaps one day when this is all said and done that story might come out in the wash. As evidenced by Visalus' conduct above, you never really know what's going to be uncovered in the MLM industry next.
Update 18th February 2014 – The Department of Justice was secretly investigating this case, with the investigation having now lead to five individuals being indicted by a grand jury.
One of those indicted was Nathan Moses, the individual in the photographs Ocean Avenue included as an exhibit with their complaint.