Visalus Review: Weightloss via monthly shake kits

Visalus launched way back in March 2005 and operate out of California in the US.
The company markets weight-loss products and was co-founded by Blake Mallen and Nick Sarnicola. Visalus also list Ryan Blair as a co-founder, but from what I can tell he joined the company post-launch. Blair currently serves as Visalus' CEO.

Normally I have to do my own research into a company but with Visalus being as old and established as it is, the Visalus Wikipedia entry (with cited references) provides a detailed synopsis of the company's history:
ViSalus Sciences was incorporated as a Troy, Michigan-based limited liability corporation in March 1997.

The company was founded by Nick Sarnicola and Blake Mallen, who were, at the time, distributors for another multi-level marketing company called The Free Network—a firm that went under because it provided obsolete services in long distance calling, dial-up Internet access, and paging.

After The Free Network folded, Mallen and Sarnicola devoted their time to promoting ViSalus in Northern California.

In October 2008, Blyth, Inc. announced that it was acquiring ViSalus in a takeover, initially purchasing a 43.6% equity interest for $14.0 million.

Blyth completed the second phase of the takeover in April 2011, investing an additional $2.5 million and increasing their ownership share to 57.5%.

After the company was purchased by Blyth in 2008, it almost went bankrupt. Ryan Blair, a former gang member and the current CEO of Visalus, invested $1 million in the company and eventually led its turnaround to $34 million income in 2010.

In September 2011, ViSalus opened up their business to Canadian residents.
As for Blyth Inc.,
Blyth, Inc. is a Greenwich, Connecticut based marketing and manufacturing company that sells personal and decorative products.

The company reported having 4,000 employees as of January 2007 and is incorporated in Delaware. In 2001, it was the largest candlemaker in the United States.
If you're curious about Ryan Blair's gang-related history (as I was), you can read more about it in Krikus Reviews' review of Blair's 2011 book, "Nothing to Lose, Everything to Gain":
millionaire entrepreneur Blair tells his compelling story: a troubled street kid overcomes a broken home and a drug-addled father to amass a vast fortune before the age of 30.

As tantalizing as that history is, however, the author never really digs into it here beyond referencing his time as a somewhat incongruous Southern California gang-banger.

Readers hoping to learn exactly how a scrawny white kid from a formerly stable middle-class life transformed himself into a hard-edged hoodlum—only to renounce it all—will be somewhat disappointed.

Rather, Blair provides a course in Entrepreneurism 101 with a rather vague and ill-defined human-interest back story for inspiration.
As Krikus note, it's definitely an interesting backstory, but unfortunately most of the specifics remain unclear. Having been around the MLM publicity block a few times the cynic in me can't entirely brush it off as a somewhat embellished marketing hook.
That said, apart from sheer curiosity Blair's past won't be a focal point in this review and I don't consider it significant to the business operations of Visalus.
Read on for a full review of the Visalus MLM business opportunity.
The Visalus Product Line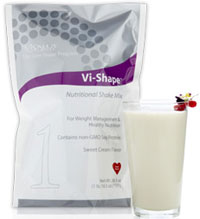 As mentioned previously, Visalus market a series of products in the weight-loss niche:
Vi-Shape – weightloss shake
Visalus "Go" – grape extract energy drink
Visalus "Pro" – apple extract energy drink
Visalus "Neuro" – Rhodiola extract based energy drink powder that 'promotes energy and stamina'
Nutra-Cookie – a "mini meal" that 'combines protein, fruit, fiber' to 'curb your appetite'
Vi-Pack – a powdered supplement "anti-aging and health system"
Vi-Trim – a hunger suppresant drink mix
Vi-Slim – metabolism boosting tablets
Vimmunity – immunity support capsules featuring 'a proprietary blend of herbs and nutritional ingredients to support your immune system'
The Visalus Compensation Plan
The Visalus compensation plan offers associates retail commissions, residual commisions using a unilevel compensation structure and a series of bonuses and incentives.
Retail Commissions
Retail commissions in Visalus are defined as either
products that a Visalus Associate purchases 'at wholesale price and then (sells) to a customer at the retail price' or
sales to preferred or retail customers who order directly from Visalus under an Associate ID (the Associate who makes the sale is credited for it)
Retail commissions are paid out as a percentage bonus of total monthly Business Volume (BV) generated by an Associate using the above two criteria:
$0-$200 BV – no retail commissions are paid
$201-$500 BV – 10% of BV paid out
$501 – $1000 BV – 15% of BV paid out
$1001 – $2500 BV – 20% of BV paid out
$2500 + BV – 25% of BV paid out
Visalus Membership Ranks
There are fourteen membership ranks within the Visalus compensation plan. Along with their qualification requirements, they are as follows:
Associate – $125 in PV a month via autoship or $200 in PV through retail sales (this is what is required for a Visalus distributor to be "active")
Director – remain active with at least 3 personally recruited "active" Associates or higher and be generating $2,000 GV a month
Regional Director – remain active with at least 3 personally recruited "active" Associates or higher and be generating $12,500 GV a month
National Director – remain active with at least 3 personally recruited "active" Associates or higher and be generating $40,000 GV a month
Presidential Director – remain active with at least 3 personally recruited "active" Associates or higher and be generating $80,000 GV a month
Ambassador – remain active with at least 3 personally recruited "active" Associates or higher and be generating $150,000 GV a month
Ambassador 1 Star – have one Ambassador in your unilevel team
Ambassador 2 Star – have two Ambassadors in your unilevel team in two separate legs
Ambassador 3 Star – have three Ambassadors in your unilevel team in three separate legs
Ambassador 4 Star – have four Ambassadors in your unilevel team in four separate legs
Ambassador 5 Star – have five Ambassadors in your unilevel team in five separate legs
Royal Ambassador – have an Ambassador 3 Star in 3 separate unilevel legs
Crown Ambassador – have an Ambassador 5 Star in 3 separate unilevel legs
Global Ambassador – have at least five Ambassador 5 Stars, three must be in separate legs, the fourth and fifth can be within previously counted legs
Note that from Regional Director onwards, only 60% of qualifying GV can come from any one unilevel leg (explained below).
Residual Commissions
Visalus use a unilevel commissions structure to pay out residual commissions to their associates.
A unilevel commissions structure places you at the top, with each associate you personally recruit placed directly under you in a new lineage leg (your level 1).
Any associates your level 1 recruit form your level 2 (they are placed under the associate in your level 1 who recruited them) and so on and so forth.
Using this commissions structure Visalus pay out a monthly residual commission on the sales efforts of your downline.
How many levels in their unilevel an associate is paid out on depends on their membership rank:
Associate – 5% on levels 1 and 2
Director – 5% on levels 1 to 4
Regional Director – 5% on levels 1 to 6
National Director – 5% on levels 1 to 7
Presidential Director and Ambassador – 5% on levels 1 to 8
Note that each associate's sales volume in your downline that goes towards an Associate's qualifying GV for the month is counted on an individual sliding percentage scale, based on how much BV they are personally generating:
$501 – $1000 in BV = 80% of their generated BV is counted towards your GV
$1001 – $2500 in BV = 60% of their generated BV is counted towards your GV
$2501+ in BV = 40% of their generated BV is counted towards your GV
Leadership Depth Bonus
The Leadership Depth Bonus extends residual monthly commissions in your unilevel. Upon achieving the Visalus membership rank of Ambassador, an associate qualifies to earn 2% on the Business Volume earnt by all associates on levels 9 and onwards in your unilevel team.
Additionally, if an associate in an Ambassador's downline qualifies for the Ambassador rank themselves, they earn an additional 2% (raising the total to 4%) on the first eight levels of that Ambassador's unilevel team.
For example, if an Ambassador's unilevel team extends down 20 levels and an associate on level 12 achieves the Ambassador rank, the initial Ambassador will earn 2% on levels 9-11 of their unilevel and then 4% on levels 12 to 20.
If their unilevel extended beyond level 20 at a later date, they'd be paid the regular 2% rate on those levels (untill a new Ambassador qualified on those levels).
First Order Bonus
Visalus' First Order Bonus is paid out on the first order made by a new Associates (made at the time of initial recruitment into the company).
The Visalus First Order Bonus is an upline bonus, paying up 4 levels of enrollment:
Recruiting associate – 20%
2nd upline recruiting associate – 10%
3rd and 4th upline recruiting associates – 5%
Fast Start Bonus
The Visalus Fast Start Bonus is paid out when a new Associate signs up with an Executive Success System ($499-$999).
The compensation material is a bit vague, but as far as I can tell each Executive Success System generates $180 in Fast Start Bonuses that are paid out to an upline according to membership rank.
Associate – $50
Director – $100
Regional Director – $130
National Director – $155
Presidential Director – $170
Ambassador – $180
For example, if an Associate recruits a new Associate who purchases an Executive Success System, they earn their $50 Fast Start Bonus. The system then searches the upline of the recruiting Associate fo a Director or higher member to pay out the rest of the $180 Fast Start Bonus to.
If the system finds a Director, it pays out $50 ($100-$50) and keeps looking for a Regional Director or higher to pay the remaining bonus out to (deducting what has already been paid out to qualifying Associates below).
If the there was an Ambassador immediately above the recruiting Associate, the system would pay out the full amount, sans the initial $50 paid out to the recruiting Associate ($180-$50 = $130 paid out).
There is also a matching generational bonus paid out, which is a fixed dollar commission paid out when any Associate in a downline is paid out a Fast Start Bonus and is of the same membership rank as the qualifying Associate.
Regional Director – $15
National Director – $10
Presidential Director – $10
Ambassador – $10
For example, if you were a Presidential Director and another Presidential Director in your downline qualified for a Fast Start Bonus, you would receive a $10 commission.
Rising Star Weekly Enrollers Pool
To qualify as a Visalus Rising Star, new Associates must join Visalus by purchasing an Executive Success System package ($499-$999), and then reach the rank of Director within 30 days of joining (3 personally recruited "active" Associates and a GV of 2000 or more).
Associates who qualify as Visalus Rising Stars are then able to participate in a company bonus pool, made up of 2% of global BV over the previous 4 week period.
The Rising Star Pool payout is 25% of this pool paid to qualifying Rising Stars weekly and according to how many shares they have in the pool.
Rising Star shares must be qualified for weekly, with each share holding an equal value proportion in the weekly bonus pool:
achieving Rising Star qualification – 3 shares
3 new associates recruited (min $500 GV) = 3 shares
3 new preferred customers (min $500 GV) = 3 shares
every additional $490 GV over $500 GV for either associates or preferred customers = 3 shares
Note that Regional Directors or above are also able to qualify for shares in the Rising Star bonus pool, regardless of whether they qualified as a Rising Star in their initial 30 days or not.
I believe the "achieving Rising Star qualification" shares are only offered upon initial qualification as a Rising Star and thus only qualify for 1 week of shares in the Rising Star Pool.
The other three share qualifications are weekly recurring and do not stack from week to week (each week your shares reset to 0).
Leadership Pool
Visalus put 2% of the global company volume into a Leadership Bonus Pool, which is split into two separate pools, a Presidential Director Pool and an Ambassador Pool.
Shares in the Leadership Pools are based on how many Director or higher associates an associate has in their unilevel team.
Director – 1 share
Rising Star Director – 2 shares
Regional Director – 5 shares
National Director – 7 shares
Presidential Director – 10 shares
Ambassador – 15 shares
Note that only the highest rank member in any given unilevel leg is counted for the allocation of shares. A unilevel leg is defined as a personally recruited associate and the entire downline under them.
Ambassador Star Bonus
The Ambassador Star Bonus pays Ambassador Star associates a commission for each associate they have in their downline that is paying a monthly "Vi-Net Pro" subscription ($29 a month).
Vi-Net Pro is an in-house Visalus backoffice, training and marketing suite.
For each Vi-Net Pro subscription Visalus pay out $12, with how much an Ambassador earns dependent on their membership rank.
Ambassador 1-4 Stars – $2 per subscription
Ambassador 5 Stars – $1 per subscription
Ambassador 1 to 3 Star associates also earn a $1 "override" commission on the subscription bonuses earnt by Ambassadors in their downline.
Commissions are paid out dependent on rank with the system searching for a higher qualified ranked associate until the entire $12 commission has been paid on each subscription.
Eg. If an Ambassador 2 Star is the first Ambassador found in an upline, the system will pay out $4 and then keep searching for a higher qualified Ambassador in the upline to pay out the remaining $5 ($2 + $2 + $1) to.
BMW Car Bonus
Upon reaching the membership rank of Regional Director, Visalus associates qualify for a $600 a month BMW car bonus.
Associates who don't wish to receive a car bonus can alternatively opt for a $300 a month cash bonus.
Joining Visalus
Membership to Visalus starts at $49 for basic membership and two Executive Sales Sytems at $499 and $999. Both Systems come with a range of Visalus products, with the $999 System containing more than the $499 version.
Conclusion
Undoubtedly Visalus has a strong product line-up, with the company touting itself as having the "#1 weight-loss and fitness challenge in America".
Forming the base of their marketing campaign, this "challenge" is used to market Visalus' products with a series of "kits". These kits contain different combinations of Visalus products and range in price from $49 to $299.
Compensation plan wise, there is a foundation of business volume underlying most of the plan but there are still a few points of concern.
Retail commissions wise, with the whole fitness challenge marketing angle, there's a strong emphasis on getting out there and finding customers to take the challenge.
What I don't like about Visalus' retail commissions however is that they include product bought by the associate. There is a 70% rule, stating that
Seventy percent (70%) of products obtained from ViSalus must be retailed or consumed before reorders are made.
With associates able to purchase product direct from the company (and earn qualifying volume on these purchases), how Visalus ensure 70% of this product is actually sold (or consumed) by an associate isn't clear.
Although it'd be easier to find customers to purchase product directly from Visalus, I don't see what's stopping an associate purchasing product themselves to qualify.
Moreso when you consider that Visalus drop the "active" requirement by $75 if an affiliate buys the product they need to qualify as active themselves. One would think it'd make more sense to have a lower retail sale than self-consumption limit.
I also wasn't too keen on the diminishing returns counted for upline qualification on an associate's BV. The more product an associate sells, the less of their BV as a percentage is counted towards the residual commissions paid out through the unilevel.
Raw volume will probably mean more is counted but with the overall percentage dropping 20% at each retail commission percentage increase (10%, 15%, 20% and 25% all result in a reduced BV commission percentage for upline commissions), I imagine it'd be a bit disappointing (until additional volume made up the difference).
The Rising Star bonus at first glance strongly resembles a recruitment bonus but the 3 associate recruitment requirement isn't such a big deal when you consider this is the maximum required for much of the membership ranks. Sooner or later if an associate wants to advance past the basic Associate level they're going to have to recruit 3 Associates of their own.
In that sense the Rising Star qualification just acts as an incentive for those wishing to advance faster as an associate.
When you consider that after the initial qualification you're then looking at BV, upon the initial cycle the Rising Star Pool qualifications shift to focus on sales.
The fact that the Rising Star Pool is open to Regional Directors and higher also prevents it from being seen as a straight recruitment bonus.
Other than that, with a maximum of three associates required for recruitment to advance in the Visalus compensation plan, the remaining qualification focus is sales.
The unilevel cap at 8 levels is interesting as you can't extend that unless you hit the Ambassador membership level. In order to qualify as an Ambassador you're looking at $150,000 GV – which is a lot of product sales (especially when you consider the reduced sliding scale each associate in your downline contributes as they increase their PV).
And given the figures required, I'd say it's definitely more of a significant requirement over the recruitment requirements. Especially when you consider the recruitment requirements remain static while the Group Volume amounts increase with each rank.
All in all marketing Visalus seems easy enough. I don't imagine there'd be too much to explain to potential customers, much the less having to convince them whether or not they need to worry about their health and weight.
One thing that might be a problem (and I'm not sure how Visalus approach this) is customer retention. It's easy to sell the idea of "keeping the weight off and remaining healthy" but once people meet their goals customer retention might be a problem. Something to think about in the long-term.
Depending on your price point, with $49 a month being the cheapest option to evaluate Visalus as a customer, I'd strongly suggest taking at least one month to evaluate Visalus' products and see if they work for you. Marketing wise the "body by Vi" challenge will help but nothing hits home like a personal testimonial with demonstrable results.
Good luck!