NRGY & Alan Friedland's CFTC cryptocurrency fraud case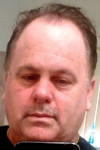 Back in April 2020 the CFTC filed charges against Alan Friedland (right) and his companies Fintech Investment Group and Compcoin.
BehindMLM didn't cover the lawsuit because it was unrelated to the MLM industry.
In light of Friedland being outed as the architect behind the recently launched NRGY smart-contract Ponzi scheme however, I felt it worthwhile to examine the CFTC's case against him.
Given the similarities between the CFTC's alleged misconduct and NRGY, by the end of this article you'll understand why.
As alleged in the CFTC's complaint, Alan Friedland set up Fintech Investment Group and Compcoin around 2016.
Compcoin was a non-publicly traded shit token.
Compcoin was eventually delisted by all digital asset exchanges and is now worthless.
Friedland sold Compcoin to investors on the promise of returns.
Compcoin returns were purportedly generated by ART, which Friedland represented was a forex trading bot.
Defendants marketed Compcoin as "[a]n incentivized blockchain-based Financial Investment Coin" by which "Compcoin owners will measure its value through the performance (actual and perceived future sustainability) of its automated, algorithmic trading platform," known as ART.
Between 2016 to 2018, Friedland solicited over $1.6 million in Compcoin investment from consumers.
Once acquired, affiliates parked Compcoin with the company.
According to Fintech, once it confirmed that the customer posted Compcoin to the designated address on the blockchain, Fintech would then trade the customer's individual forex account using ART.

This never happened.
Friedland's ART bot was marketed on the premise it had been successfully tested  and refined over eight years.
As stated in Compcoin's whitepaper;
After more than eight years of testing, ART "is likely to deliver a return on investment (ROI).

As such, Compcoin's founders felt the technology was ready for release on the open market."
The problem was the results Friedland was promoting were entirely hypothetical. ART had never been deployed in a real-time trading environment.
As per the Code of Federal Regulations, this in and of itself isn't illegal – provided a template statement accompanies the representations.
Friedland didn't include this statement, either on Compcoin's website or in his marketing presentations.
As a Commodity Trading Advisor (CTA) Compcoin, and by extension Friedland, were legally required to file disclosures with the National Futures Association.
These disclosures pertained to
each trading program that it offers or intends to offer not less than 21 calendar days prior to the date the trading advisor intends to deliver the Document to a prospective client in the trading program.
Compcoin did file a disclosure document to the NFA, however it never received approval.
From approximately September 2017 to May 2018, the NFA advised Defendant Fintech in writing that the forex trading disclosure documents, which Fintech had submitted to the NFA for approval, were deficient and could not be used to solicit customers for forex trading using ART until acceptable disclosures were filed with, approved and accepted by the NFA.

Defendant Fintech was advised in writing that soliciting customers with disclosures that were not accepted by the NFA "will result in violations of NFA Rules and CFTC Regulations and could subject the firm to possible disciplinary action."
Friedland ignored these warnings and 'touted the successful performance of ART through the Compcoin LLC website and in advertising materials', without the required accompanying disclosure statement (NFA approved as legally required or otherwise).
All in all Compcoin collapsed, having never paid any of the returns advertised. $1.6 million flowed into the company and into Friedland's pockets, never to be seen again.
The CFTC's lawsuit accuses Friedland for multiple violations for the Commodity Excahnge Act and Commission Regulations.
Defendants' solicitation representations, set forth above, were untrue and materially misleading.

Defendants made these false and misleading representations of material fact knowingly or recklessly in that they knew that these statements were false or misleading.
The CFTC is seeking an injunction preventing Friedland for engaging in further violations. If granted, the injunction will also permanently bar Friedland for having anything to do with commodity interests.
Disgorgement of the $1.6 million Friedland received through Compcoin will also be subject to disgorgement. This includes pre and post judgment interest, as well as an additional to be determined civil penalty.
The CFTC's case was filed on April 16th, 2020.
On May 27th attorney Carl Francis Schoeppl entered an appearance for Friedland, Compcoin and Fintech Investment Group.
On June 11th a jury trial has been tentatively scheduled for November 1st, 2021.
On June 12th the case was referred to mediation.
On October 13th Schoeppl filed a motion seeking to withdraw as Friedland's attorney.
The cited reason for the withdrawal was non-payment of "financial obligations".
After being given reasonable notice of their financial obligations to Schoeppl Law, P.A., Defendants have been unable to fully comply with such obligations thereby making it impossible for the undersigned counsel to continue to effectively represent them in this action.

Defendants have been past due on the payment of an outstanding balance of attorney's fees and costs incurred by the undersigned counsel in connection with this case and Defendants have informed the undersigned counsel that they are unable to fully meet their financial obligations to the undersigned counsel at this time.

In addition, Defendants lack sufficient financial resources to meet their substantial anticipated legal fees and costs incurred to meaningfully engage in discovery and try this case.

Thus, the continued representation of Defendants will present an unreasonable financial burden upon the undersigned counsel and Schoeppl Law, P.A.
On October 16th the court granted Schoeppl permission to withdraw.
Between the Schoeppl filing to withdraw and the court granting the motion, he filed a motion requesting an extension of time to complete discovery.
The CFTC had already agreed to two previous extensions.
On October 14th the CFTC opposed the extension motion.
Defendants fail to provide any reasonable excuse for their continued failure to comply with discovery demands, even after the Commission agreed to two prior requests for extensions, and fail to demonstrate that they will comply if granted an additional extension.
In the extension motion, the cited reason for another delay was Alan Friedland failing
to cooperate" to meet their discovery obligations by providing responsive documents to their counsel.
Consequently the CFTC put forth;
Defendants' failure to take the steps necessary to comply with discovery obligations in a timely manner is not a reason to provide them with more time to comply.
On October 20th attorney Lee Friedland entered an appearance on behalf of Alan Friedland and his companies. I'm not sure if they're related.
Despite the CFTC's objection, on February 10th the court granted Friedland's request for a discovery extension. August 23rd was the new deadline to complete discovery.
On February 11th, the last entry on the case docket as I write this, it was ordered a mediation hearing be held August 23rd.
The obvious first take-away is that NRGY is in all likelihood funding Alan Friedland's CFTC lawsuit defense.
Friedland created NRGY, bought in for cents on the dollar and now, after his friends have jumped in and positioned themselves, NRGY is being flogged to consumers at over $650 each.
This CFTC lawsuit isn't going anywhere and, prior to NRGY's launch, Friedland's former attorney felt he couldn't afford outstanding legal bills, much less bring the case to trial.
Compcoin collapsed in 2018. How is it with his ART trading bot Friedland doesn't have money to pay his lawyers?
This brings us to my next point;
What ART was to Compcoin, TradeGenie is to NRGY.
Here's Duane Noble explaining TradeGenie in a recent NRGY marketing webinar;
[21:20] Our first app is coming out, it's an algorithm that connects to people's TD Ameritrade account and it trades stocks automatically.

[22:14] It's gonna be called TradeGenie.
If TradeGenie is valuable enough that people are dumping $650 into a worthless shit token to gain access to it, why isn't Friedland just running it himself?
Which again brings us back to why can't Friedland afford to pay his CFTC fraud lawsuit defense attorneys?
From a due-diligence perspective, none of this adds up.
The final point I want to end on is the seemingly deliberate attempt to hide Alan Friedland's involvement in NRGY. Why?
The only reason we know of Friedland's involvement is Chris Hawk let it slip on a live webinar.
Whereas Friedland promoted Compcoin and ART, he's nowhere to be seen in any of the NRGY marketing webinars.
Instead Friedland has his business partner Duane Noble running the pitch.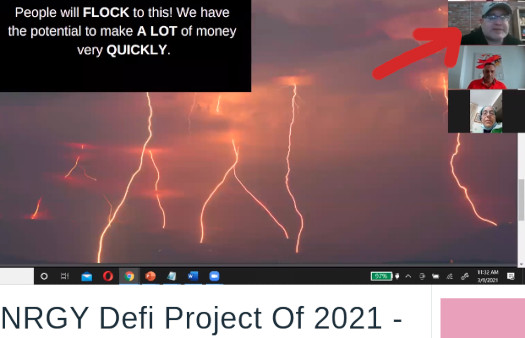 This thing is unstoppable. It's not dependent on anyone. It's not dependent on any server, it's not dependent on any person, (it's) not dependent on literally anyone.

This thing is a monster.

There's no need to do KYC or give up any of your privacy with DeFi.

And this is really big and I want you guys to listen closely:

You are not at the mercy of any company. You're not at the mercy of any exchange. And you're not at the mercy of any government.

Guys that's huge. You're not at the mercy of any company, exchange, company or government.
Both Friedland and Duane Noble are US residents. And as we've seen time and time again, US regulators do not care whether cryptocurrency is used to break laws.
Alan Friedland has first-hand experience of this with Fintech Investment Group and Compcoin.
At the end of the day NRGY is a house of cards, with Friedland and friends taking up real-estate on the foundation layers.
All it takes is any one of them to cash out and NRGY is kaput. Give it enough time and all it'll take is an early adopter to cash out and you get the same outcome.
Given enough time even someone buying in at $650+ could force the same outcome. But let's not pretend Friedland and friends will let anyone build a big enough balance to clean out NRGY before them.
At the time of publication NRGY tokens are being sold for $673.75. There is $2.91 million in the NRGY investment pot.
Update 19th July 2021 – The CFTC has filed for summary judgment against Friedland.
Update 5th October 2021 – A decision on the CFTC's summary judgment motion remains pending. The case meanwhile continues towards trial.
A specific trial date hasn't been set, however on September 17th the court blocked the case for the January 3rd, 2022 (the docket has "2021" but I believe that's a typo).
Update 6th February 2022 – Friedland's jury trial kicked off on January 31st. Day four of the trial was held on Thursday February 3rd.
On day four of his trial, Friedland settled with the CFTC.