Network Marketing VT Review: 100% sale commission?

Network Marketing VT's sales pitch is heavy on two points:
you don't have to personally sell anything (or even speak) to anyone to earn money
the entire system is automated
Whilst both of these statements are technically true, throw in the fact that Network Marketing VT pay a 100% commission and between these three points you've probably now got more questions about the business than answers.
Read on for a full review of the Network Marketing VT MLM opportunity.
The Company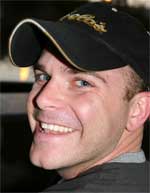 Network Marketing VT appears to have launched around January 2012, is based in the US state of Florida and is headed up by CEO and founder, Jason Spurlock (photo right).
Spurlock has been involved in numerous MLM companies before founding Network Marketing VT, including UProfitPro (co-owned and run with John and Shannon Lavenia) and The PowerLine 1000 Marketing System.
Spurlock also appears to have tried to launch a membership marketing site called 'OBE Pro' back in 2009 which appears to have never really gotten off the ground.
Spurlock's involvement in these companies appears to be the inspiration behind Network Marketing VT.
The Network Marketing VT Product Line
Networking Marketing VT themselves offer no retail product or service. Instead, upon paying a membership fee to the members are given access to a series of training and marketing e-books.
Some of these e-books can be marketed under 'Private Label Rights' meaning that upon purchasing membership the company, Network Marketing VT authorise members to sell these e-books themselves at a retail level.
This is not done through the company however and is independent of the Network Marketing VT compensation plan.
The Network Marketing VT Compensation Plan
The Network Marketing VT compensation plan pays out 100% commission on $98 sales made within the company.
These $98 sales are membership to Network Marketing VT and the member that makes the sale earns the commission.
There is one catch though and that's the 3-up commissions system Network Marketing VT use.
The 3-up system means that you pass up your first 3 $98 sales commissions to your upline. The tradeoff is that for each member you recruit, the first three membership sales they make automatically pass up to you.
This is in addition to your $98 commission for each member you personally recruit.
Joining Network Marketing VT
Membership to Network Marketing VT is $98 and an ongoing monthly charge of $19.95.
The monthly membership fee includes a replicated capture website and some marketing materials to market the Network Marketing VT income opportunity to new members with.
Conclusion
In mentioning that 100% of the sales commissions are paid out to members one of the first questions that comes to mind is 'how does Network Marketing VT make their money?'
The answer is from the $19.95 monthly fee they've got everyone paying.
What we have is a simple commissions structure where 100% of the commissions members receive are 100% generated by the membership sales fee the company charges new members.
Network Marketing VT get their members to effectively gift (100% commission) eachother $98, and then charge them $19.95 a month for marketing materials on how to attract new members to receive $98 gift payments from.
Gifting is illegal in most countries, including the United States where Network Marketing VT is based.
Update 4th February 2013 – On the 23rd of January CEO and Founder Jason Spurlock announced on Facebook that Network Marketing VT had collapsed and was "closing its doors".