Morning Ignition Review: MMB60 rebooted?

There is no information on the Morning Ignition website indicating who owns or runs the business.
Infact, at the present time the Morning Ignition website serves as little more than an information capture page for the company's prelaunch.
No actual launch date is provided, so how long Morning Ignition's prelaunch is expected to drag out for is unclear.
The Morning Ignition website domain ("morningignition.com") was registered on the 27th of January 2013. Jason Spurlock is listed as the domain owner, with an address in the US state of Kentucky also provided.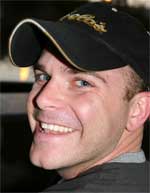 Spurlock (right) first appeared on BehindMLM's radar as the owner of Network Marketing VT.
Network Marketing VT saw affiliates pay a $98 monthly participation fee, which was gifted in full to the affiliate who recruited them.
Amid a sea of complaints related to non-payment of commissions to affiliates, a year later after launch Network Marketing VT collapsed.
A few months later Spurlock launched MMB60, which again saw affiliates gift $98 a month to the affiliate who recruited them.
Today the MMB60 website redirects to that of Morning Ignition, indicating that sometime in the last year it too collapsed.
Read on for a full review of the Morning Ignition MLM business opportunity.
The Morning Ignition Product Line
Bundled with a MMB60 affiliate's monthly $98 participation fee was access to a " Performance Coaching Wake Up Call", not unlike what is described on the Morning Ignition website:
Morning Ignition is an elegant solution that uses practical application and modern technology to experience a happier, healthier, richer life through 1-hour morning rituals that unleash your fullest potential.
Additionally Morning Ignition's Terms and Conditions states that "some of the purchases" made by members and affiliates "may come from 3rd party vendors".
At the time of publication no further specifics are provided.
The Morning Ignition Compensation Plan
The Morning Ignition compensation plan is not currently provided on the company's website, despite the company accepting affiliate signups.
As such the following Morning Ignition compensation plan analysis has been put together from an unlisted video hosted on Jason Spurlock's YouTube channel.
Why this video is not publicly available on the Morning Ignition website is a mystery.
Recruitment Commissions
As with MMB60 and Network Marketing VT before it, Spurlock's new opportunity sees affiliate paid to recruit new affiliates.
New Morning Ignition affiliates are charged a once-off $97 fee to join the company, which is gifted in full to the affiliate who recruited them.
Pass-up Commissions
Morning Ignition use a 3-up compensation structure to pay out residual recruitment commissions.
This structure sees every Morning Ignition affiliate pass up their 2nd, 4th and 6th $97 recruitment commission to the affiliate who recruited them.
In turn, new affiliates recruited must also pass up their 2nd, 4th and 6th recruitment commission too.
Joining Morning Ignition
Affiliate membership with Morning Ignition is $97 and then $19.99 a month.
Conclusion
I'd like to share with you what everyone should know about running a highly profitable, highly successful online business – that can help you double, or even triple your income in less than 30 days from today.

…even if you have no experience and very little time or money to invest in starting your own business.

-Jason Spurlock, Morning Ignition promotional video (June 2014)
With an identical compensation plan to MMB60, it appears Morning Ignition simply replaces the planned MMB60 affiliate events in favour of a fitness app.
With that comes the dropping of a monthly $98 fee in favour of a $97 once-off charge.
The reason for that should be obvious enough, a lack of interest in MMB60 when it was announced early last year.
So now we have the "fire-sale" version of MMB60, offering the same gifting-orientated compensation plan – but without monthly residuals.
Morning Ignition affiliates would naturally point to what's bundled with participation in the gifting scheme, claiming this differentiates it from a gifting scheme.
With affiliates paying a participating fee which is gifted to those who recruited them though, there's simply no other way to look at it.
Besides, if affiliates were indeed paying for products and services, Morning Ignition would at the very least be able to refund what is actually paid for said products and services.
As per Morning Ignition's refund policy though,
All Morning Ignition Program product purchases and memberships are non-refundable. All sales are final.
They can't refund people because the money is gifted by recruited affiliates to recruiting affiliates. In a financial sense nothing differentiates Morning Ignition from a cash gifting scheme.
To save repeating myself, I'll leave you with the opening paragraphs of my MMB60 review:
In order to analyse MMB60 it's important to understand why Network Marketing VT crashed. Quite simply, those in opportunity ran out of new affiliates to recruit.

When the company stopped paying, affiliates complained publicly only hampering said recruitment efforts, with Spurlock deciding to pull the plug.

MMB60 follows a similar recruitment driven business model, spacing out the required pass up sales as opposed to making them the first three.

The problem?

Once again the business model is recruitment dependant and sooner or later those new recruits are going to dry up.
With Morning Ignition the problems of MMB60 linger, only this time there's going to be even less money paid out due to the once-off fee charged.
What's curious is that the Morning Ignition video I quoted at the start of this conclusion is dated June 2014, indicating that Morning Ignition has been in prelaunch for some time now. Eight months to be precise.
Yet visitors to the website are still only greeted with a marketing spiel about their prelaunch and affiliate sign-up form?
Something doesn't smell right here.