DasCoin Ponzi collapses, GreenPower fork scam revealed

The DasCoin Ponzi scheme has collapsed, prompting the company to shut down its website.
Visitors to the DasCoin website are now presented with a hard fork message.
After a hard fork of the DasCoin Blockchain on May 14, 2019, the existing network nodes have voted to support a new coin.
DasCoin's new scamcoin fork reboot has been revealed as GreenPower.
DasCoin launched in 2016 through Coin Leaders. Soon after, Coin Leaders was renamed to Net Leaders.
DasCoin CEO Michael Mathias' defense of his Ponzi scheme saw him publicize a made up partnership with the Maltese government.

Mathias (right) also threatened a journalist for accurately comparing DasCoin to the OneCoin Ponzi scheme.
On the regulatory front a DasCoin investment fraud warning was issued in Poland, followed by a securities fraud cease and desist in BC, Canada.
Following the announcement of a criminal investigation into DasCoin and NetLeaders in Poland, NetLeaders rebranded itself again to Excelz late last year.
Excelz seems to have been abandoned in early April. The company lost its website, purportedly after its registrar seized the domain on or around April 6th.
DasCoin managed to get itself listed on several public exchanges, after which the grossly inflated internal value plunged.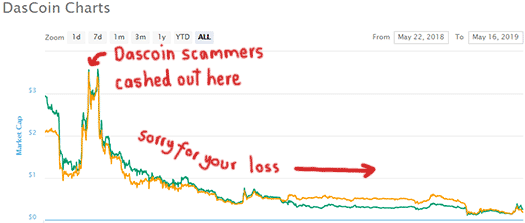 Today DASC has a public trading value of just 1.5 cents.
The GreenPower fork of DASC is simply Michael Mathias copy and pasting his DasCoin blockchain under a new name.
According to the GreenPower website;
GREENPOWER has been designed to serve as a global rewards currency.

The currency has a fixed supply of coins that has been distributed during the past two years to over 150,000 accounts in over 180 countries.

GREENPOWER is a store-of-value unit at the center of an ecosystem of companies, each of which is working synergistically to enhance the overall value for all participants.

GREENPOWER is intended to be the currency used as loyalty rewards by millions of merchants worldwide.
For all intents and purposes, GreenPower is DasCoin 2.0.
The DasWallet has been repurposed for GreenPower, as has the internal DasExchange.
GreenPower meanwhile brings nothing new to the table and is burdened by DasCoin victims – who will be desperate to cash out if if GreenPower pumps.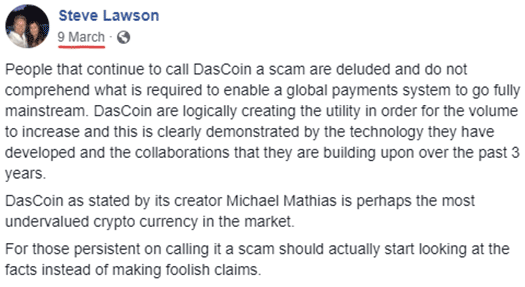 That pump only happens if new gullible bagholders jump on board though, which remains to be seen.