Mr. Link IT Solutions Review: TelexFree reload scheme

What happens when you have Brazilians pretending to run a dubious looking MLM company out of Japan?
Something along the lines of the comically named Mr. Link IT Solutions.
Quite obviously run out Brazil, Mr. Link IT Solutions professes on their about page (which defaults to Portuguese)
The Mr.Link IT Solutions was born in 2000 in Japan yet named Skynet, came to meet the Japanese and Brazilian markets in Japan Brazilians living in the country they could not enjoy the Japanese equipment due to language and writing the same, so OVERSEAS also began to market products, export models to foreign multi-language, such as general electronics and computers due to the great success the business was soon expanded.

In 2005 with the import and export of products such as car chief, seek new products to serve the markets, Japanese and Brazilian working in China, Japan and Brazil axis.

However Mr.Link consolidate IT Solutions Co. LTD, with the partnership and partnership between Japanese and Brazilian nikkey, aiming to bring corporate and entrepreneurial solutions to Brazilians living abroad, Japan and the world!
Riiiiiiiight.
The About Us page goes on to list three "bases", one in Brazil and one in Japan and one in China.
Our base in Japan started its activities on the date of May 16 of two thousand and five, with five employees and initial capital deҰ 3 million yen.
As above, Mr. Link claim their Japanese base has five people working there. However save for the effort to hide assets from Brazilian authorities, there doesn't appear to be any actual links (no pun intended) between Mr. Link and Japan.
China is listed as just being a warehouse facility.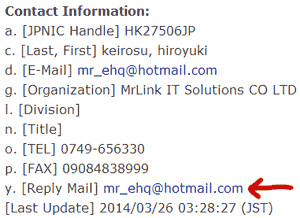 The company's website domain "mrlink.co.jp" was registered on the 26th of March 2014, and lists a "keirosu hiroyuki" as the domain owner (right).
A real person or not, who knows. But this name does not appear anywhere on the internet (either as is or in reverse), in connection with Mr. Link.
A search on the email address used on the domain registration reveals another (now defunct) domain associated with it, "enjoy.vc":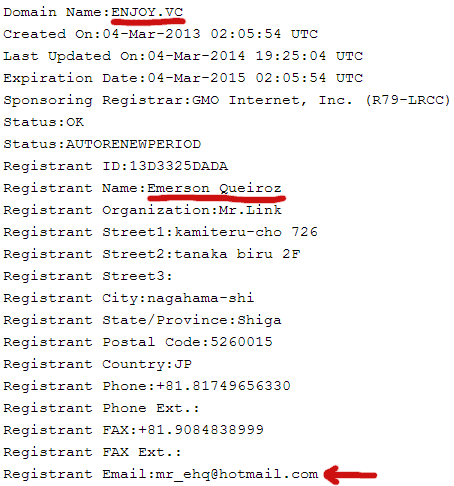 Mr. Emerson Queiroz certainly matches the email address "mr_ehq@hotmail.com" far better than "keirosu hiroyuki" does.
Interestingly enough a Japanese address is provided on the above domain registration, indicating that Queiroz might be Mr. Link's Brazilian Japanese link (a Brazilian expat living in Japan?).
The domain registration for the related domain "mrlink.com.br" (which redirects to mrlink.co.jp), certainly suggests so.
Queiroz's middle name is revealed in the registration, and it's decidedly Japanese sounding:
domínio: mrlink.com.br
titular: Emerson Horoyuki de Queiroz
Horoyuki hey? As in "keirosu hiroyuki"? Perhaps keirosu is an adopted name (alias) of Queiroz's?
In any event, the mrlink.com.br registration provides us with a different email address than the one Queiroz used for the .co.jp registration: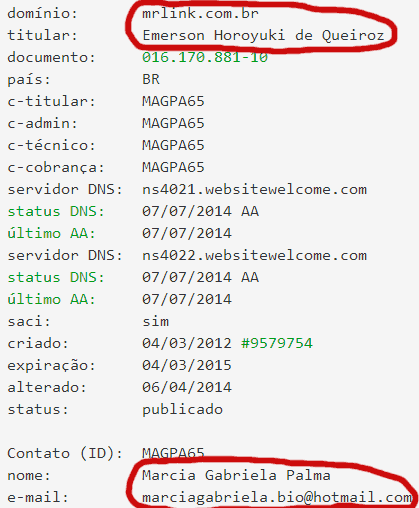 A different name appears here as you can see, but that would appear to be baloney. Queiroz himself used the "marciagabriela.Bio@hotmail.com" email address in a lecture application filed with the "Federation of Industries of the State of Mato Grosso":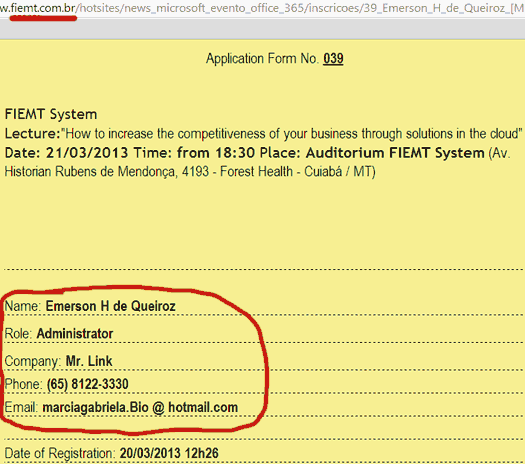 Filed in March of 2013, Emerson Queiroz uses the "marcia" email address and credits himself as the "administrator" of Mr. Link.
Mato Grosso is of course a state in Brazil, indicating Queiroz's feigned move to Japan was either recent or not at all (realistically he's probably still based out of Brazil).
A website purportedly showing some sort of local Brazilian election results claims Queiroz received 0.07% of a voting pool that might have had something to do with Japan: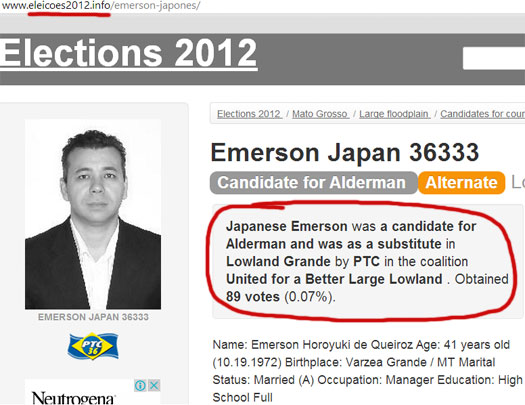 Other than the bio on Queiroz though (which confirms his Brazilian nationality), I'm not really sure what I'm looking at there. Perhaps one of our Brazilian readers familiar with local politics can clue us in?
Meanwhile why none of this information is openly presented on the Mr. Link website is a mystery.
On the MLM side of things, the only past venture I was able to pin Queiroz to was TelexFree. He subscribed to the channel "Sou TelexFREE" on his YouTube account: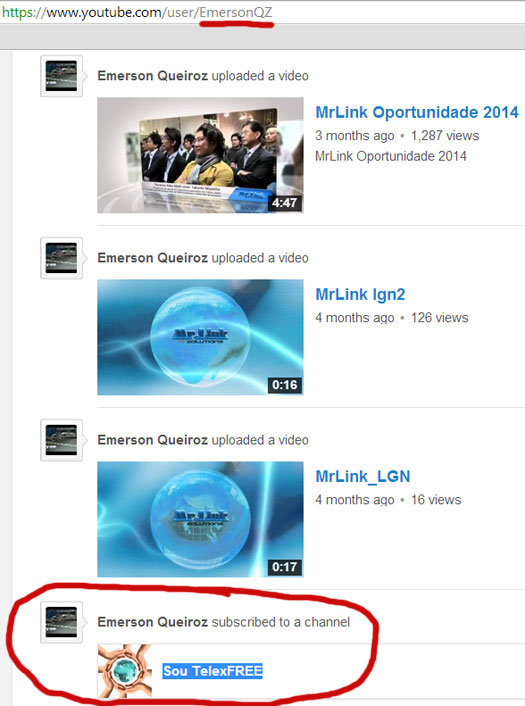 Sou TelexFree (English: "I'm TelexFree") is a pro TelexFree Ponzi scheme channel, featuring an assortment of pro-TelexFree marketing videos.
TelexFree of course being the largest Ponzi scheme Brazil has ever seen. It was shut down by Brazilian regulators in June 2013, and the SEC in the US back in April of this year.
Queiroz's subscription to the channel strongly suggests he was an affiliate investor with the company. Whether he lost money or made money in the scheme however is unclear.
Read on for a full review of the Mr. Link IT Solutions MLM business opportunity.
The Mr. Link IT Solutions Product Line
Mr. Link IT Solutions themselves don't have any retailable products or services.
The company markets a series of "plans" to affiliates, ranging in price from $200 to $2000:
Kojin – $200
Yugen – $600
Kabushiki – $1000
Interprise – $2000
Bundled with each plan is a "course (on) importing from Japan, China and the United States". Affiliates are also given access to suppliers Mr. Link has affiliate deals with, through which they are purportedly able to purchase products for resale.
The Mr. Link IT Solutions Compensation Plan
The Mr. Link IT Solutions compensation plan revolves around affiliates investing in one of four offered investment plans:
Kojin – $200
Yugen – $600
Kabushiki – $1000
Interprise – $2000
Investment ROIs
Weekly ROIs are paid out to affiliates, provided they spam the internet with supplied advertisements for Mr. Link.
If an affiliate spams the internet daily, they are paid the following 5% weekly ROI:
Kojin – $10 ($520 total ROI)
Yugen – $30 ($1560 total ROI)
Kabushiki – $50 ($2600 total ROI
Interprise – $100 ($5200 total ROI)
Recruitment Commissions
Recruitment commissions are paid out at a rate of 7.5% of the money invested by personally recruited affiliates.
This equates to:
Kojin – $15
Yugen – $45
Kabushiki – $75
Interprise – $150
Binary Commissions
Residual commissions in Mr. Link are paid out using a binary compensation structure.
A binary compensation structure places an affiliate at the top of a two binary teams, left and right: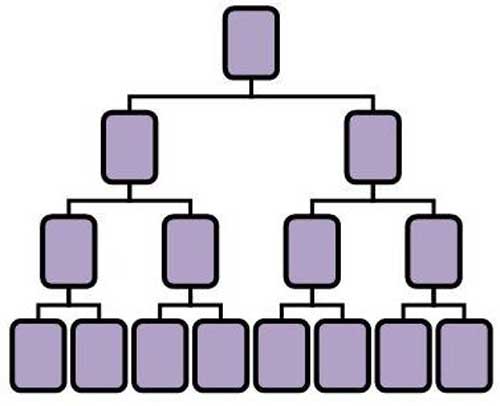 Positions in the binary are filled via investments made by either personally recruited affiliates or affiliates they have recruited. Each investment fills one binary position.
Commissions are paid out using a 1:1 pairing ratio, matching filled affiliate investment positions on both binary sides.
Once an investment has been paired on either side of the binary, a 20% commission (on the value of a single investment amount) is paid out:
Kojin – $40
Yugen – $120
Kabushiki – $200
Interprise – $400
Eg. If one Interprise investment positions was matched on either side of the binary, an affiliate would be paid $400.
Binary commissions are calculated daily. Once an investment position has been matched, it cannot be paired again.
Finally, note that in order to qualify for binary commissions, a Mr. Link affiliate must personally recruit two affiliates.
Also note that affiliates can opt out of the weekly ROI investment paid on their positions, in which case Mr. Link pays out a 30% commission via the binary over the regular 20%.
Joining Mr. Link IT Solutions
Affiliate membership to Mr. Link IT Solutions is tied into investment in one of their packages:
Kojin – $200
Yugen – $600
Kabushiki – $1000
Interprise – $2000
I believe there's also a $20 annual admin fee payable too, however the wording Mr. Link use is quite confusing:
Reseller contract valid for 1 year. Tuition U $ 20.00 from active service and personalized support.
Conclusion
What is Mr. Link Solutions?

Our job is to find the clients that connect to the Mr. Link online store by posting ads.

-Mr. Link IT Solutions affiliate marketing presentation
Not surprisingly, Mr. Link IT Solutions has nothing to do with importing or exporting, learning via e-courses or even IT.
This is evidenced by Mr. Link affiliates marketing the scheme in much the same way they would any other Ponzi scheme.
One strategy, called the "Champion Option", calls for an affiliate investor to invest in seven $200 Kojin positions: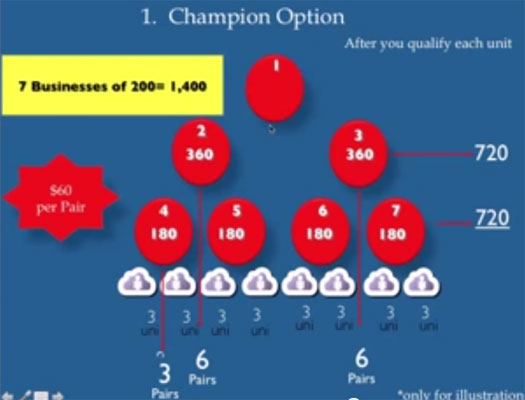 The question of why an affiliate would need to sign up for an e-course seven times, or have seven accounts to purchase from Mr. Link wholesalers for gives the game away.
At its core, Mr. Link is little more than just another Ponzi scheme looking to suck in South American investors on promises of offshore legitimacy.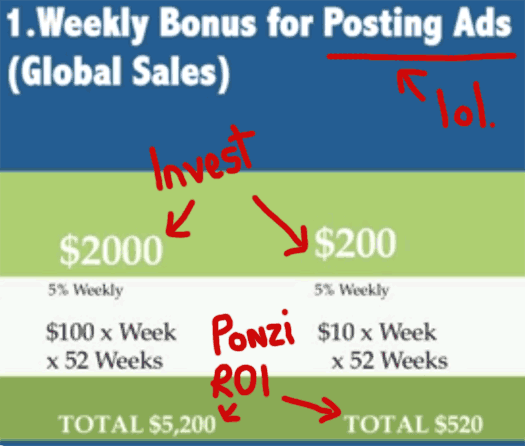 Mr. Link affiliates invest in one of the four packages offered, and under the guise of spamming the internet (with the intent of attracting new investors into the scheme), are paid a weekly ROI from newly invested money.
In turn, they money they invest is used to pay off affiliates who invested before them.
The recruitment and binary commissions will deplete the ROI faster, but are pegged to new investment so won't do it on their own.
Ultimately, Mr. Link finds itself paying out more than it brings in per package. 5% a week translates into a 20% liability window on each investment made, but this is actually less so due to the aforementioned recruitment and binary commissions.
As with all Ponzi schemes, once the amount being paid out each week has depleted the company's reserves and exceeds new money coming in, kaboom.
The setting of "bases" in Japan and China is merely smoke and mirrors, but does hint as possibly money laundering routes. China in particular (Hong Kong) has proven to be a favourite to launder money through among Brazilian scammers.
Based on the information available, whether or not Emerson Queiroz is engaging in this activity I can't say with any certainty. But you can bet he's not keeping fund invested in Mr. Link locally in Brazil.