Meta Bounty Hunters an iBuumerang Holton Buggs spinoff?

The recently surfaced Meta Bounty Hunters NFT Ponzi might be an iBuumerang spinoff.
Following tip offs from readers over the past week, here's what I've found.
If you run a search for Meta Bounty Hunters and iBuumerang, you'll find a bunch of iBuumerang affiliates shilling the upcoming launch.
The most prominent of these shills are Avinash Nagamah and David J. Hunt, both of whom are UK residents.
Nagamah is iBuumerang's Travel Savings Ambassador for Europe.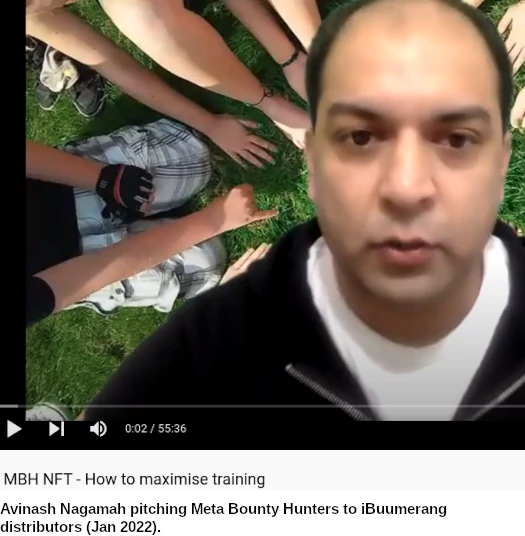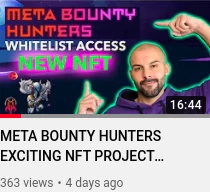 Hunt is an iBuumerang Diamond Ambassador.
As per iBuumerang's Policies and Procedures;
Ambassadors may not display iBuumerang products with any other products or services in a fashion that might in any way confuse or mislead a prospective customer or Ambassador into believing there is a relationship between the iBuumerang and non–iBuumerang products or services.
It is laughable to suggest iBuumerang wouldn't be aware executives are promoting an external MLM company.
iBuumerang distributors are also promoting Meta Bounty Hunters alongside Ellev8 branding.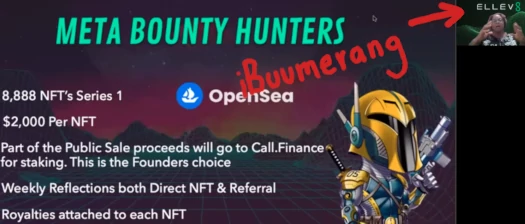 Ellev8 is iBuumerang's forex offering.
What is Ellev8?

It is a Legacy Management Educational Platform that specializes in financial literacy and forex trading philosophies.
Avinash Nagamah seems to think Ellev8's "trading results" are comparable to the CashFX Group Ponzi scheme.

But I digress…
iBuumerang is owned by MLM veteran Holton Buggs.
He's nowhere to be found in Meta Bounty Hunters' marketing or video presentations. Buggs seems to have delegated those tasks to Nagamah and Hunt.
If we accept Meta Bounty Hunters is part of iBuumerang, that would mean Buggs also owns it.
A few hours ago Meta Bounty Hunters boasted of having 20,000 potential investors in its Discord chat group.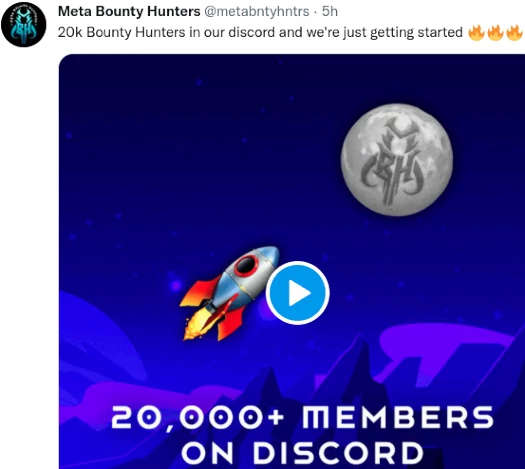 20,000 members and nobody is talking about company ownership?
Riiiiiiiiiiiiiigh….t.
Someone has taken great pains to ensure Meta Bounty Hunters' ownership details aren't leaked.
Too bad they don't speak Russian.
On the Do Nothing blog, Holton Buggs is credited as Meta Bounty Hunters' owner.
Usually such projects do not reveal their admins, because it's blockchain, decentralization and it's quite normal.

But from our sources, we learned that the real admin of (Meta Bounty Hunters) is Holton Buggs, known to us from the rather serious network company iBuumerang. And this is very good news.

And the public figure behind the development and zooms is none other than Avinash Nagamah, who is also the top leader of Ibumerang and other projects.

He is a fairly well-known personality and is a speaker at the top mlm portal Business For Home.
On its own these fragments are certainly questionable. Put together though they present a compelling case that's hard to dismiss.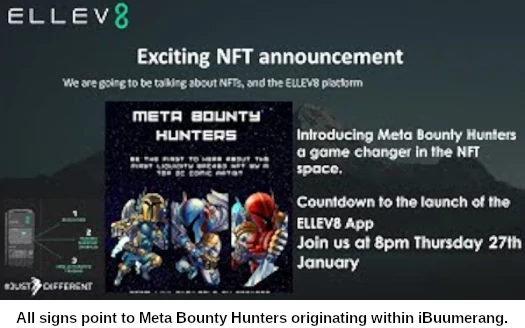 If Buggs owns or part owns Meta Bounty Hunters, it's important to note this isn't his first crypto fraud rodeo.
Buggs was at the center of a 2018 attempt to funnel Organo Gold distributors into the Ormeus Global Ponzi scheme.
That idea fell apart and Buggs went on to launch iBuumerang in 2019.
Through NFTs, Buggs appears to want another bite at the crypto fraud apple.
But why the secrecy? Why not just launch Meta Bounty Hunters through iBuumerang and be transparent?
The premise of Meta Bounty Hunters is a cringe story about a gRoUp oF iNtErGaLaCtIc HuNtErs, represented by 8888 NFTs.
Holton Buggs, David Hunt, Avinash Nagamah… these are middle-aged men who don't give a crap about cartoon space invaders.
Behind Meta Bounty Hunters' Star Wars knockoff paint, is a $2000 a pop fraudulent investment scheme.
8888 NFTs dumped onto gullible investors for $2000 each comes to $17.7 million.
15% of invested funds are kept by Meta Bounty Hunters' owners. Regardless of what happens next, this results in a $2.66 million payday.
From February 10th, Meta Bounty Hunter NFT investment positions will be sold for $2000 each.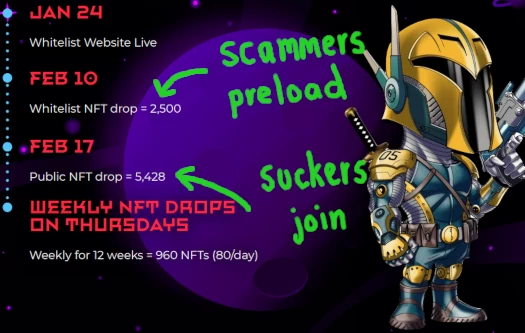 Investing in a Meta Bounty Hunters NFT generated pyramid commissions and a weekly return.
New investment is the only verifiable source of revenue entering Meta Bounty Hunters, making it a pyramid/Ponzi hybrid.
This is why Meta Bounty Hunters' website contains no company ownership information.
Two other names of note are Mike S. Miller and Travis Bott.
Mike Miller is being credited as the artist behind Meta Bounty Hunters' cartoon depicted investment positions.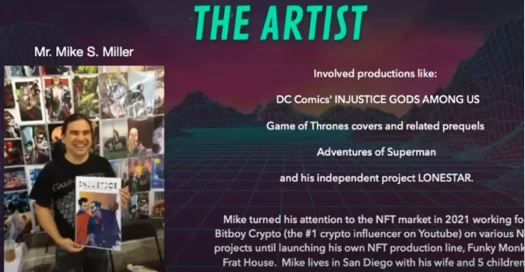 Miller launched his own "Funky Money Frathouse" NFT collection last year. He appears to have gone full crypto bro.
Potential liability of artists who are commissioned by scammers as an integral component of their scams has yet to be tested in court.
What Miller would be able to provide investigating regulators however, is information on who paid him and when.
Whether Miller has any preloaded Meta Bounty Hunters NFT investment positions is unknown.
Travis Bott is a name that keeps popping up in connection with Meta Bounty Hunters.
The strongest indicator I've seen he's involved in the project, was a private Twitter account bearing his name following Meta Bounty Hunters.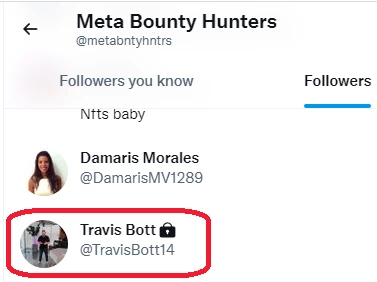 That of course isn't definitive though, and so I haven't focused on Bott's potential involvement.
If Bott is involved with Meta Bounty Hunters it certainly wouldn't surprise me. Bott has a long history of investment fraud documented here on BehindMLM.
At time of publication Alexa ranks the US as the only notable source of traffic to Meta Bounty Hunters' website (73%).
Neither Meta Bounty Hunters, Holton Buggs (a US citizen and resident), David J. Hunt or Avinash Nagamah are registered with the SEC.
Update 27th February 2022 – BehindMLM can now confirm Holton Buggs and Travis Bott are behind Meta Bounty Hunters.