Chinese MBI International Ponzi victims protest in Malaysia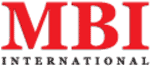 BehindMLM published its MBI International review back in mid 2016.
Over the course of 200+ comments, a number of die-hard investors defended the Ponzi scheme.
Following the arrest of founder Teddy Teow and MBI's collapse, investors are only now beginning to realize their losses.
According to a report from The Sun Daily, over a hundred Chinese MBI International victims staged a protest outside the Chinese embassy in Malaysia.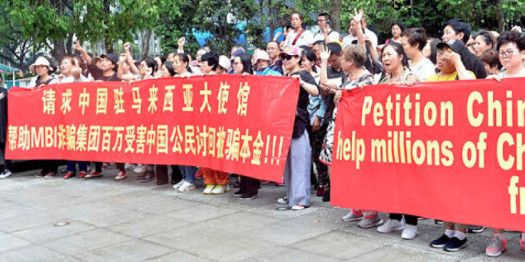 These weren't Chinese nationals living in Malaysia though. The victims had specifically traveled to Malaysia from China, in order to protest outside the Chinese embassy.
The alleged victims, who arrived in Malaysia on Monday from various parts of China, claimed many of them had borrowed money from relatives and other sources to make the investments.

They chanted and sang songs, calling on the Chinese embassy to intervene.
If you're wondering why, it's because admitting to Chinese authorities that you invested in an unregistered MLM opportunity probably isn't going to go well for you.
MLM Ponzi schemes are of course also illegal in Malaysia, but you're not likely to be arrested for admitting you invested in one.
And so we have the Chinese MBI International victims travelling to Malayisa, to urge the Chinese government to help them recover their losses.
They claimed the lives of hundreds of victims had been adversely affected, and some had committed suicide after failing to recover their money.
From a rational standpoint, the money these people invested has been stolen from whoever recruited them into MBI.
That money is then passed upline to whoever recruited them, and so on and so forth. It's what happens in every MLM Ponzi scheme.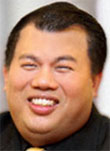 Teow (right) was arrested back in 2017 and charged last year. Malaysian authorities estimate MBI International duped 350,000 victims out of around $165 million.
Teow's probably going to spend some time behind bars. But you can bet he's stashed a good percentage of MBI Investor funds offshore somewhere.
After Teow serves his time, I imagine he'll disappear to Dubai or one of the usual MLM scammer haunts.
Flush with however many millions MBI International victims handed over, Teow will then no doubt live happily ever after.
That's not what those Chinese investors want to hear, but it's the harsh reality of chasing MLM Ponzi dreams.