Leverage 5 to Infinity Review: GRU scam rebooted

The basic idea behind the 2-up compensation plan is that as a member, you pass up your first and third (or first and second) sales to your upline, and then keep the rest of the commissions yourself.
The problem is that with each company that uses the 2-up compensation plan, it's almost guaranteed that they are selling membership and not an actual product.
This of course means that 100% of the commissions paid out are from membership fees and that members are only paid when they recruit new members.
Changing the passed up commissions to sales number 2 and 4 comes Leverage 5 to Infinity. Calling it a 'reverse 2-up system' they seem to think that by changing the ordered number of sales passed up, that this somehow addresses the problems with the 2-up compensation plan model.
Read on for a full review of the Leverage 5 to Infinity MLM opportunity.
The Company
The Leverage 5 to Infinity  website contains no information about who is running the company or owns it.
The domain registration however lists the owner of the website as 'GRU Admin', with a listed PO Box address out of Florida in the US.
GRU appears to be the 'Gifts Roll Up recruitment scam (using the same "reverse 2-up system" Leverage 5 to Infinity uses) launched back in late 2010.
A quick visit to the GRU website confirms this, seeing as the GRU and Leverage 5 to Infinity websites are identical.
Here's GRU (registered 17th August 2010):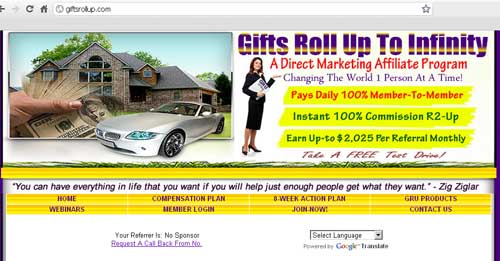 and here's Leverage 5 to Infinity (registered 30th January 2012):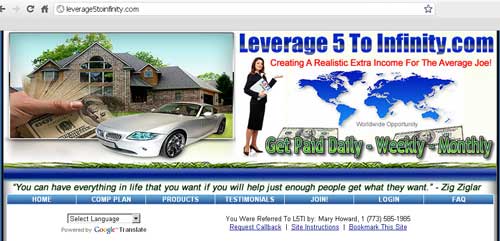 Apart from changing the color scheme and graphic layout, the two sites are near identical and obviously designed by the same person.
This is further evidenced by the fact that up until recently, the "step-by-step" page of the Leverage 5 to Infinity website was titled 'Gifts Roll Up':

The 'Terms and Conditions' page on the Leverage 5 to Infinity website also lists a 'last revised' date of October 5th, 2010 – despite the fact that the Leverage 5 to Infinity domain itself was registered in January 2012.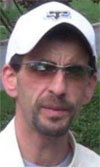 Gifts Roll Up is owned by a Rob Nunes (right) and I think it's pretty obvious that Nunes also owns and operates Leverage 5 to Infinity.
As for Nunes' MLM history, his LinkedIn profile lists a slew of recruitment scams:
Prosperity 3×2
Realistic Rewards
Iggly Biggly Global
Mega 2×2
Express 2 LGN
that Nunes claims to 'have built'. Also I'm not sure of the date the LinkedIn profile was last updated, but Nunes lists his location as the Massachusetts Area, which is noted as being different to the Florida PO box listed in the Leverage 5 to Infinity domain registration.
The Leverage 5 to Infinity Product Line
Leverage 5 to Infinity have no products available at a retail level with members marketing membership to the company itself.
Included with a Leverage 5 to Infinity membership purchase is access to what appears to be a series of marketing video tutorials put together by company owner Rob Nunes.
The Leverage 5 to Infinity website also promises "plus much more!", but fails to provide any further details.
The Leverage 5 to Infinity Compensation Plan
As mentioned earlier, Leverage 5 to Infinity utilise what they call a "reverse 2-up" compensation plan structure.
In a nutshell, when a member joins and starts selling membership, they pass up the 2nd and third membership sale commissions to the person who recruited them.
The first and third membership sales are called "qualifiers" and in addition to the recruitment commission paid on their signup, you also earn the commission from their personal 2nd and 4th sale and those member's 2nd and 4th sales and so on and so forth.
As for the fifth member you signup and onwards, recruitment commissions are paid out as normal. There is no limit on the amount of commissions you can earn past your first four recruits.
The commissions paid by Leverage 5 to Infinity appear to be 100% of the membership price, minus a $5 admin fee (where the company makes it's money).
This is pretty much confirmed in the Leverage 5 to Infinity refund policy:
Can I get a refund?

Your membership is non-refundable. All sales are final. The reason for this is due to the nature of our instant payments to our affiliates.

We cannot refund money to you that has already been paid out to our affiliates. We never even handle that money – it is paid directly to our affiliates.
Leverage 5 to Infinity has 5 levels of membership, each paying out a commission as follows:
Starter – $5 (membership cost $10)
Basic – $15 (membership cost $20)
Pro – $45 (membership cost $50)
Elite – $95 (membership cost $100)
Platinum – $245 (membership cost $250)
There doesn't appear to be any distinct difference in paying a higher membership price other than the size of the recruitment commission earnt on the membership sale itself.
Joining Leverage 5 to Infinity
As above, membership to Leverage 5 to Infinity is available for purchase at 5 different price points.
The Leverage 5 to Infinity website mentions "membership upgrades" so presumably the catch it you yourself have to purchase a particular membership level if you want to earn commissions for selling that membership level to other members.
Conclusion
Like Rob Numes' previous attempt with Gifts Roll Up, Leverage 5 to Infinity is entirely dependent on the constant recruitment of new members.
With Gifts Roll Up having been launched in late 2010, I'm not exactly sure when specifically, but it appears sometime after the scam fizzled out and stalled.
Using the same website code and changing the theme color, Numes appears to be attempting to restart the recruitment scam under the name Leverage 5 to Infinity.
Like Gifts Roll Up though the recruitment dependency is there and undoubtedly one people stop signing up to Leverage 5 to Infinity the commissions will stop and the opportunity will die off.
Gifts Roll Up appears to have died within 12 months of launch so those looking to join Leverage 5 to Infinity can most likely expect the same short lifespan to be repeated.