IM Mastery Academy affiliate leaders arrested in Spain

Eight IM Mastery Academy affiliates have been arrested in Spain.
Spanish authorities have charged the affiliates for promoting a pyramid scheme.
As reported by Informacion, "National Police has arrested eight people in six provinces".
The arrests are believed to have taken place on Wednesday March 22nd.
El Pais is reporting the arrested suspects were part of the "Awaken Dreamers" IM Mastery Academy downline.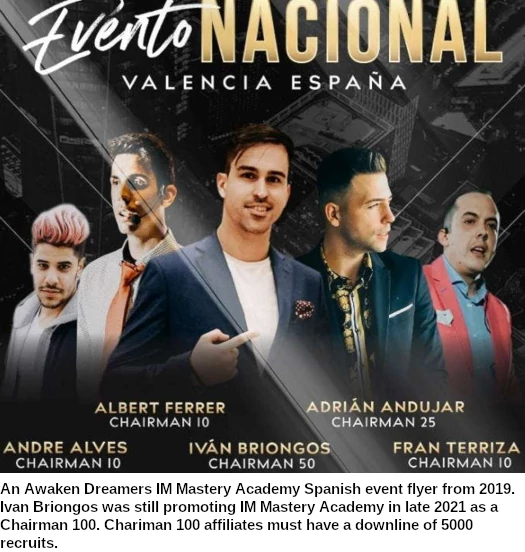 I don't have any confirmed names as of yet.
The accused are believed to have built an IM Mastery Academy downline of around 2500 affiliates.
400 of those affiliates have come forward as victims, prompting an federal investigation that began a year ago.
IM Mastery Academy markets forex and cryptocurrency themed products. These products are tied to affiliate membership fees, through which the majority of commissions in IM Mastery Academy are earned.
The registration to receive the training was 200 euros and then they had to pay 150 euros per month, but if they recruited two more people they stopped paying the fee and from the third client they began to collect every month from the "pyramid".
In BehindMLM's IM Mastery Academy review, we specifically warned against the pyramid nature of the business.
We also cautioned against IM Mastery Academy's algorithms constituting a securities offering. This doesn't appear be part of Spain's criminal crackdown.
The training activity carried out by the platform, it consisted of a series of virtual classes recorded on video, through which the trading of binary options and leveraged operations, which are prohibited in Spain and in the European Union.
Spanish National Police claim the arrested leader of IM Mastery Academy in Spain "had already participated in other scams".
National Police also claim IM Mastery Academy was rebranded from iMarketsLive,
to prevent potential victims from linking the name of the platform to an alleged scam with a quick search on the web.
Spain's top financial regulator CNMV, issued two separate fraud warnings against iMarketsLive in 2018.
D. Eduardo Arjona Moyano was identified as iMarketsLive's top Spanish promoter at the time.
iMarketsLive was rebranded as IM Mastery Academy following fraud charges filed in the US.
US authorities haven't taken further action against IM Mastery Academy since the rebranding.
The National Police's investigation into IM Mastery Academy revealed promoters targeted school children.
Among the victims of the alleged fraud, the investigators detected minors with a basic level of education and others who, if they had higher education, had no relationship with the financial markets.

(This was) in addition to not having any of them with training or experience. prior to stock investments.

Once they were recruited to enroll in the training, the teaching activity took a back seat and the newcomers were pressured to dedicate themselves to recruiting new victims in their closest circles – friends and schools.

Pressure on young people to abandon their studies and even cut off their family relationships so that they could devote themselves to the activity of the organization bordered on certain pressure techniques typical of sects.

Two adolescents recruited when they were 17 years old even left the family home to live with members of the organization.
Evidently IM Mastery Academy was turning a blind eye to recruitment of adolescents.
In fact founder Christopher Terry might have even intended to celebrate it.
IM Mastery Academy has a promotional event in Barcelona scheduled for April 8th.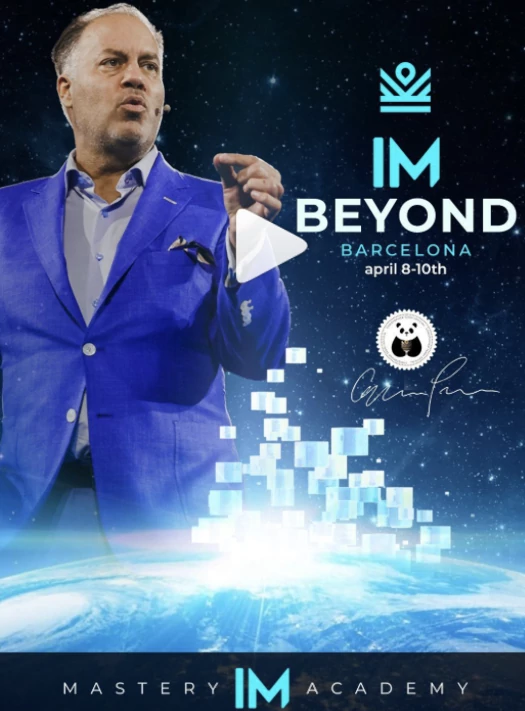 Tickets to the event cost as much as €400 EUR. In a FaceBook post dated March 18th, IM Mastery Academy claimed the more expensive VIP and VIP+ tickets were sold out.
In light of authorities arresting Spanish leaders, whether IM Mastery Academy's Barcelona event goes ahead remains to be seen.
Update 31st March 2022 – As of March 30th, IM Mastery Academy plans to hold its Barcelona IM Beyond event as scheduled.
Update 8th April 2022 – IM Mastery Academy has issued a press-release addressing the arrest of its Spanish leaders.
Update 9th August 2022 – El Pais has confirmed four of the arrested IM Mastery Academy Spanish leaders are Ivan Briongos, Albert Ferrer, Christian Adell and José Francisco T.