IM Mastery Academy doubles down on Barcelona after arrests

Despite the arrest of top Spanish promoters, IM Mastery Academy has doubled down on its upcoming Barcelona event.
Last week Spanish National Police arrested eight IM Mastery Academy affiliates. Names of the suspects have yet to be released.
The Spanish criminal investigation focused on IM Mastery Academy operating as a pyramid scheme. One particularly disturbing aspect of the investigation was IM Mastery Academy targeting teenage students.
Coinciding with the arrests was a scheduled IM Mastery Academy event in Barcelona. IM Mastery Academy has been charging up to €400 EUR for tickets.
The hosting venue is Palau Municipal d'Esports de Badalona, with the event scheduled to kick off on April 8th.
In light of the arrests, it was expected IM Mastery Academy would cancel and refund tickets.
At least as of yesterday, that doesn't appear to be the case: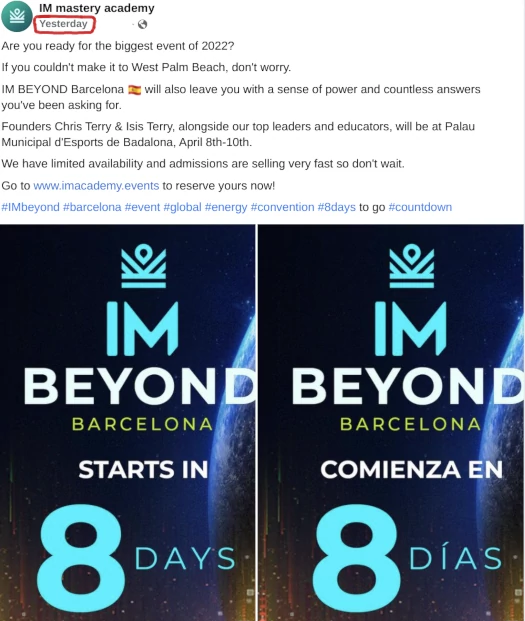 IM Beyond will be headlined by Chris and Isis Terry, with IM Mastery Academy billing it "the biggest event of 2022".
It appears IM Mastery Academy are rolling the dice on there being no further action from Spanish authorities. Considering the arrests are quite fresh and the National Police have labeled IM Mastery Academy a pyramid scheme, it's a considerable gamble.
Based on website traffic analysis from Alexa, IM Mastery Academy is currently being promoted across the Dominican Republic (23%), Chile (16%) and the US (16%).
IM Mastery Academy has not publicly acknowledged the arrest of its Spanish leaders or addressed the National Police's investigation.
If the IM Beyond event goes ahead in Barcelona as planned, it should be noted it has nothing to do with IM Mastery Academy's legal standing in Spain.
The position of Spanish authorities is clear: IM Mastery Academy is a pyramid scheme and promotion of it in Spain is illegal.
I'll be keeping an eye out for any updates as April 8th approaches.
Update 8th April 2022 – IM Mastery Academy has issued a press-release addressing the arrest of its Spanish leaders.