IM Mastery Academy throws Spanish leaders under the bus

Following the arrest of its Spanish leaders, IM Mastery Academy has attempted to distance itself.
The reason appears to be money, with IM Mastery Academy boasting a sold out event in Barcelona this weekend.
I received notification of IM Mastery Academy's response a few days ago. I wasn't able to verify the document however, so I held off publication.
In the last 24 hours at least one Spanish publication has picked up the release: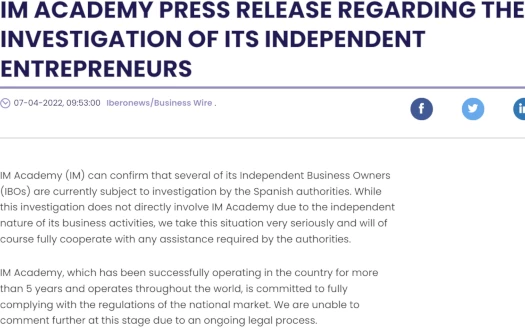 Estrategias de Inversion provides a source link to Businesswire, which appears to have been deleted sometime in the last 24 hours. Why IM Mastery Academy would issue a press-release and then quickly delete it is unclear.
Nonetheless it's enough to provide independent verification, as the quoted text is the same as I received;
PRESS STATEMENT FROM IM ACADEMY IN RELATION TO INVESTIGATION INTO ITS INDEPENDENT BUSINESS OWNERS

IM Academy (IM) can confirm that a number of its independent business owners (IBOs) are currently subject to an investigation by the Spanish authorities.

Whilst this investigation does not involve IM Academy directly due to the independent nature of their business activities, we take this situation very seriously and will of course cooperate fully with any assistance required by the authorities.

IM Academy, which has been trading successfully in the country for more than 5 years and operates across the world, is committed to complying fully with in-country market regulations.

We are unable to make any further comments at this stage due to a legal process being in place.
IM Mastery Academy's press-release, believed to have been issued on April 5th or 6th, is a response to the arrest of its "Awaken Dreamers" leaders.
Spain's National Police made eight arrests in late March. The suspects have been charged with promoting a pyramid scheme, with the investigation uncovered targeting of students.
This is eerily similar to what Alex Morton got up to in Vemma, a pyramid scheme shut down by the FTC in 2015.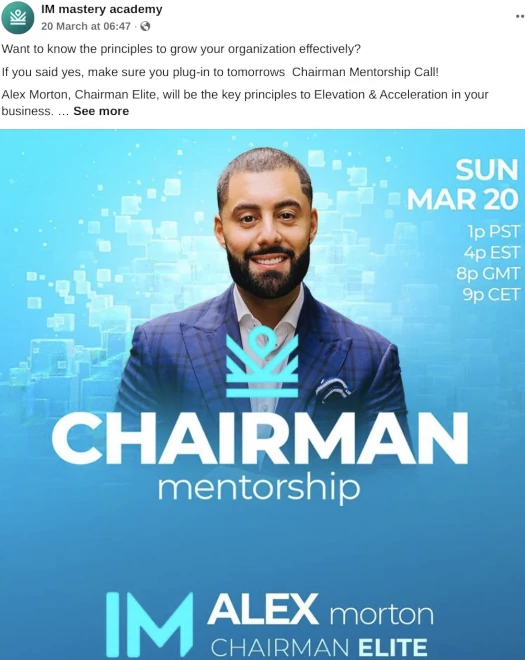 It should go without saying that IM Mastery Academy not knowing what its leaders are getting up to in any country is nonsense.
The key takeaway here is that IM Mastery's Spanish Leaders have been charged with promoting a pyramid scheme.
The pyramid scheme is IM Mastery Academy, making the "investigation does not involve IM Academy directly" claim ring hollow.
At least publicly, this is IM Mastery Academy abandoning its arrested Spanish leaders.
Why?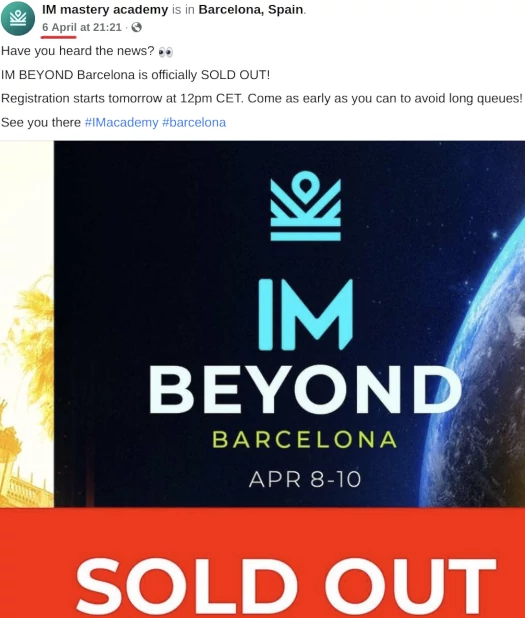 IM Mastery Academy has been charging up to €400 EUR for tickets to its "IM Beyond" Barcelona event.
One would think, in light of the arrests, that either IM Mastery Academy or Spanish authorities would move to cancel the event.
We can see from its public response that IM Mastery Academy has no intention of halting promotion. This reflects poorly on founder Christopher Terry's business ethics but isn't unexpected.

What's surprising is the lack of action on the Spanish side.
IM Beyond is booked to take place at the Palau Municipal d'Esports de Badalona. The 12,760 capacity venue is owned by the government, specifically the City of Badalona.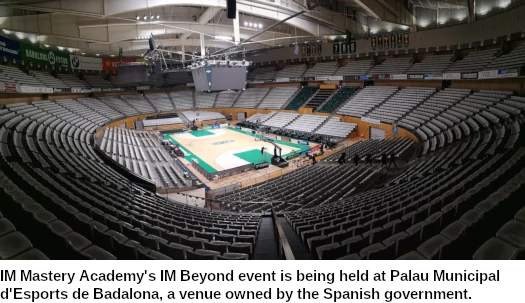 Wondering why the City of Badalona was allowing a pyramid scheme under national investigation to hold a marketing event in a venue they owned, Publico reached out.
This prompted the City of Badalona to deny responsibility.
Management and exploitation of the venue is licensed and regulation of the activities is not overseen by the City Council.
The City of Badalona went on to tell Publico, they had expressed disagreement with IM Mastery Academy's event going ahead to venue management.
Palau Municipal d'Esports de Badalona booking are managed by Joventut de Badalona SAD.
When approached by Politico for answers, they dodged responsibility. Joventut de Badalona SAD stated they'd
received a request for use of the venue a few months ago, and that their role was limited to renting Palau Municipal d'Esports de Badalona as per the contract signed with the client.
Politico reports victims of IM Mastery Academy have reached out to both the City of Badalona and Joventut de Badalona SAD, but their concerns have fallen on deaf ears.
Thus far there has been radio silence from Spain's National Police regarding the IM Beyond event.
Shedding light on IM Mastery's corporate culture and further weakening claims made in its press-release, are the actions of IM Mastery Academy's Spanish leaders.
On March 28th Voz Populi reported that following the arrests, IM Mastery Academy's Spanish leaders announced the National Police's investigation was "an invention promoted by "pink sauce"".
I'm not sure if "pink sauce" is a dodgy auto-translation or Spanish colloquialism I'm not familiar with.
"Everything was an invention. We continue."

They were arrested but are now free and continue, in a stealthy way, with their activities to recruit minors with the organization of a new appointment that will take place in the coming days in Barcelona.
And so the stage is set for a pyramid scheme under federal investigation and whose national leaders have been recently arrested, run by shameless management with a history of fraud, to hold a promotional event in a government owned building.
How do you let owners of a pyramid scheme you've just arrested national leaders of enter the country and hold a sold out promo event? I don't know.
Victims, whose complaints initiated the federal investigation and arrests, are going unheard. And finally, anybody with the power to do something about the event, which includes the Spanish government, is denying responsibility.
What a mess.