Hyperverse's exit-scam continues through GNX tokens

On January 21st Hyperverse announced a partnership with Genaro Network.
Who is Genaro Network?
Some blockchain bro data company nobody's heard of.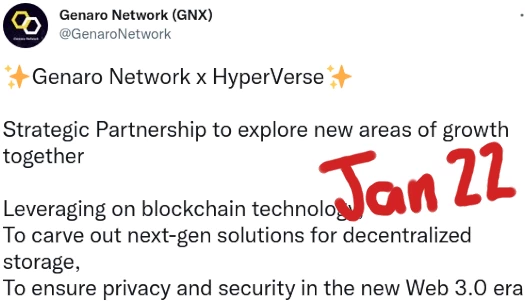 As per an accompanying press-release;
Through this cooperation, both parties will work together to establish metaverse WEB3.0. In the construction of metaverse, decentralized blockchain cloud storage is an integral part of it.

Genaro Network will provide HyperVerse with decentralized encrypted storage service, and furnish users with efficient and safe storage of massive data.
I figured this might be due to Hyperverse being unable to use regular cloud providers because, y'know… the whole Ponzi thing.
Anyway I didn't report on it because it seemed mostly a logistical announcement with little relevance.
Turns out the actual reason behind the partnership is much more sinister.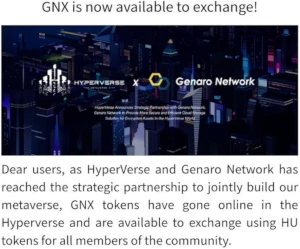 As per a communication sent out to investors in the last 24 hours, Hyperverse advised;
Dear users,

As Hyperverse and Genaro Network has reached the strategic partnership to jointly build our metaverse.

GNX tokens have gone online in the Hyperverse and are available to exchange using HU tokens for all members of the community.
Hyperverse's Genaro Network partnership is just an excuse to launch yet another exit-scam shitcoin.
GNX token looks set to be a punishment coin, dumped on Hyperverse investors who don't recruit or reinvest.
The development of Hyperverse requires all users to jointly participate and perform their respective duties.

Users who haven't driven the development of the Hyperverse market still provide underlying support for the Hyperverse ecosystem.

For this reason, users who only make underlying storage contributions for Hyperverse ecology can only exchange GNX.
And if being forced to accept payment in a new shitcoin limited to Hyperverse Ponzi bagholders desperate to cash out wasn't bad enough, it gets worse…
Genaro Network needs to update and upgrade its network.

The withdrawal service of GNX is temporarily unavailable and is expected to be restored in mid-February.
There you have it. Exactly what this Genaro Network partnership is all about.
The GNX token is the fifth shitcoin attached to the Hyperverse Ponzi scheme. It follows HyperCash, HU, MOF and HVT.
If you're wondering why Genaro Network has hitched its wagon to a Ponzi scheme, here's why: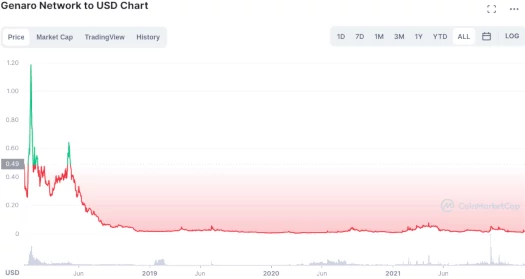 After doing the shitcoin pump back in 2019, GNX dumped to between 1 to 2 cents.
As Hyperverse inches closer to total collapse, other recent withdrawal restrictions  include bitcoin bonus pools and locking accounts.
Hyperverse's bitcoin bonus pools were introduced a few weeks ago. They effectively allow Hyperverse to slash ROI withdrawal liability, by paying investors a fraction of HVT's public trading value.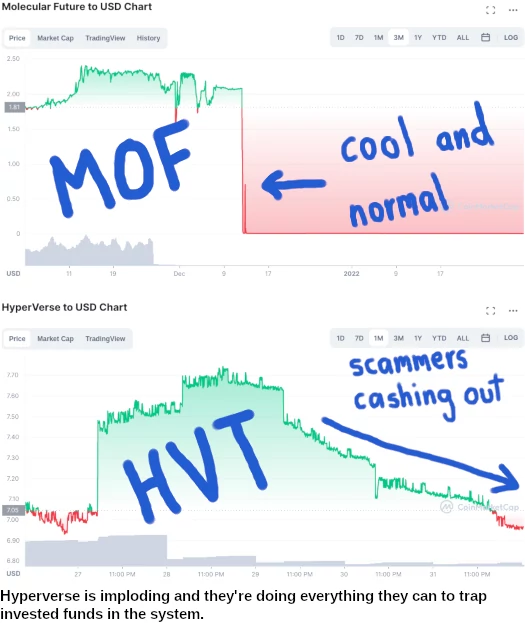 With respect to locking accounts, Hyperverse is suspending any investor account it deems is "abnormal".
Dear User,

Risk notification of the account.

Your account asset consists of abnormality! HyperVerse has stopped your payment of bonus income and restricted temporarily the transfer and withdrawal, with a risk of number theft there may be.

Please finish the identity authentication as soon as possible to resume your normal capital transaction and guarantee fund security.
This stops both withdrawals and daily monopoly money ROI accrual in the backoffice.
Hyperverse owners Ryan Xu and Sam Lee fled to Dubai last year. They are on the run from liquidators in Australia and haven't been seen in months.
Update 27th February 2022 – We're coming up to the end of February and as I understand it, GNX token withdrawals are still disabled.