Helo Corp announces plans to abandon Vyvo MLM opportunity

Vyvo's parent company Helo Corp has announced plans to "discontinue the Company's network marketing operations globally".
There isn't a specific date Helo Corp plans to shut down Vyvo but, as per a September 27th press-release, it's expected to take place in Q4 2022.
Interestingly, Helo Corp also claims it intends to
launch an affiliate-based customer acquisition business model and international e-commerce platform.
I might be reading too much into it but this sounds like the dreaded, "screw your distributors over and steal their customers" route.
Vyvo launched in early 2019 as a reboot of World Global Network, itself a reboot of Global Mobile Network.
BehindMLM reviewed Vyvo in March 2019. We weren't impressed with the "unbelievably messy" state of the business.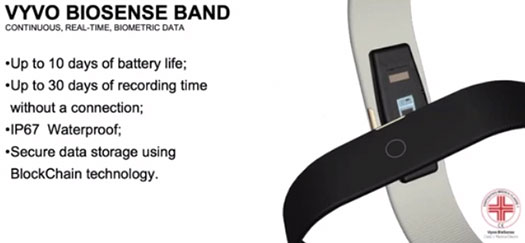 Vyvo's corporate structure has always been intentionally murky, but the long and the short of it is everything is owned by Fabio Galdi.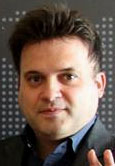 Officially Galdi (right) is Helo Corp's Chairman of the Board and CEO and President of Vyvo.
Curiously, it was only back in April that Helo Corp boasted of a 685% increase in annual net income for 2021.
This is in stark contrast to their September 27th press-release;
"Our revenue continues to be negatively impacted by challenging market conditions, specifically with respect to our network marketing distribution channel," said Sean McVeigh, Chief Executive Officer.
I don't have any revenue figures but traffic to Vyvo's website is down across the board: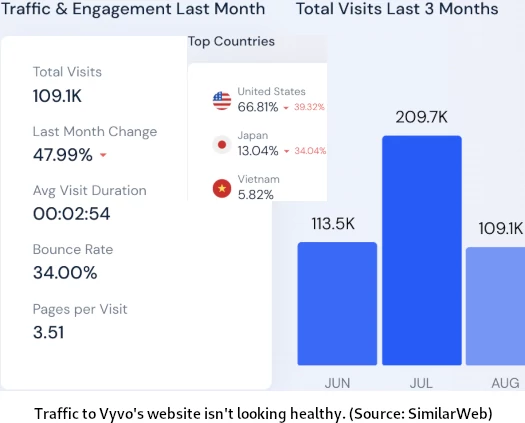 Another potential contributing factor is Vyvo's cryptocurrency integration.
For better or worse, Helo Corp intends to continue stick with its blockchain platform.
Beginning in the fourth quarter, the Company plans to move forward on contribut(ing) to the development of a blockchain-based decentralized health data platform designed to enable our customers to own, control and monetize their personal health data.
Outside of "because blockchain", I have no idea why anyone would want their personal health records and information on a decentralized platform for anyone to steal view.