Vyvo Review: World Global Network's unbelievably messy reboot

Seemingly out of the blue, last month World Global Network announced it was rebranding as Vyvo.
No explanation for the name-change is provided on the World Global Network website.
Here's one possible reason:

BehindMLM's first exposure to World Global Network was Global Mobile Network in 2013.
Back then Fabio Galdi was selling a VOIP service, advertising mobile app and power units.
Most of Global Mobile Network's compensation plan was geared towards affiliate recruitment.
Power units saw Global Mobile Network affiliates pay $600 or $1600, and then $240 annually to maintain their position.
Payment of power unit fees qualified Global Mobile Network affiliates for commissions when their downlines purchased power positions (no retail).
Power units were eventually renamed power clouds.
In 2016 Galdi rebooted Global Mobile Network as Wor(l)d International, later again renamed to World Global Network.
On or around 2017 VOIP and anything to do with power was quietly abandoned.
In their place the Helo wellness bands were launched. A device you wear on your wrist that provides monitor signals to a phone app.
Among other things, Helo bands were marketed as being able to measure the mood of the wearer.
Other features like ECG/EKG, blood pressure, blood alcohol and blood sugar were marketed were initially marketed. Some features were later added, some never delivered on.
To that end there are some interesting complaints published on World Global Network's BBB listing (note the company is active there and has replied to each).
The comments on our Wor(l)d International review are also worth a read. A recurring theme is broken promises and the overpriced cost of Helo bands versus similar offerings from other companies.
Anyway, here we are in early 2019 and World Global Network is now Vyvo. Let's get into it.
Read on for a full review of the Vyvo MLM opportunity.
The Company
Vyvo is still headed up by founder and CEO Fabio Galdi (right).
The company lists two corporate addresses on its website; one for Vyvo Pte Ltd in Singapore and the other for Vyvo USA Corp in Utah.
Vyvo Products
Helo bands appear to be replaced with a Vyvo Bioband.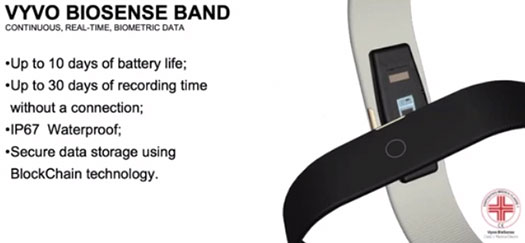 Helo Extense was added on March 5th as part of a $499 pack (bundled six month app service subscription).
As opposed to functionality based on the device purchased, Wor(l)d International limited it based on an app subscription model:
Smartlife Solution Free (no cost) – unlimited Helo Measurements, 3 days of LifeLog history reports, 3 days of real time monitoring, Helo Personal Guardian and Helo We Care (up to 2 people)
SmartLife Solution Basic ($9.90 a month) – adds unlimited LifeLog history reports, Helo We Care (up to 20 people) and "Your Oracle (AI) Helo & DNA"
SmartLife Solution Extra ($29.90 a month) – adds Extense personal sugar trend monitoring
SmartLife Solution Pro ($74.90 a month) – adds "pulse wave diagnostic" and EKG analysis
Vyvo marketing lists updated subscriptions; SmartLife Solution Light for $9.90 a month, SmartLife Solution Loyalty for $59.90 a month and SmartLife Solution Pro for $99.90 a month.
As far as I can tell the free subscription is gone and the other three have just had their names changed.
Note that SmartLife Solution Pro now comes with a SmartLife Nutra Pak subscription too (see below).
Vyvo Biosense bands are being advertised with a $249 cost. A feature list is not provided.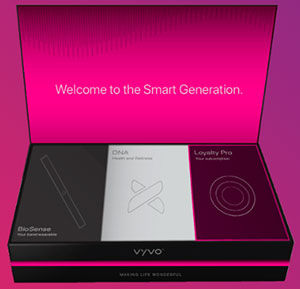 In addition to Helo/Vyvo bands, Vyvo also markets SmartLife DNA.
With SmartLife DNA you buy a kit for $249, take a DNA sample, send it off to Xfinity Labs to get a customized nutrition profile.
That profile is then used to provide subscribers with "tailor-made" nutritional supplements through SmartLife Nutra Paks.
Skin care products based on the kit results have also been announced.
Xfinity Labs appears to have been set up in mid 2018.
The Xfinity Labs website is heavily branded with World Global Network marketing and the website domain itself is owned by Fabio Galdi.
Xfinity Labs state-of-the-art laboratory in Central Hong Kong is CLIA and CAP accredited.

The corporate office is located in Miami, Florida. Xfinity Labs American executives have a successful track record of launching hundreds of advanced medical products in China, South East Asia, and India since 1997.
Not sure what company the lab was operating as dating back to 1997, but it sure wasn't Xfinity Labs.
Xfinity Labs appears to just be a rebranded extension of World Global Network (and now Vyvo).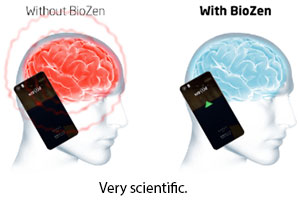 Finally, the gimmicky Biozen stickers at $236 for five.
Protect yourself with our innovative BioZen & BioZen Plus chips.

BioZen protects you against mobile radiation. Scientifically and medically proven.
Vyvo states their BioZen stickers can "lower your body's stress levels".
The Vyvo Compensation Plan
Vyvo do not provide a copy of their compensation plan on their website.
The following has been put together from several marketing presentations, which appear to rely on incomplete information provided to Vyvo affiliates by the company.
Note that for the most part Vyvo's compensation plan appears similar to that of World Global Network, however some things have changed (the Matching Bonus for example).
MLM Commission Qualification
To qualify for MLM commissions, a Vyvo affiliate must purchase at least 100 PV of product.
You must register as a MEMBER and order products worth at least 100sv (sales volume) to participate in the Rewards Plan.
Note that in their compensation plan material Vyvo refers to PV as "SV".
In order to remain MLM commission qualified, each Vyvo affiliate must maintain
an active Loyalty or Loyalty Pro subscription themselves;
have referred customer on a "Loyalty or Loyalty Pro" subscription; or
have six referred customers on active Light subscriptions.
Fast Start Bonus
The Fast Start Bonus is a 10% commission paid on the sale of Vyvo products or subscriptions to either retail customers or recruited affiliates.
Residual Commissions
Vyvo pays residual commissions via a binary compensation structure.
A binary compensation structure places an affiliate at the top of a binary team, split into two sides (left and right):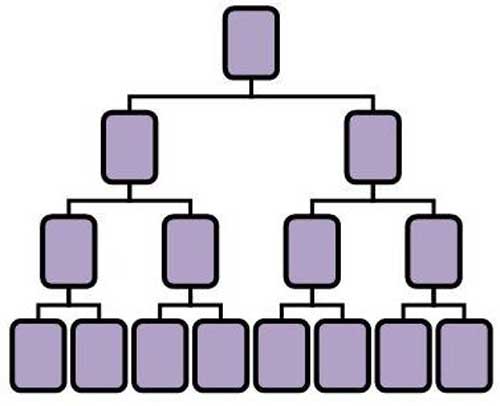 The first level of the binary team houses two positions. The second level of the binary team is generated by splitting these first two positions into another two positions each (4 positions).
Subsequent levels of the binary team are generated as required, with each new level housing twice as many positions as the previous level.
Positions in the binary team are filled via direct and indirect recruitment of affiliates. Note there is no limit to how deep a binary team can grow.
Residual commissions are based on sales volume generated across the binary team.
At the end of each week Vyvo tallies up new sales volume on both sides of the binary team.
Affiliates are paid a residual commission of up to 20%, calculated on volume generated on the weaker binary team side.
Leftover volume on the stronger binary team side is carried over the following week.
Matching Bonus
Vyvo affiliates can earn a Matching Bonus on residual commissions earned by downline affiliates.
The Matching Bonus pays up to 10% based on rank, down a maximum ten unilevel team levels.

Silvers earn a 10% match on level 1
Golds and Platinums earn a 10% match on level 1 and 5% on level 2
Diamonds, Double Diamonds and Grand Diamonds earn a 10% match on level 1 and 5% on levels 2 and 3
Presidents earn a 10% match on level 1 and 5% on levels 2 to 4
Double Presidents earn a 10% match on levels 1 and 2 and 5% on levels 3 to 5
Grand Presidents earn a 10% match on levels 1 and 2 and 5% on levels 3 to 6
President Millionaires earn a 10% match on levels 1 and 2 and 5% on levels 3 to 7
Double President Millionaires earn a 10% match on levels 1 and 2, 5% on levels 3 to 7 and 1% on level 8
Grand President Millionaires earn a 10% match on levels 1 and 2, 5% on levels 3 to 7 and 1% on levels 8 to 10
Car Bonus
Upon qualifying at the Diamond rank for four consecutive weeks, a Vyvo affiliate receives a $1000 Car Bonus.
Although not explicitly clarified, I believe this is an ongoing monthly bonus as long as Diamond or higher is maintained.
Diamond Life Holiday
These are apparently trips awarded to qualifying Vyvo affiliates.
Qualification criteria or trip details for Diamond Life Holidays are not provided.
Joining Vyvo
Vyvo affiliate membership appears to be free. A "Starter Kit" appears on the signup page but there's no corresponding charge.
After signing up, in order to qualify for commissions each Vyvo affiliate must purchase at least 100 PV worth of product.
On the World Global Network website, there are two "Vyvo Smart Kits" listed:
Vyvo Smart Kit – costs $369, hits the 100 PV requirement and comes with a DNA collection kit, 1 month supplement subscription, a health and wellness genetic test and $200 voucher for a Vyvo Biosense band
Vyvo Smart Builder Pack – costs $1499, hits the 100 PV requirement, includes a personal Vyvo Smart Kit and adds 2 months supplement subscription, 5 BioZen stickers and two Vyvo Smart Kit packs "for your business"
There's a $20 set up fee mentioned in the marketing material, which might be the actual sign up cost.
Shipping on both packs is extra but not disclosed.
Conclusion
If you've tried to research Vyvo by yourself, you no doubt ran into the same problems I did.
Complete information is non-existent. There's outdated information still in circulation by the company on the World Global Network website and in order to get a complete sense of the opportunity, you've got to dig around.
Long story short, researching Vyvo left me with a headache – and I knew what information I was looking for.
Perhaps most puzzling, is the fact that Vyvo has been announced with a non-functional website.
As I write this, all you can do on the Vyvo website is click "join now", which redirects you back to the outdated World Global Network website.
I don't know what the financial situation is over at World Global Network, but I get the sense Vyvo was hastily put together.
And from that point of view it's hard not to look at the flogging of $369 to $1499 affiliate packs as a cash grab.
I mean hell, the products aren't even ready to go yet… so what exactly are affiliates paying for right now?
Fabio Galdi has given himself until April to get Vyvo's act together. Presumably that means actual products ready to ship and a fully functioning website.
By fully functioning I mean no more multiple websites, outdated information and having to hunt around for basic company, compensation and product information.
The Vyvo website should contain company and product information, as well as compensation documentation at a minimum.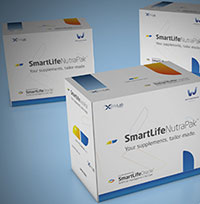 As it is trying to get your head around the DNA kit nutrition kit and subscription is a nightmare.
I was initially tempted to copy and paste the World Global Network compensation plan but it does seem they've made changes to it.
That said what's currently available is lacking and in no way provides a complete picture of Vyvo compensation. Again, this is something basic that should be implemented before a new company name is announced – reinforcing the "cash grab" vibe.
Retail actually seems to be a thing this time around, which is an improvement over World Global Network. Although given the mess the company presentation, I'm seriously questioning its viability.
Right now Vyvo seems to be all about pay to play recruitment.
New Vyvo affiliates have to buy the Builder Pack and recruit others who do the same, which is incentivized with a 25% residual commission rate for 12 months.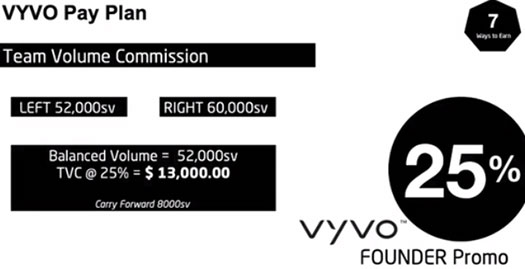 Existing World Global Network affiliates just have to sign up for the $99 a month Pro subscription. They can also qualify for the 25% residual commission rate via recruitment.
Keep doing that and you can eventually max out the Vyvo compensation plan, ignoring retail altogether.
As for Vyvo Biosense bands, there doesn't seem to be any detailed information on them out there. Which begs the question why anyone would put money towards them now.
I mean for a flagship product you'd expect there to be something on the Vyvo website… yet here we are.
There's something to be said for an MLM company that evolves to meet both operational and product demands – especially when it comes to a tech related product.
What Galdi is doing with Vyvo however is a complicated mess that leaves the impression of unnecessarily convoluted confusion.
Vyvo clearly wasn't ready to be announced last month. And we head towards the end of March, is still not ready.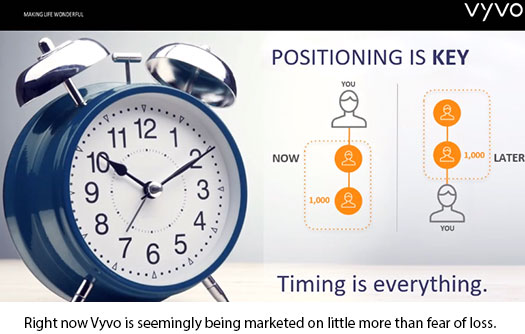 If Galdi is able to get the Vyvo website up to scratch, retire the outdated World Global Network online properties and have actual products/services for purchase by April, that's when Vyvo should have been announced.
I think the only people who are going to be jumping through hoops to sign up and trying to explain Vyvo to people, are those chasing recruitment commissions (in particular the 25% residual rate bonus).
That lends itself to the foundation of a pyramid scheme, as opposed to an MLM company genuinely pitching its products and services to a retail market.
Approach with caution. And if you do decide to try to further research Vyvo yourself, make sure you've got some aspirin on hand.
Update 28th September 2022 – Helo Corp has announced plans to abandon Vyvo in Q4 2022.