Josip Heit a no-show at GSPartners' US Ponzi event

GSPartners' US event was supposed to broadcast to the world that it and owner Josip Heit were above the law.
That securities regulation, wire fraud and money laundering laws didn't apply to them.
But instead of travelling to the US and making a grand entrance, Heit wimped out virtually from the safety of Dubai.
I'm not sure whether attendees were specifically instructed not to record Heit's appearance. This indirect shot of Heit from someone's phone was the only footage I could find: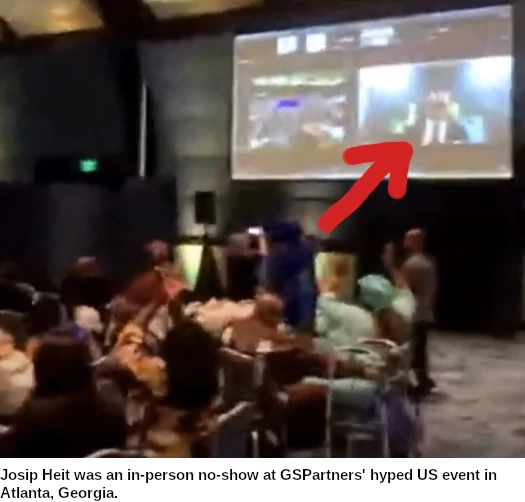 To clarify, even if Heit had attended the event, GSPartners is still committing securities fraud. GSPartners' business model makes it a Ponzi scheme, not whether Heit risks getting picked up in the US.
But still, that Heit wasn't willing to stake the legitimacy of GSPartners' legitimacy with a visit to the US is telling.
It's certainly not what GSPartners investors were sold on: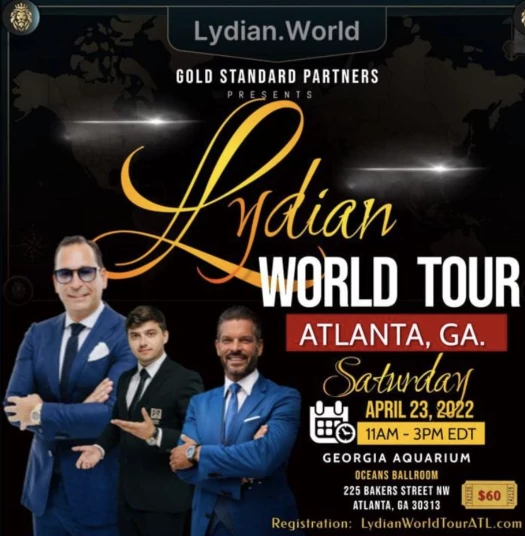 The first GSPartners event in the USA!

This impactful event will include: a brief business overview by one of our GSPartners leaders; a technology session by our CTO Mr. Alexandru Cocindau; an address by Advisory Board Member Dirc Zahlmann, an address by our Chairman of the Board, Mr. Josip Heit; and words of inspiration by our Global Ambassadors, followed by rank recognition.
Had attendees of know they'd be paying $60 to watch Heit and Cocindau on Zoom, perhaps they'd have reconsidered.
GSPartners holds corporate webinars at least once a month at no charge.
Michael Dalcoe, who interestingly enough wasn't on GSPartners' event promo, was left to host the event.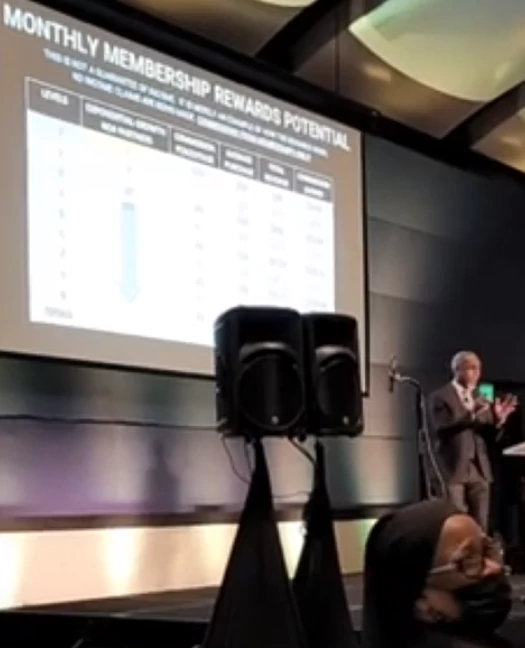 One interesting tidbit was the introduction of Nathaniel "Nate" Hines, who Dalcoe confirmed is his GSPartners upline (the person who recruited him).
This is significant as Dalcoe is very much the face of GSPartners in the US. So much so that he refers to himself as GSPartners' CEO on social media: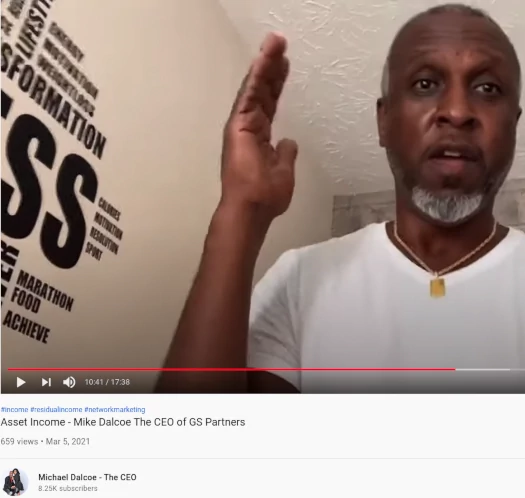 Turns out there's someone making even more money than Dalcoe from recruitment of US GSPartner investors.
Nate Hines refers to himself as GSPartners' "Admiral".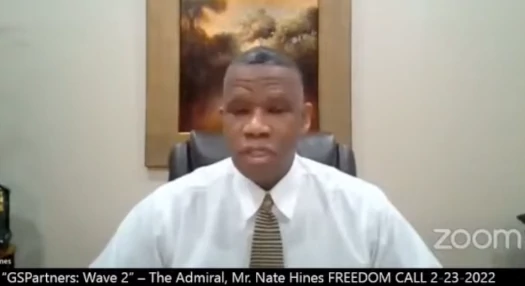 Like Josip Heit, Michael Dalcoe and practically everybody else who launched GSPartners, Hines is a Karatbars International import.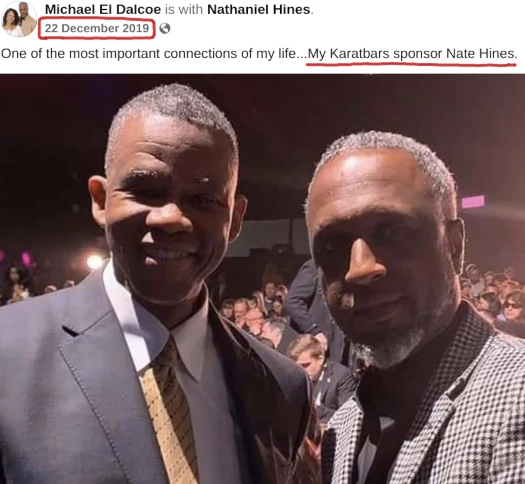 Josip Heit not showing up to Atlanta wasn't the only PR fail for GSPartners.
The event was announced on March 23rd. On March 26th GSPartners filed up the ol' G999 trading manipulation bot: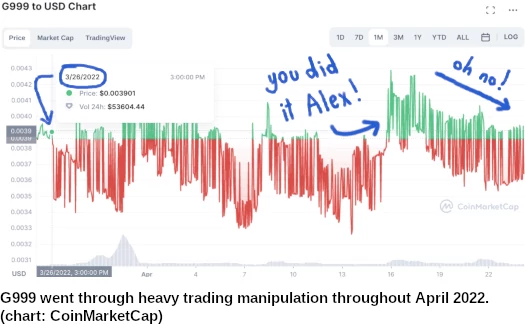 This saw G999 return to the fixed-range "up and down" manipulation observed in January.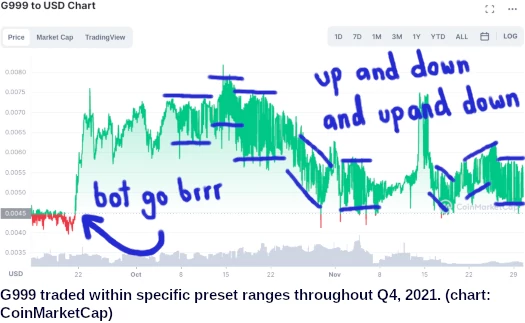 The idea appears to have been to get G999's value up to have something to boast about at Atlanta.
As you can see in the first chart above, pre-manipulation G999 was stagnant at around $0.0039. There were a few short pumps but come April 23rd, G999's value hadn't changed much.
As GSPartners investor losses mount, Josip Heit has strengthened ties to Dubai. Previously known to travel between Dubai, the UK and Germany, Heit is spending more and more time in the Emirate.
Earlier this month South African promoter Andrew Eaton gushed over a new GSPartners office in Dubai;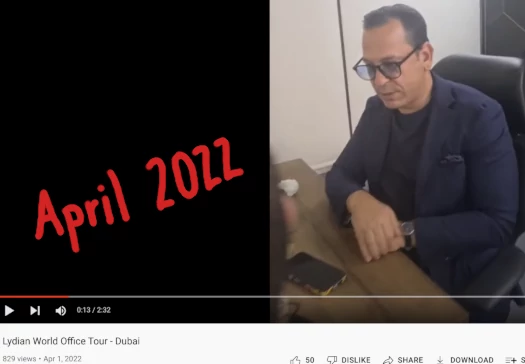 Heit also spent Easter in Dubai, which when combined with the office suggests he's moved there permanently.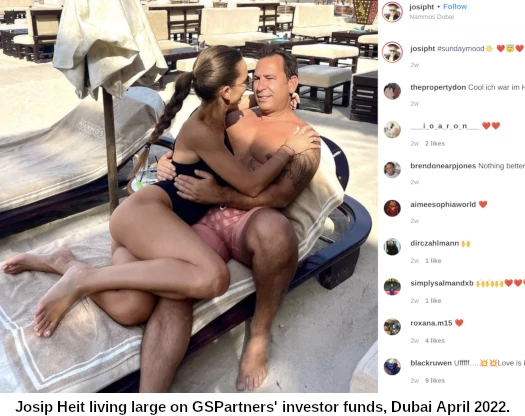 While Dubai might shelter you from law enforcement and financial regulators, living there isn't cheap.
Traffic to GSPartners' website continues to decline: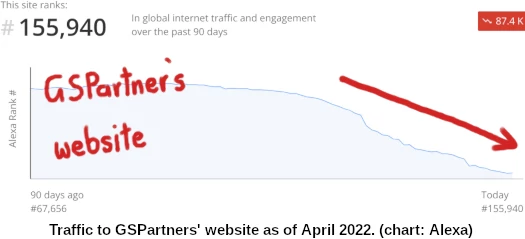 G999 is being propped up with wash trading, the something something Dubai real-estate token scheme seems to have been quietly abandoned, nobody is interested Lydian World… so what's the next cash GSPartners cash grab?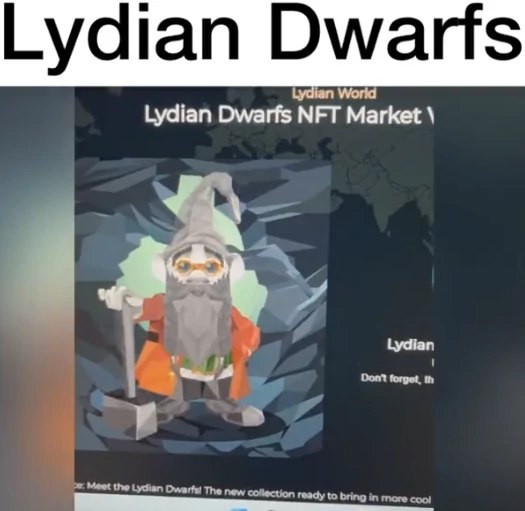 Lydian Dwarfs NFTs. A sequel to the Lydian Lion NFTs, which also didn't go anywhere.
But of course the money made from GSPartners has never been in the schemes Heit comes up with. The money is in recruiting people into this nonsense.
At time of publication Alexa ranks the US at the sole notable source of traffic to GSPartners' website (53%).
Neither GSPartners, Josip Heit, Nathaniel Hines, Michael Dalcoe or anyone else associated with the company is registered with the SEC.