GSPartners blocked by Metamask for "nefarious activity"

Metamask has blocked three GSPartners related domains for "nefarious activity".
Metamask, a US-based software company, pitches itself as "the leading self-custodial wallet."
The safe and simple way to access blockchain applications and web3. Trusted by millions of users worldwide.
On August 4th, Metamask Security Engineer "legobeat" requested GSPartners be added to the platform's blocklist.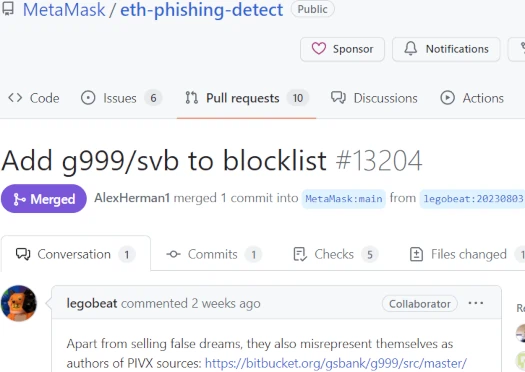 As above, legobeat's reasoning for the request was GSPartners "selling false dreams" and also "misrepresent(ing) themselves as authors of PIVX".
As per its website, PIVX is a "privacy-focused, proof of stake blockchain".
Legobeat's request was approved by Support Product Lead Alex Herman on August 5th. Three GSPartners website domains were added to Metamask's blocklist later that same day.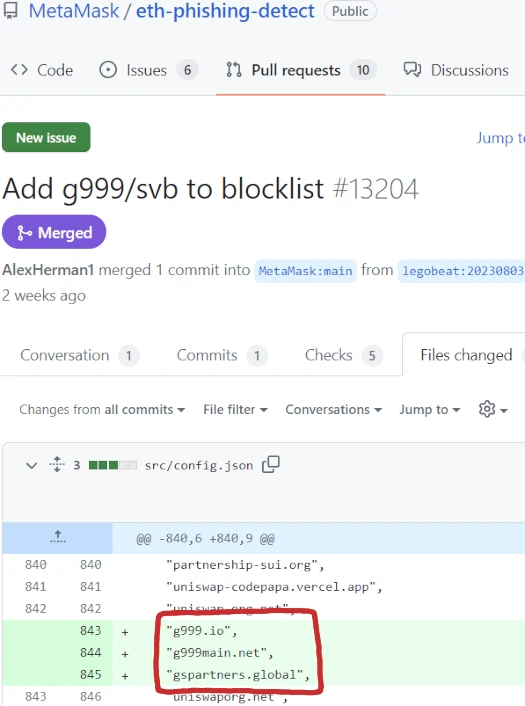 Later still on August 5th, "gspdevelopment" appeared on Metamask's Github to beg for a reversal.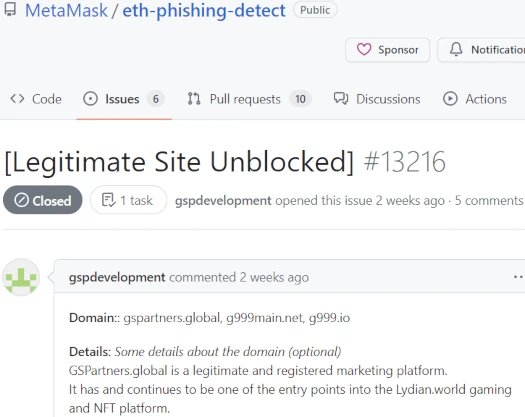 The G999 blockchain uses Bitcoin Core code as well as PivX code, as described on the G999main.net site, with full credit and licensing attributed to both Core codes.

We hope this short but detailed explanation helps you in finding the correct information surrounding the sites which were wrongfully reported.
Following an internal review, on August 10th Alex Herman informed GSPartners "we are not unblocking these sites after further review."
Since then several GSPartners investors have brought up the block on Metamask's Github. As the matter is resolved, these requests have been closed.
On one such request, filed on August 5th, Alex Herman informed an investor GSPartners has been "explicitly blocked due to nefarious activity".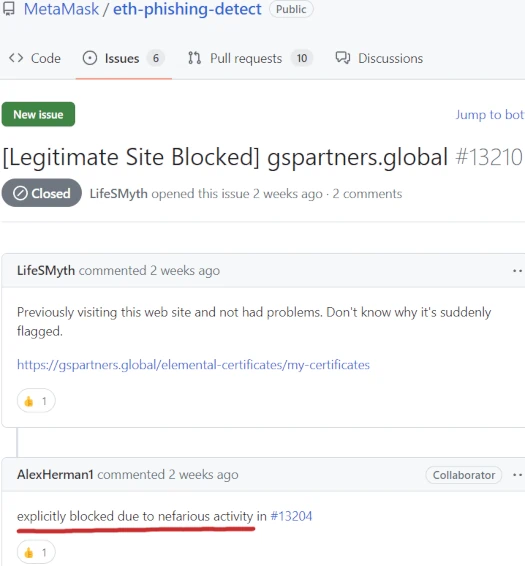 Contrary to GSPartners' representation to Metamask that it is "a legitimate and registered marketing platform.", GSPartners commits securities fraud in the jurisdictions it solicits investment in.
GSPartners rebranded as Swiss Valorem Bank after Canadian authorities began issuing GSPartners fraud warnings.
Based on website traffic, the majority of GSPartners' investors are US residents.
As per the Howey Test, GSPartners' passive 5% a week investment opportunity constitutes a securities offering.
In violation of US law, GSPartners is not registered with the SEC or any US state securities regulator.
The SEC warns consumers that securities fraud and Ponzi schemes go hand in hand:
We are concerned that the rising use of virtual currencies in the global marketplace may entice fraudsters to lure investors into Ponzi and other schemes in which these currencies are used to facilitate fraudulent, or simply fabricated, investments or transactions. The fraud may also involve an unregistered offering or trading platform.

These schemes often promise high returns for getting in on the ground floor of a growing Internet phenomenon.

Federal and state securities laws require certain investment professionals and their firms to be licensed or registered.

Many Ponzi schemes involve unlicensed individuals or unregistered firms.
To date GSPartners has not publicly addressed Metamask blocking it, or its multiple regulatory fraud warnings.