BDSwiss denies GSPartners Ponzi partnership

When GSPartners unveiled its "metaverse certificates" Ponzi scheme last May, BDSwiss was presented as a trading partner.
So the ruse went, BDSwiss was trading invested funds so that GSPartners could pay out up to 480% annually.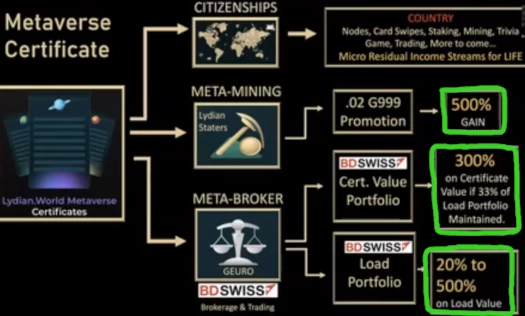 Now, roughly eight months into the purported arrangement, BDSwiss deny any partnership existed.
A BehindMLM reader reached out to BDSwiss to query why the broker, which claims to do $84 billion in average monthly trading volume, had partnered up with a Ponzi scheme.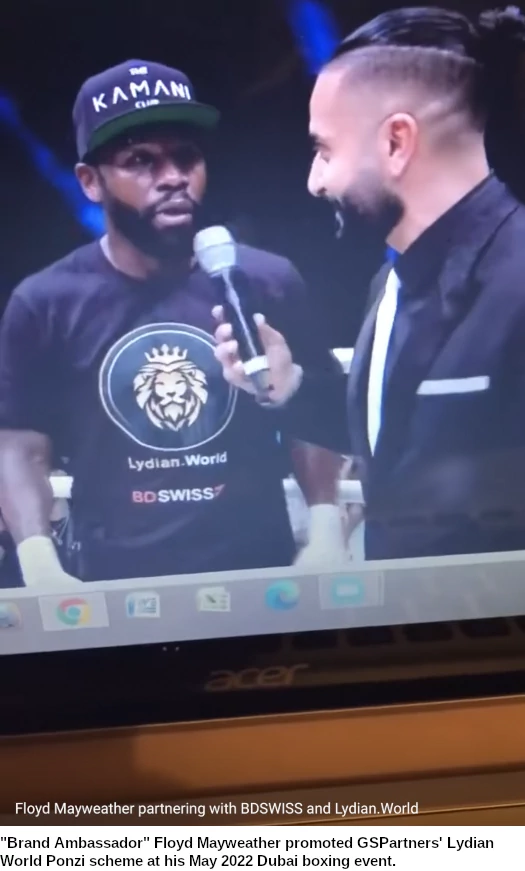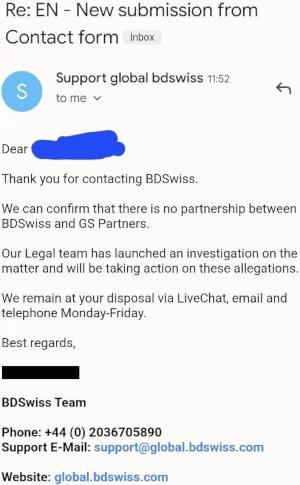 Here's the response from BDSwiss Global Support;
We can confirm that there is no partnership between BDSwiss and GS Partners.

Our legal team has launched an investigation on the matter and will be taking action on these allegations.
BDSwiss has featured heavily in GSPartners' metaverse certificate Ponzi promotion.
In May 2022, a purported BDSwiss executive appeared on stage at a GSPartners event to confirm and market the partnership.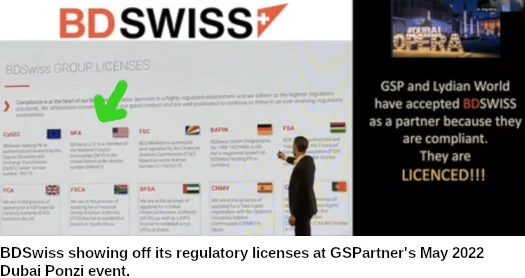 Putting aside it has no bearing on GSPartners committing securities fraud, BDSwiss being registered with financial regulators was a major selling point.
And that selling point has been parroted by GSPartners affiliates looking to recruit new victims: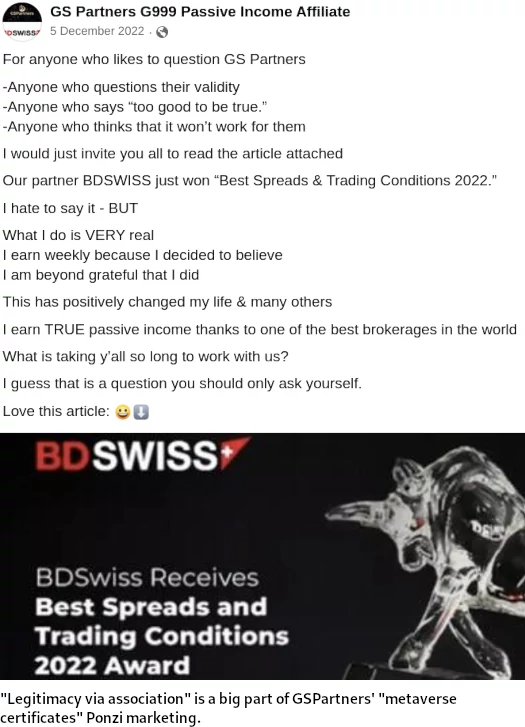 It'll be interesting to see if anything comes of BDSwiss' legal investigation.
This isn't the first time GSPartners has landed in hot water for fabricating corporate partnerships.
One of GSPartners' prior Ponzi schemes, JONE tokens, was pitched on a supposed partnership between GSPartners and Accor Group.
Accor Group owned Movenpick Hotels and Apartments, which GSPartners represented it had bought a series of apartments from in Dubai. The ruse was that GSPartners would break up the floorspace into tokens, sell these to affiliate investors, and generate external revenue via rentals.
Upon learning of the supposed partnership, Accor Group confirmed GSPartners was not authorized to sell their property.
GSPartners' Dubai-based property developer was also sent a cease and desist. After all this played out, GSPartners' JONE token Ponzi fizzled out and was never mentioned again.
Getting back to BDSwiss, with the broker out of the picture GSPartners' metaverse certificates external revenue ruse falls apart.
We know new investment is what funds metaverse certificate withdrawals (that's always been the business model), but it'll be interesting to see whether a new ruse surfaces now that BDSwiss are out.
Prior to metaverse certificates GSPartners was flogging LYS tokens and G999. LYS has collapsed to under $10 and G999 to $0.0019.
The metaverse certificates Ponzi is run through yet another token, GEUR. GSPartners represents GEUR is pegged to the euro.
The problem is GEUR doesn't exist outside of GSPartners, so in reality it's pegged to new investment.
Pending any further updates, we'll keep you posted.
Update 30th January 2023 – BDSwiss has publicly confirmed it never had a partnership with GSPartners.
Update 3rd February 2023 – GSPartners is trying to cover up its BDSwiss lies through a new Skyground Group partnership.