GSPartners uses COVID-19 vaccination passports to plug Ponzi

In its latest attempt to pitch its Ponzi scheme, Josip Heit's GSPartners attempts to insert itself into the COVID-19 vaccination passport discussion.
To be clear GSPartners is a simple shit token Ponzi scheme, a spinoff of Karatbars Interational's failed crypto Ponzi attempts. It has nothing to do with COVID-19 digital passports.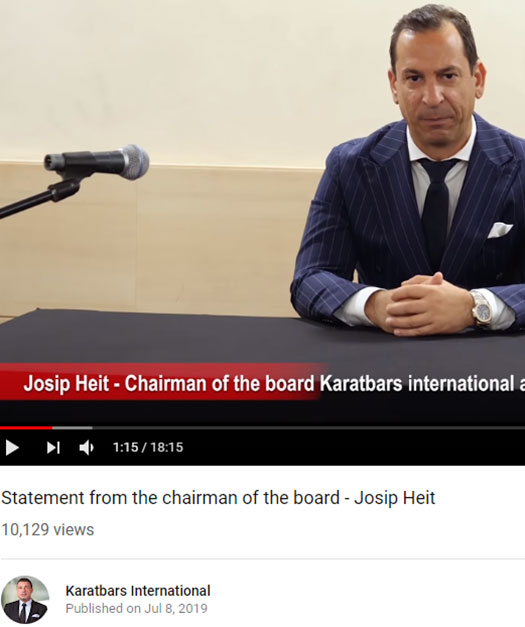 Yet in press-releases it began circulating on or around March 17th, GSPartners used COVID-19 passports to compare itself to Google, Apple, Microsoft, Oracle and Salesforce.
It's as classic an attempt at legitimacy via association as you can get. It of course doesn't work, primarily because none of the cited companies are MLM crypto Ponzi schemes.
**Crypto bro speak suicide trigger warning**
Despite it's only programming feat being a "me too" chat app, GSPartners claims to be a "software powerhouse".
On that false representation (nobody outside of GSPartner's Ponzi has heard of GSPartners), GSPartners
has offered the industry the help of its research department to assist in the implementation and realisation of a digital vaccination passport with its technical know-how.
This is presented as an alternative to efforts by the EU, who are reduced to politicians "still arguing about the details of a uniform vaccination passport".
Two days ago the EU committed to launching a vaccine passport in June.
The EU's presented prototype won't bE oN tHe BlOcKcHaIn and it has nothing to do with cryptocurrency.
That's not to say other countries however are ignoring blockchain based solutions.
On Thursday South Korea announced the roll out of a vaccination app, which on the back end willconnect to a blockchain-based database.
This type of solution is what GSPartners are insinuating they are offering to the EU.
**Seriously if crypto bro speak makes you want to launch nukes on your location, stop reading…**
Whereby the G999 is based on the idea that blockchain technology must ensure compliance with environmental regulations, especially the promotion of energy conservation.

At the same time, it meets the current need to manage personal data in a completely secure and risk-free space, away from the mainstream web network through a decentralised data centre.

Alexandru Cocindau, Chief Technology Officer (CTO) of the GSB Gold Standard Corporate group, emphasises in an interview:

"The latest development, an app that GSB is currently launching on the international market called GStelecom, is also a blockchain secured and operated platform that allows all users to send and receive encrypted voice chats, messages and images."
GSTelecom being GSPartner's aformentioned "me too" chat app.
Josip Heit emphasises in an interview: "When it comes to digital certificates, the blockchain is an indispensable technology for the digital vaccination certificate, because the blockchain is a continuously expandable list of data records, also called "blocks", which are linked together by means of cryptographic procedures.

Each block contains a cryptographically secure hash (scatter value) of the previous block as well as a timestamp and transaction data, thus ensuring that there would be no kind of manipulation, which is essential for the health and economic future in the EU, as well as especially in the Federal Republic of Germany, the GSB is ready to meet this technical challenge!
Right. The German government is going to rock up to Heit's office and put a small-time MLM crypto Ponzi in charge of a national digital vaccine rollout.
Something something G999 moon lambos for everyone who invested.
Could the MLM crypto marketing pitch get any more stupid? (spoiler: it can)
Alexa traffic estimates to GSPartners' website shows a flatline beginning late February.
For a Ponzi shitcoin scheme, this will trigger a collapse unless new investors are found.
GSPartners primarily appears to be targeting US investors (44% of traffic), however efforts are underway to scam Africans too (both South Africa and Cote d'Ivoire at 11%).
Josip Heit operates his GSPartners Ponzi scheme from Hamburg, Germany. To date German authorities haven't taken any action.