Global1Entertainment Review: I2G revenue-sharing rebooted
On their own the combination of Infinity 2 Global's recruitment commissions and revenue-sharing opens up the strong probability that new affiliates money will just be recycled amongst existing I2G affiliates.

Throw in the addition of global gambling revenue and a US presence?

Yeah, this probably isn't going to end well…

–BehindMLM Infinity2Global Review (September 2013)

The Achilles heel of all revenue-sharing programs is the necessity to have new affiliates buying into the scheme, so that the company has new funds to pay off existing affiliates with.
No explicit promises are made regarding the revenue-sharing payout (amount of ROI or frequency), but affiliates nonetheless dump thousands of dollars into the scheme on the promise (implied or otherwise) of an eventually >100% ROI.
Typically a customer option is attached to the scheme, but in practice this fails to deliver any significant revenue – with the company instead just shuffling new affiliate money around to pay out affiliates.
A Ponzi scheme by any other name.
And just like a Ponzi scheme, when these revenue-sharing opportunities run out of money they either collapse or, as is the case with I2G, change their name and attempt a relaunch.
Introducing Global1Entertainment.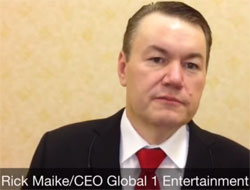 As CEO Rick Maike explains on a G1E promotional video:
The name change was very simple, we wanted to do something that put us into the entertainment world.

Infinity2Global was a great name, but Global1Entertainment is an incredibly good name.

We wanted to do something that set us in the entertainment world, so when people looked at it they said, "oh, it's an entertainment company."

When they looked at our old name, they weren't exactly sure what we did, this clarifies it for everyone. And it's a name that people can remember.
Right. And it totally had nothing to do with this:

So what exactly is Global1Entertainment?
With his initial Chinese backers breathing down his neck, here's how Maike described his future plans for Infinity2Global back in February:
We've got an incredible product that's coming out in February that is going to change how people do their own music videos.

We can literally sync the voice, the music and the video all together and give you an incredible caliber video that you'd be proud to show your family and friends.

And then we're going to have people have competitions with eachother. I mean two people can sing the same song they both posted, and let the fans out their vote on what's the most exciting one. And uh give prizes and just have a lot of fun with it.

This is netfun marketing, it's not network marketing.

Our long-term opportunity is pretty incredible because we're going to be a global entertainment brand.

And what that looks like is it will… everything you can imagine in online gaming, including games that people play, not to win money, but games that people play just for fun. Where you can participate against other people around the world.

You don't win any money, but y'know it's just part of the participation process. People have fun with that.

There'll be LAN based gaming involved with that as well. We fully intend to be in the hotel casino business. And we want to do that because we want to be able to bring our people in from around the world, so that they can stay and play at our facilities.

We want to be in the concert promotion world, in the music world.

With what's coming next, it's going to change things. I talked to a group of Chinese this week here in Hong Kong and they asked me these same questions: "What's Phase 2?"

Well, Phase 2 is incredible, we just can't share it. It's literally going to bring more people into this industry than ever before.
Whether Maike's Phase 2 ever took off or not I have no idea. But up until recently I2G affiliates were heavily promoting an app called "Songstergram".
You can "share music with anyone".. you can "download music". It's "like itunes".

Why? Songstergram and I2G –

Make Money When People Download Songs! ITunes generates 30 Million Dollars a Day!

Who LIKES Songstergram ? Lady Gaga, Adam Levin, Robin Thicke, Justin Timberlake, Britney Spears, and many more just to name a few. How good is this to have these artists marketing for you? They will Tweet to their Fans by the MILLIONS… will drive up Revenues and interest WorldWide

"Hey this is Lady Gaga, going forward the only place you can purchase my music exclusively is through SongsterGram"
Yes, that's actual official marketing copy used to promote the app.
Whether or not the long-hyped SongsterGram app will be released through Global1Entertainment isn't clear, however an affiliate's post on the company's Facebook wall suggests it might have been shelved:

Meanwhile on the Global1Entertainment "products" page, there's no mention of it.
Infact, as to what specifically Global1Entertainment are going to be selling to retail customers I have no idea. Their products page mentions "online entertainment", "social interactive games" and "social media".
Online Entertainment

Think of all the apps you have on your phone. How many of them pay you? With G1E, you earn rewards for using it and sharing it.

Upload or create videos with or without music and a built in editor that's as easy as pushing a pause button. Then share on Facebook, Twitter, text and email. .

You can even monetize your passions with your very own built in online store. What do you love? Share your expertise, knowledge and skills with others and make money.

Social Interactive Games

Social interactive gaming is just getting started! It's already a $12 Billion industry.

It's fun! It's online! How many friends do you know who play games on popular social media platforms right now?

Social games that live on a social network are fun to play with friends you're connected to there. Social games are the most fun when you play with your friends. Play with or against them! It's all about playing with others and enhancing your relationships in a fun and meaningful way.

Interactive games also live on the Internet. You can play anywhere and anytime! Play on your own to entertain yourself. Or you can play with others who you don't even know yet. Your common interest is the video game. Play on mobile devices, or anywhere you connect to the Internet.

G1E shares rewards with you when you share our social games platform with others to play and have fun.

Social Media

Social Media is an over $250 Billion dollar industry right now. G1E Touch and G1E Share combine social media, online communication and online marketing.

You have the ability to combine all your social networks into one place. Plus, have your own channel where you can video chat, live broadcast, as well as post unlimited videos, audio and images.

And you also have the ability to communicate with the world instantaneously, while being a part of building our very own social media community.

Host your own webinars to an unlimited audience with G1E Share. Share your screen, record, live broadcast and video chat, while you whiteboard at the same time! It's the ultimate beast in screen sharing platforms.
The "online entertainment" spiel sounds like the music video stuff Maike was spruiking in February. And it basically sounds like YouTube… with an online store (?).
The "social interactive games" is the tired concept of offering me-too games and something something something one hundred billion dollars. And "social media" is the failed Touch app rebranded under G1E.
Apparently they've ditched the app and made it web-based. So now instead of just directly logging into your favorite social network and getting on with your day, you have the option of logging into G1E Touch, then logging into your social network and getting on with your day.
And they'll charge you $19.95 for the pleasure. Revolutionary.
To an outside all of this is going to make little sense. To understand why all of this has been put together under a different brand you have to go back and look at what I2G was all about:
Members who enroll with the Emperor Package share in 50% of specified Profits immediately, without sponsoring any new members.
I2G have a bunch of affiliates who invested $5000 (the cost of an Emperor position), sat back and waited for their ROI. The scheme never took off, money ran out and so here we are.
There is a compensation plan area on the Global1Entertainment website, however at the time of publication the links to the G1E compensation plan are not working.
A promotional video however reveals that the focus of the company revenue-generation wise hasn't changed.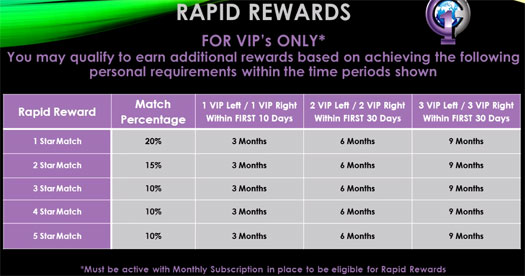 As per the slide above, affiliates from the get-go are encouraged to recruit "VIP affiliates" within their first 30 days. Note that the fine-print also mentions an affiliate must be paying a monthly fee to qualify.
And if you're wondering what a "VIP" membership entails. Why, it's nothing more than handing over $1499 to the company: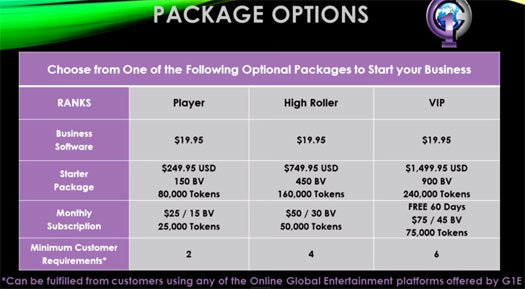 As you can see, Global1Entertainment have shifted away from the $5000 Emperor investment packages (because nobody other than the initial revenue-sharing players were interested), and now offer three affiliate positions:
Player – $249.95 and $25 a month
High Roller – $749.95 and $50 a month
VIP – $1499.95 and $75 a month
A $19.95 participation fee is charged to all affiliates, irrespective of what package they come in at.
Referral commissions are also offered on all package investments, adding a pyramid scheme layer to the scheme: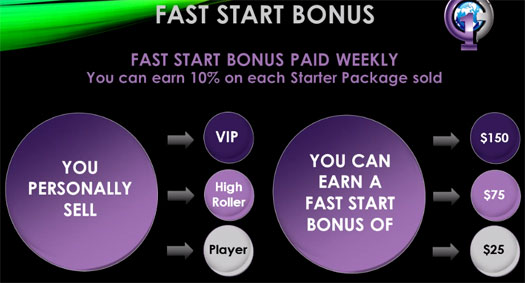 Affiliates are also paid residual commissions using a binary compensation structure, paying out a cycle commission each time 300 CV points are matched on either side: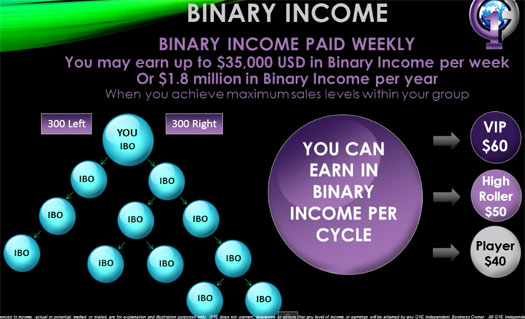 For reference, the amount of CV points generated per package investment is as follows:
Player – 150 CV
High Roller – 450 CV
VIP – 900 CV
Also note that the more an affiliate spends on their own package, the higher the binary payout. A binary earnings matching bonus is also paid out to High Roller and VIP investors.
Finally, cash bonuses are paid out to affiliates who reach certain binary cycle commission milestones. These payments cap out at $500,000 paid for reaching 5000 cycles.
Also tied into binary cycles are shares in global bonus pools, made up of 5% of the company's incoming revenue (which is likely to primarily be affiliate fees). After reaching 5000 binary cycles, an affiliate qualifies for a share in 25% of Global1Entertainment's incoming revenue.
Tokens appear to be the virtual Ponzi points currency of choice, with the company converting $1 of invested funds into 160% to 320% worth of tokens. Monthly fees are converted at a rate of 1000 tokens per dollar spent.
The revenue-sharing model typically involves some sort of mechanism by way of how many tokens an affiliate has saved up dictating their share of newly invested funds. In I2G, this is done via tokens being required to play games.
A 10%-60% BV incentive (is) added to the binary based on tokens purchased to play on the social interactive game platforms.
Naturally affiliate-purchased tokens count, so therein lies the passive investment closed-loop of funds. New affiliate money goes in and is once again paid out to those who have already bought in.
The appearance of customer requirements can be seen at the bottom of some slides. Whether or not these are genuine retail customers (verified retail customers, not email addresses entered in by affiliates), or recruited affiliates is unclear.
One thing I noticed was missing was clarification on whether or not their original I2G Emperor investors are still going to bleed the scheme dry and collect on the marketing efforts of new suckers joining.
In any event, with the Global1Entertainment not really offering new (everything is "coming soon" with these guys and has been ever since the I2G casino flopped), I'm predicting we're just going to see a repeat performance of I2G.
Those who invested early might recoup some additional funds due to a few new people signing up who are oblivious of the previous incarnation of the company, but then we're back at square 1.
A revenue-share without any incoming revenue to share.
Despite the obvious reliance on affiliate funds to stay afloat, stay tuned for a barrage of I2G affiliates riding on the coattails of promises that the company has consistently failed to deliver on.
Gotta convince yourself that the ROI shower is just around the corner somehow I guess.