Global Trading Club scammers sued by CFTC

The CFTC has filed suit against Global Trading Club scammers Mayco Alexis Maldonado Garcia, Cesar Castaneda, Rodrigo Jose Castro Molina and Joel Castaneda Garcia.
Global Trading Club was an MLM Ponzi scheme launched in 2016. The ruse used to steal people's money was cryptocurrency trading bots.
Defendants and others falsely represented to actual and potential customers that their business, named Global Trading Club ("GTC"), employed "master traders" who had years of experience trading "crypto currency," and used "cutting edge trading robots" to trade Bitcoin for customers "24 hours a day, 7 days a week."
In reality Global Trading Club 'employed no traders, and neither created nor used any trading robots.'
As per the CFTC's complaint, Global Trading Club was run by
Mayco Alexis Maldonado Garcia, aka Mayco Maldonado and Mike Maldonado, a resident of Texas;
Cesar Castaneda, aka Cesar Castaneda Garcia, a resident of Texas
Joel Castaneda Garcia, a resident of Florida; and
Rodrigo Jose Castro Molina, aka Rodrigo Castro, Jose Molina and Jose Castro, a resident of Texas.
Cesar Castaneda and Joel Castaneda Garcia are brothers.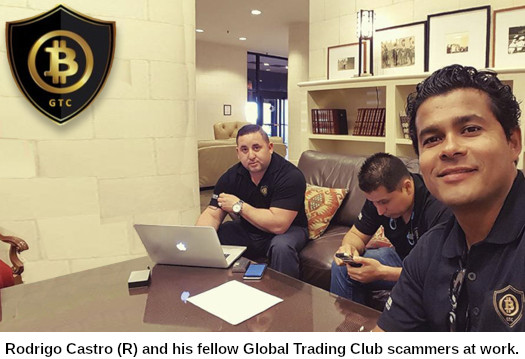 As alleged by the CFTC, Global Trading Club scammed at least twenty-seven investors out of almost a million dollars.
Based on information researched for our review, Global Trading Club primarily scammed Japanese investors. The CFTC's complaint notes targeting of Spanish and Korean speaking investors.
By late 2017 Global Trading Club was on the road to collapse, prompting its admins to do a runner.
One or more Defendants responded with purported explanations regarding why the money could not be withdrawn, including that the web site and/or smartphone app were experiencing technical problems.

Eventually, Defendants stopped responding to customers.
The CFTC have sued the Global Trading Club defendants for one count of fraud.
The regulator is seeking an injunction, disgorgement of at least $989,000, victim restitution a civil monetary penalty and legal costs.
Stay tuned for updates as we continue to track the case.
Update 25th February 2021 – Two motions to dismiss were denied on February 12th.
I'd be surprised if this case wasn't settled in favor of the CFTC at some point.
Update 28th May 2021 – As predicted, three of the four Global Trading Club defendants have finalized settlement negotiations with the CFTC.
Update 2nd August 2021 – Three of the four Global Trading Club defendants have settled with the CFTC.
The settlements were filed as consent orders and accepted by the court on July 27th.
Update 22nd September 2021 – Default judgment has been awarded against the fourth Global Trading Club defendant, Rodrigo Castro.