Global Trading Club scammers settle CFTC fraud charges

The CFTC has approved settlements with three of four Global Trading Club scammers.
The Global Trading Club settlements were presented to the court on July 27th as consent orders.
On July 26th the court approved the settlement and formally signed off on the orders.
The consent orders identify the three settling defendants as
Cesar Castaneda (aka Cesar Castaneda Garcia), a resident of Conroe, Texas;
Joel Castaneda Garcia, a resident of Port St. Lucie, Florida; and
Mayco Alexis Maldonado Garcia, a resident of Pearland, Texas.
For each of the defendants, the allegations presented by the CFTC in their original complaint are accepted as fact.
The consent orders enter permanent injunctions against Castaneda and the Garcias, prohibiting them from committing further acts of fraud.
On the money side of things;
Mayco Garcia will pay back $989,550 in restitution, a $400,000 civil penalty plus post-judgment interest
Cesar and Joel Garcia will pay back $989,550 in joint restitution, a $180,000 civil penalty each plus post-judgment interest
The consent order restitution penalties will be paid to the National Futures Association who, as court-appointed Monitor, will oversee distribution to Global Trading Club victims.
The fourth Global Trading Club defendant is Rodrigo Jose Castro Molina, aka Rodrigo Castro, Jose Molina and Jose Castro, a resident of Texas.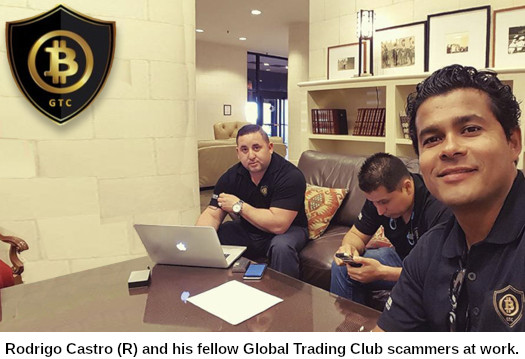 No word on the status of his case yet so I'll continue to monitor the case docket for updates.
Update 9th September 2021 – The SEC has filed for default judgment against Rodrigo Castro.
Pending approval of the motion, filed September 7th, I'll have a separate article up covering details of the judgment.
Update 22nd September 2021 – The CFTC has been awarded default judgment against Rodrigo Castro.