Eyeline Trading seek to avoid regulation through unbranded advertising

With Eyeline Trading shaping up as the next USI-Tech, owner and CEO Dan Putnam is doing everything he can to prolong a US regulatory investigation.
The latest has seen Eyeline Trading demand affiliate investors remove any reference to the company in their marketing efforts.
Promotion of Eyeline Trading is in full swing. The usual suspect Ponzi kingpins from recently collapsed scams have been locked in.
They're currently in the process of placing their immediate downlines (victims from previous scams), after which the public will be lured in to recoup losses and generate additional profit for those at the top.
Here's an example of how Eyeline Trading is being promoted, courtesy of US-based promoter Gary Wood.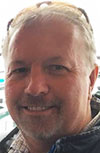 Hi guys I'm back. Sorry for disappearing for a while but I have had serious health issues and it is still not over yet.

Guys in terms of USI Tech one of the leaders has managed to track Horst and speak to him and said that at the moment with Bitcoin being down he cannot do anything right which is affecting a lot of crypto programs right now which he is right.

USI Tech is not running away as it is still there and will honour it's [sic] commitment to all it members but we all just have to be patient.

If I hear any news I will definitely let you all know.

EXCITING NEWS!

Now for some serious good news.

After months of testing and crypto due-diligence we have found a new home.

One of my colleagues was invited to Puerto Vallarta México 2 weeks ago with 9 other former world leaders from USITECH.

The owner has had over ten successful MLM businesses for past 11 years.

You can start off with a little as $40 of Bitcoin and grow that amount of BTC by 170% over 12 months!

WAIT…it gets even better.

It has all the POSITIVES of the USI mdoel [sic] with a low cost entry, daily returns, compounding and it's already gone live this week but WITHOUT all the problems….and it's going to go viral.

This is the real deal with any and all fixes finished from the Old USI-TECH model.

All the parts of USI-TECH we loved with none of the issues or problems!
Last December USI-Tech was the recipient of a securities fraud cease and desist issued by Texas.
Fearing increased regulatory scrutiny, within a few weeks USI-Tech announced it was abandoning business operations across the US.
Having lost its primary source of new investment, the date USI-Tech pulled out of the US was effectively the date it collapsed.
Gary Wood shamelessly promoted USI-Tech through the "A-Team" downline.
Top investors Dan Putnam has recruited into Eyeline Trading are all similarly also from recently collapsed Ponzi schemes.
As part of a continued effort to steal as much money as possible before US regulators get involved, the following warning was sent out to Eyeline Trading affiliates a few days ago;
We are working on some compliance issues and just a heads up we are not going to allow any marketing at all that uses the company name or logo.

If you are doing any marketing videos, emails, social media posts, or social media groups that use the company name or logo you need to take them down asap.

If you do not take them down before compliance starts sending out notices this will count as your one and only warning.

We will give everyone until next week to take it down but after that you will be contacted by compliance.
Calling out corporate deceptive marketing practices of a company using an entirely fraudulent business model might seem like a moot point to make, but this is how thousands of gullible victims are created.
Despite representations it is operated out of Colombia and Dan Putnam currently hiding out in central America, Putnam resides in Utah and Eyeline Trading is primarily being promoted across the US.
How long before US regulators take action against the Putnam and USI-Tech 2.0 remains to be seen.