EmpiresX an "incompetent mess", new withdrawal restrictions

EmpiresX appears to have entered the "how can we stop people withdrawing?" Ponzi phase.
Amid complaints from disgruntled affiliate investors, EmpiresX has introduced further restrictions on withdrawals.
Earlier this month EmpiresX announced it was increasing withdrawal fee penalties across the board.
When BehindMLM reviewed EmpiresX in June, the company penalized withdrawals made during an affiliate's first month with a 20% fee.
Today EmpiresX charges a
40% fee if a withdrawal request is made within thirty days of investing;
20% fee if a withdrawal request is made within sixty days of investing; or
10% fee if a withdrawal request is made within ninety days of investing.
EmpiresX has also reduced withdrawal request processing to just once per month.
EmpiresX marketing material also suggests the company is shutting down investor accounts after three withdrawals are made: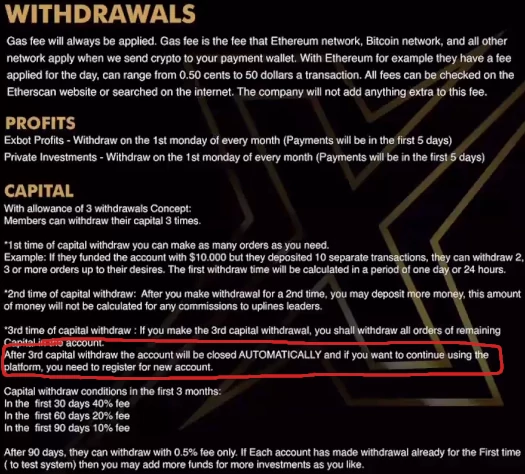 New EmpiresX affiliates are also discovering that, while they can invest, EmpiresX isn't acknowledging their investments.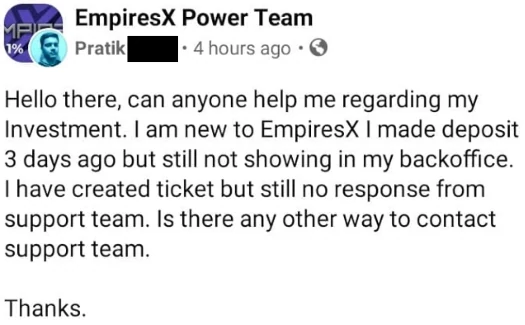 This allows EmpiresX to simultaneously fund withdrawals with newly invested funds, as well as delay returns calculated on new investments.
It might not be much per each new delayed investment but it adds up.
Other EmpiresX affiliate investors confirmed the problem is widespread: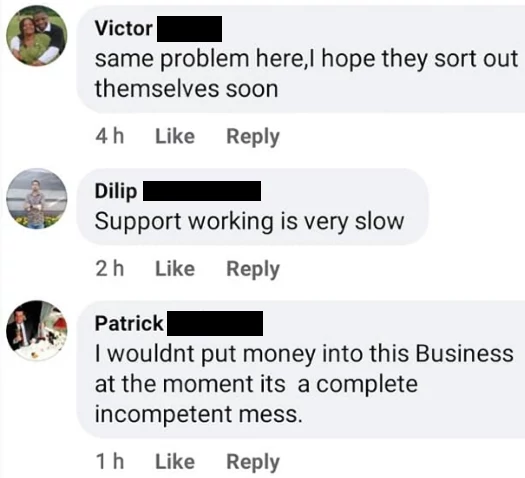 To distract affiliates from increased withdrawal restrictions and deposit delays, in a webinar held earlier this week EmpiresX announced it had "submitted an SEC license request".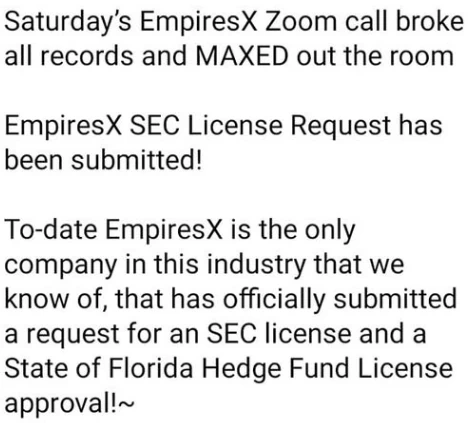 There's no such thing as an "SEC license request". I'm assuming the intended implication is EmpiresX has registered its securities offering with the SEC.
Quoted verbatim from the webinar itself, Emerson Pires stated;
[7:36] As most of you know we have filed for the SEC.

The documents are going to be uploaded um, on the backoffice, I believe uh in the next couple of days.

[8:09] We had filed the first time, the first time we were denied.

The SEC wanted us to change things. Change, y'know, the way we run our business.
The SEC's Edgar database is publicly searchable. As of October 12th, neither EmpiresX or principals Emerson Pires and Flavio Goncalves are registered.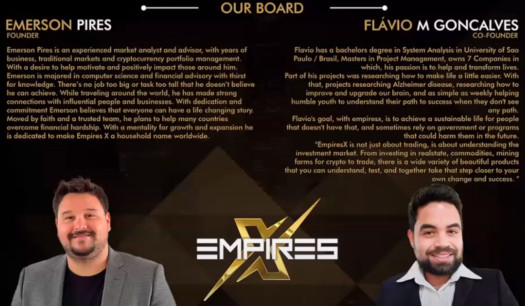 EmpiresX launched in mid 2021. Registration with the SEC has been a regulatory requirement since day one, owing to EmpiresX marketing a 1% a day passive investment scheme.
Or as Emerson Pires puts it;
[54:44] In three months you've pretty much doubled your money.

In three months when you join this company, you have pretty much the chance to double your money.
While rank and file EmpiresX affiliates are subject to deposit delays and withdrawal restrictions, top net-winners boast of millions in earnings.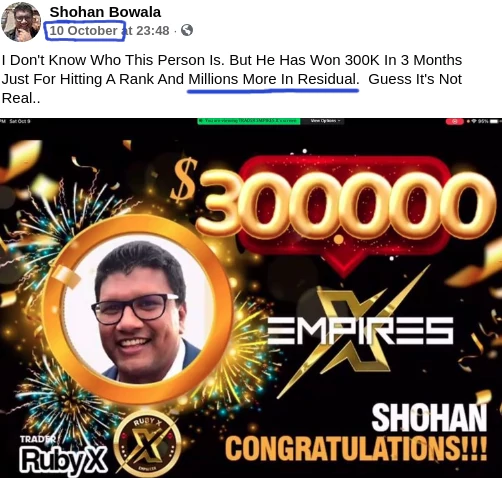 Shohan Bowala is an admin of the 1700 member EmpiresX Facebook group.
Bowala additionally promotes other MLM crypto Ponzi schemes through his "Crypto Cartel" branding.
Emerson Pires is a resident of Florida in the US. Flavio Goncalves is believed to be based out of Brazil. Shohan Bowala is a resident of Melbourne, Australia.
Alexa currently ranks top sources of traffic to EmpiresX's website as the US (63%) and Vietnam (21%).
Update 17th November 2021 – Sometime in the last week the referenced webinar in this article was deleted from YouTube.
I had provided a link to the webinar but as it's been deleted the link has been removed.
Update 1st December 2021 – Following non-payment of withdrawals for a month and a half, BehindMLM has called EmpiresX's collapse.