Michael Force cops $54 mill Digital Altitude judgment, stripped of assets

Michael Force's settlement with the FTC has been approved.
As per the settlement, the FTC has received a $54 million dollar monetary judgment against Force.
An injunction has also been granted, prohibiting Force from committing further violations of the FTC Act.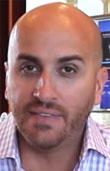 The FTC sued Michael Force and Digital Altitude early last year.
Through Digital Altitude, the FTC allege Force scammed consumers out of $14 million dollars.
As per the terms of Force's settlement, the allegations made by the FTC are to "be taken as true".
For his part in scamming people out of millions of dollars through Digital Altitude, Force has been permanently prohibited from having anything to do with a business coaching program or investment opportunity (running, selling, assisting, owning, you name it).
On the money side of things, Force's judgement is $54 million dollars, partially suspended.
Assets the settlement additionally strips Force of include:
$36,400 held in a CitiBank account;
$13,400 held in a Wells Fargo Bank;
a 2018 Jeep;
two 2017 Zero motorcycles;
a 2016 Ducati motorcycle;
any interest in funds held in any account tied to Digital Altitude; and
funds thus far recovered by the Receiver (~$2 million as of September 2018)
What is left of the judgment is suspended, based on sworn financial statements submitted to the FTC.
As per the FTC's press-release, the sum total Force will be handing over is $1.9 million – that includes cash and assets.
Looking forward, Force has to
for the next 20 years provide a copy of the FTC settlement to any partners in any business Force owns, controls or operates;
submit a compliance report to the FTC after 12 months and every year thereafter for 20 years (contact details, details of any businesses etc.); and
maintain business records for perusal by the FTC (if required) for a minimum of 5 years per record and for 20 years in total.
Proposed settlements with Mary Dee, Alan Moore and Thermography For Life have also been approved.
All three settlements mirror Force's. Each is for $54 million, strips the defendants of assets, and the remaining judgment balance is suspended.
All three defendants are also prohibited by injunction from committing future violations of the FTC Act.
Settlements with Sean Brown, Morgan Johnson and The Upside LLC were reached and approved last year.
Default Judgement was granted against Digital Altitude and the remaining corporate defendants on March 6th.
As far as the FTC's litigation against Digital Altitude goes, the settlements and default judgment bring the matter to a close.
The Receivership is still working toward claim payouts, but we haven't heard anything since October of last year.