Digital Altitude cannot operate lawfully and profitably, says Receiver

Upon being appointed one of the first tasks the Digital Altitude Receiver undertakes is to determine whether the business can continue legally and profitably.
As per BehindMLM's Digital Altitude review, the company's business model consists of getting people to hand over increasing amounts of money.
Those recruited and convinced to pay thousands of dollars in fees earn commissions by recruiting others who do the same.
Or as the Receiver puts it;
The primary enticement and benefit offered to consumers in exchange for them doing business with the Receivership Entities is the representation that they may make $100,000 or more in 90 days.

Once consumers are enticed to do business with Digital Altitude, it appears that the entire structure of Digital Altitude is to disguise sales activities designed to pull greater and greater amounts of funds from consumers under the guise of "coaching".
Not surprisingly, the Digital Altitude Receiver has thus concluded
he cannot operate the Receivership Entities in their current form lawfully and profitably, and thus, in accordance with his responsibilities under the TRO, he has suspended operations pending the Preliminary Injunction hearing and further investigation.
The decision was made on or around March 1st and took effect immediately.
Following the FTC's revelation that Digital Altitude's "coaches" operated in what was essentially a boiler room, the Receiver has provided additional information as to Digital Altitude's working environment.
The premises were unusual for office use and had previously been used to breed and house snakes and other reptiles.

The premises had reportedly been the subject of a prior FBI raid arising from illegal possession of certain snakes and were run down and covered with graffiti on the interior walls.

Approximately a dozen cubicles had been haphazardly installed.
Digital Altitude had agreed to pay $2000 to rent the run-down space, however the lease had yet to be executed.
While the Receiver was attending Digital Altitude's offices, several employees requested unpaid commissions.
The requests were denied.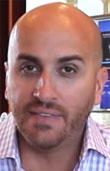 Pending a decision on the preliminary injunction, defendants Michael Force (right), Alan Moore, Mary Dee and Sean Brown each received $5000 for personal expenses.
An initial request for $137,000 payable to Michael Force for "unpaid pay and owner's distributions" was also denied.
Of Digital Altitude founder Michael Force's business presentations, the Receiver observed he provided
general advice of an anecdotal nature, rich in cliché, but with no real educational content; only the benefits of selling high ticket "top tier' products, with little effort.
The Receiver's break down of Digital Altitude's business model, which lead to the decision to cease business operations, isn't much better.
The "coaching" session seems to be merely an avenue to entice consumers to purchase the next level which allows them access to the next steps and, importantly, a higher commission in the event they bring other consumers into the program.

Consumers start out with the expectation that they will be educated toward making six-figure incomes in 90 days, but instead they are subjected to high-pressure sales techniques that coerce them into spending more and more money.

Many consumers were highly vulnerable and did not have the money to pay the member fees.

Coaches exploited these vulnerabilities and encouraged consumers to raise money any way they could, including encouraging consumers to borrow on a credit card, borrow from a bank, use retirement accounts, sell assets, or borrow from family.

In one situation, a coach suggested that the consumer sell blood plasma and get a tattoo for advertising revenue.

All of the materials the Receiver has seen thus far have led him to conclude that the education program is merely a sales technique for recruiting consumers to promote Digital Altitude as a product, when in fact there is no real product (i.e., true coaching/business expertise), only the prospect of making commissions from other unwitting consumers after they themselves purchased the expensive products.
This of course is your classic MLM pyramid scheme business model.
Moving onto some hard numbers, here's what the Receiver's ongoing investigation has revealed;
Digital Altitude sucked around $60 million dollars out of 185,000 consumers, on the premise they'd "make six-figures in 90 days or less"
about $27 million of the $60 million taken in was paid out as commissions
only 0.6% of Digital Altitude's 145,000 affiliates actually earned commissions
of the 837 Digital Altitude affiliates who earned commissions, 57.7% still lost an average of $15,345 each
only one affiliate who cumulatively paid over $60,000 for Apex membership made over $100,000 in commissions, and took over ten months to do so
62 out of Digital Altitude's 64 paid Apex level affiliates lost an average of $55,600 each
Digital Altitude's 85 coaches were paid $8.8 million for convincing people to part with their money
Digital Altitude's version of secret backroom deals saw affiliates designated "Joint Venturer" status.
Joint Venturers were given Apex level affiliate membership either for free or at a reduced rate, in exchange for bringing
additional high-pressure sales talent to the enterprise and had established infrastructure to generate traffic and sales.
Digital Altitude's 35 Joint Venturer affiliates were paid $12.1 million dollars.
These figures show that the divide between income consumers were promised, what they actually earned and what Digital Altitude insiders were making on the back-end couldn't have been wider.
Digital Altitude also weren't above fudging figures in their marketing material.
Step 2 of the company's "training" claimed
one of the secrets to success with Digital Altitude is to create traffic by getting "clicks," and having those clicks convert to "leads," which might ultimately convert into sales.
To that end Digital Altitude sold "Traffic Packages" to affiliates for $1250 to $11,250.
Digital Altitude advertised their Traffic Packages 35-40% click-to-lead ratio and 5% lead-to-sale conversion ratio.
Based on Digital Altitude's own records, in reality the actual rates were respectively 11.7% and closer to 1.8%.
Shortly after his appointment, the Digital Altitude Receiver began receiving testimonials in support of Digital Altitude.
Of the 38 testimonials received, 31 were from Digital Altitude affiliates who lost money. One was from a Joint Venturer affiliate who had made almost $400,000.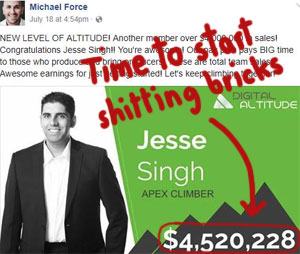 The Receiver later learned the testimonials were solicited by Jesse Singh and Chris Ogle.
Jesse Singh is one of Digital Altitude's Joint Venturers and, based on Digital Altitude's own marketing material, is believed to be one of the company's top earners.
Since the FTC shut Digital Altitude down, Singh has begun heavily promoting The Wealth Network.
The Wealth Network claims to provide 'entrepreneurs with a world class educational platform and tool suite'.
The Wealth Network's website cites Singh as its Chief Marketing Officer.
The Receiver cites Chris Ogle as one of Digital Altitude's boiler room coaches.
Neither Singh or Ogle themselves appear to have submitted testimonials to the Receivership.
Since establishing the Digital Altitude Receivership website, approximately 300 victims have filed for refund requests.
According to the Receiver, many of the refund requests were initiated prior to the FTC taking action.
Many of the complaints and refund requests are emotionally charged.

There are numerous consumers complaining of hardship, many of a very dire nature, over financial losses arising from going into debt either with term loans and credit cards to pay for the member fees.

Many consumers say that they were misled because they were told by coaches money would be coming in to pay the debt.

Others are from consumers that have not received commissions that they claim they earned.
In concluding his First Report and Inventory, the Receiver recommends the company's Utah offices. Scheduled Digital Altitude events for March and October will also be cancelled.
Stay tuned…