Digital Altitude Receivership formally closed

Following a discharge motion filed earlier this year, the Digital Altitude Receivership has been formally closed.
The order was made on October 5th, following approval to pay $42,779 to Receivership staff.
We've previously covered the Receivership opting not to pursue recovery of $515,000 from John Souza and Paradise Media Ventures, and abandoning of worthless Falcon Oil & Gas shares.
At an October 5th hearing it was also revealed PayPal are sitting on $46,000. PayPal has advised the Receivership it will "only work with the FTC".
As per the October 5th order, the Receiver is discharged. $1,488,296 will be transferred to the FTC "for the purposes of consumer redress".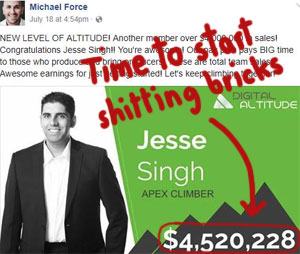 Details of how the FTC will proceed have yet to be disclosed. Ditto whether they'll take any further action against PayPal or any of Digital Altitude's net-winners.
Digital Altitude was a $54 million dollar pyramid scheme. Of that amount, the Receivership only recovered $2.1 million.
Despite net-winners like Jesse Singh boasting they scammed consumers out of millions, the Receivership failed to initiate clawback proceedings.
As I stated back in March, the Digital Altitude Receivership is one of the weakest attempts at consumer redress I've ever seen.