TRO granted against Digital Altitude, Michael Force's assets frozen

Following on from a FTC complaint filed under seal against Digital Altitude and Michael Force on January 29th, a requested Temporary Restraining Order was granted on February 1st.
Upon consideration of evidence compiled and presented by the FTC, the Californian Central District Court found that Digital Altitude, Michael Force and the other named defendants
falsely represent(ed) to consumers that they will earn large sums of money if they join Digital Altitude or "Aspire" Program.

There is good cause to believe that Digital Altitude (and Defendants) have engaged in and are likely to engage in acts or practices that violate Section 5(a) of the FTC Act, 15 U.S.C. § 45(a), and that the FTC is therefore likely to prevail on the merits of this action.
Evidence presented against Digital Altitude by the FTC included
Digital Altitude web videos
screen captures of Digital Altitude websites
a declaration by an FTC investigator
transcripts of calls by the FTC investigator with Digital Altitude representatives
consumer declarations
bank and payment processor documentation and
"additional documentation"
As per the February 1st TRO order, Digital Altitude, Michael Force and all of the named defendants in the FTC's case are prohibited from
stating consumers "who purchase Digital Altitude's purported money making opportunities will earn or are likely to earn substantial income"
stating consumers "who purchase Digital Altitude's" purported money-making opportunities will receive business coaching that will provide what the consumers need to build a successful online business and
benefiting from or using, selling, renting, leasing, transferring or otherwise disclosing financial or identifying information of any person that any Digital Altitude defendant obtained in connection with any activity that pertains (to the FTC case)
The TRO has also frozen the assets of Digital Altitude and related companies, Michael Force, Mary Dee, Morgan Johnson, Alan Moore and Sean Brown.
Digital Altitude as a business is prohibited from cashing any checks or depositing money orders and/or cash received from consumers, clients or customers.
A Digital Altitude Receiver has been appointed, who effectively immediately now controls the company and its assets.
Digital Altitude and the named defendants are required to disclose to the Receiver within 5 days (February 6th following the sealed timeline), financial statements, full accounting verified under oath and IRS disclosures to the appointed Receiver.
Any assets held overseas by any of the Digital Altitude defendants are to be repatriated to the US and surrendered to the Receiver.
Among other things, one of the first tasks of the Receiver will be to establish whether Digital Altitude's business operations can be continued "legally and profitably".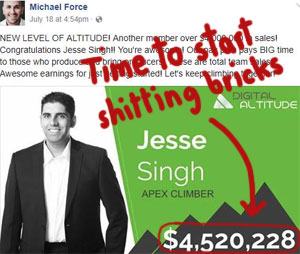 Given Digital Altitude's business model and losses outlined in the FTC complaint I find this highly unlikely, which means the company will likely be shut down.
And while it's far too early to even entertain specifics, clawback litigation against Digital Altitude's top earners is likely also on the table.
A preliminary injunction hearing has been scheduled for February 15th.
Stay tuned…
Update 16th February 2018 – The scheduled February 15th preliminary injunction hearing has been delayed to March 5th.
Update 8th March 2018 – On March 6th, 2018, a preliminary injunction against Digital Altitude, Michael Force and Mary Dee was granted.